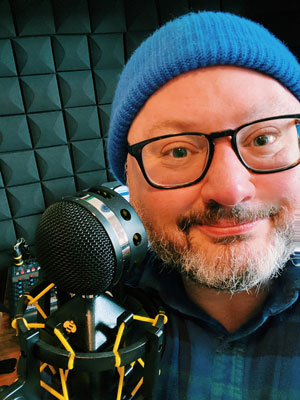 From performing comedy sketches to opining on the latest news, an Evans podcaster ranks No. 17 in Sweden, No. 24 in Italy and No. 81 in the U.K.
Six months ago, Evans resident Finnish Warren knew nothing about podcasting. Minor detail. In October he launched his aptly named podcast, "You're Not From Around Here With Finnish Warren."
Finnish moved to Evans from the mountains of his native Southern California in February 2020 with his wife, Jodie, and their 13-year-old son because of her job. (Irony lives. Her employer wanted his wife to spend more time in the office. You can guess how that has turned out so far.)
"My wife said I needed to do a podcast," says Finnish, who formerly worked in television post-production. "I had never listened to a podcast."
She must have been on to something. Available on Apple, Spotify, Buzzsprout and Google, the comedy variety podcast with more than 30,000 downloads has been compared to "Monty Python's Flying Circus," "Kids in the Hall" and "Little Britain."
A Taste of Home
The comedy sketches feature goofy, recurring characters that appeal to a worldwide audience, and Finnish believes the podcast is popular in Europe because of its dry British humor. This season he is focusing on Scandinavian-centric and Canadian themes.
"There's a whole lot of countries in the world that are picking up the show now. I get messages from homesick people," says Finnish, a stage name he adopted to honor his Finnish relatives. "A lot of ex-pats listen to the show. During the pandemic, they can get a little taste of home."
He also interviews recording artists such as Nick Camryn, the Moore Brothers, Scott Collins, Scott Milligan, Grammy nominee Angela McCluskey and classical violinist Jennifer Frautchi.
The podcast has a cast of seven people that includes his sister, Tina Hammarström, aka Swedish Nora, and his childhood friend, Darren Reagan, a Realtor in Chicago.
At the beginning of the year, his former co-worker, Bridget G., a political Instagram influencer, started writing and co-producing the show with him. "We went from zero sketches to six sketches a show," Finnish says.
He does a podcast, which lasts 40 minutes to an hour, every Friday at noon. Typically, it includes sketches, a monologue, a guest interview and music. "Nothing that we do is complex," says Finnish.
Calling All Nerds
Despite the podcast's popularity in Europe, 87% of the audience lives in the United States. "We went from 100 listeners to more than 5,000 an episode overnight," Finnish says. "The thing about podcasts is you don't have to listen to them live."
He enjoys the freedom and creativity of producing podcasts and the connection he makes with his listeners. "I'm a nerd, and every person who listens to the show is a nerd," he says.
And of course, Finnish, who did some standup comedy as well, loves to make people laugh. First, though, he seeks the approval of his toughest critic.
"I get my son to listen, and if he calls it funny, it's good to go," he says.
Wise man, that Finnish, who listens to his wife and son. And he would love for people, nerds or not, to lend him an ear, too. "When people who don't know about the show give it chance, they like it," he says.