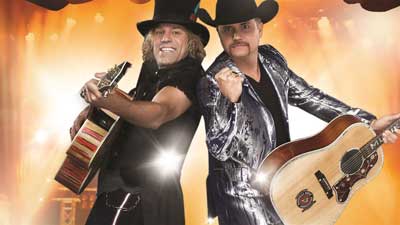 There's nothing shy about Big Kenny and John Rich. If you've ever been to one of their hard-hitting concerts you know what we mean. If that fortune has escaped you, here's your Big — and Rich — break. The high-energy country music duo is bringing the party to Evans Towne Center Park on Friday, November 4. 
Along with a set list that includes crowd favorites such as their first No. 1 hit, "Lost in This Moment," the duo will perform their most recent hits from Gravity, including "Look at You" and "Lovin' Lately." With any luck fans will also hear a tribute to our military with "8th of November," a patriotic crowd singalong of "God Bless America" and a blistering version of "Rollin' (The Ballad of Big & Rich)" before leaving the park.
Cowboy Troy will join the duo onstage for several songs that featured him, including "I Play Chicken With a Train" and — don't you know it — "Save a Horse (Ride a Cowboy)." DJ Sinister, who has the #1 Internationally Syndicated Country Remix program on radio, and hometown Southern rocker Eric Lee Beddingfield join the party and put the icing on the cake. 
For tickets or more information, visit gamedayladya.com.