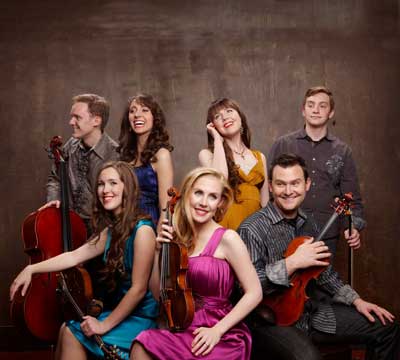 It's not the same old song and dance with the variety of shows that Augusta Amusements is bringing to the area for the holidays.
On Monday, November 14 at 3:30 p.m. and 7:30 p.m., the Annie Moses Band pays tribute to the most treasured love songs of the last century in "The Art of the Love Song." The epitome of old-school elegance, the band — which scores an impressive double chart entry on Amazon's Classics chart and Billboard's Classics/Crossover chart — performs music that is reminiscent of the Great American Songbook of the 1940s and 1950s and borrows from artists of the '60s and '70s such as Don McLean, Paul Williams and John Lennon.
The concert is a memorable collection of some of the greatest love songs written, including "Evergreen," "And I Love You So," "The First Time Ever I Saw Your Face," "And I Love Her," among many others.  The band's corresponding 60-minute PBS Special has been airing on PBS stations across the country since early 2016. Tickets are $39 for the matinee and $49 for the evening performance.
The holiday season kicks off with "A Very Electric Christmas" by Lightwire Theater on Thursday, December 1. Performed in complete darkness, the show tells the story of a young bird named Max who tries to get home for Christmas after being separated from his parents while flying South for the winter.
The storyline features Nutcracker soldiers with candy canes, naughty rats, an electric Christmas tree surrounded by presents, glow worms, dancing flowers and other creatures that light up the stage. Audiences of all ages will enjoy timeless Christmas songs from Nat King Cole, Tchaikovsky, Mariah Carey and others. Shows start at 3:30 p.m. and 7:30 p.m. Tickets are $28.50 for adults and $14.50 for children under age 12.
"Merry Christmas Darling: Carpenters' Christmas," starring Michelle Berting Brett, celebrates the biggest hits of one of the most successful recording duos of all time. The performance, a natural offshoot of the "We've Only Just Begun: Carpenters Remembered" show, features a full complement of Karen and Richard Carpenter's classic repertoire.
Brett takes center stage accompanied by her 7-piece Nashville band and performs songs like "Close to You," Yesterday Once More" and "We've only Just Begun" along with holiday favorites. The show begins at 7:30 p.m. Thursday, December 8. Tickets are $39.50.
All performances will take place at Jabez S. Harden Performing Arts Center. For more information, call (706) 726-0366 or visit augustaamusements.com.