After the coronavirus pandemic upended the wedding plans of a local bride, she and her fiancé had to shift gears to plan a completely different ceremony.
For Augusta native Allison Goodwin and her new husband, Jared Bishop, their wedding day was a walk in the park. Not that this was the scenario they originally had in mind, however.
Allison and Jared had planned to have an outdoor wedding March 28 at the Taylor Grady House in Athens, Georgia with 175 well-wishers in attendance. They still got their outdoor ceremony that same day. Instead, though, they exchanged vows in front of seven family members and their officiant at Bluff Creek Park in Oklahoma City, where they were living at the time. The remaining 30 to 35 guests that were able to attend watched the ceremony from their cars
The change of venue on short notice came courtesy of the coronavirus pandemic and its accompanying restrictions.
"I went through so many emotions," says Allison. "At first, I was really sad and heartbroken from all of the planning I had put into the wedding. I had dreamed of this day since I was a little girl. I felt like it had been taken away from me because I couldn't celebrate with my family and friends."
She not only went through a roller coaster of emotions.
"At that time no one, including government officials, knew what to do," Allison says. "Multiple times a day for multiple days, everything changed from hour to hour. We were getting really frustrated, but we knew that March 28 we were going to get married no matter what."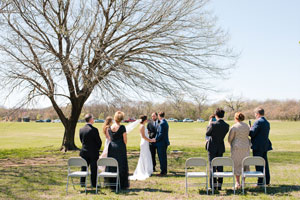 Let the Scramble Begin
Allison, who moved to Oklahoma City three years ago to work for Young Life, and Jared, who grew up in Edmond, Oklahoma, met each other through church and mutual friends. Once they got engaged, they already were on a tight timeline to plan a wedding because Jared was scheduled to start his residency in orthopedic surgery in Little Rock, Arkansas on July 1.
They had planned to drive from Oklahoma to Georgia on the Monday before the ceremony. About a week before their wedding day, however, they heard that Athens was shutting down. They had trouble getting in touch with anyone at their venue, and other friends who were getting married said their venues were cancelling on them.
"When we realized we had to change our plans, we went through a long list of options," says Allison.
They ultimately decided to get married in Oklahoma City at the park. However, because the Oklahoma governor had ordered that all nonessential businesses in counties affected by covid-19 had to close by midnight on Wednesday, March 25, Allison and Jared had to fast-track some wedding day customs.
They had hired an Oklahoma City photographer for their wedding, and she took traditional wedding photos such as the bridal portraits, the first look and the reading of their letters to each other that Wednesday. They scrambled to find a local videographer to document those events that day as well.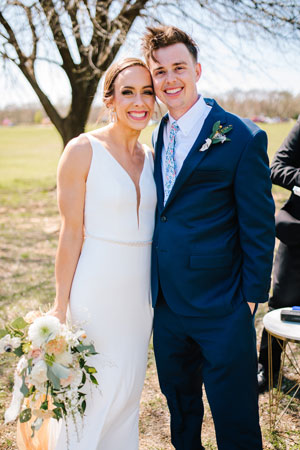 "Most of our vendors were understanding, and almost everyone gave us a full refund," Allison says.
They formulated a text to send to everyone to announce the change in plans. "It was the most efficient way," she says.
'So Much Fun'
Only 10 people, including Allison, Jared and the officiant, were allowed at the ceremony. They were joined – properly social distanced, of course – by Allison's parents, Ginger and Bret Goodwin, and Jared's parents, brother, sister and his sister's boyfriend.
Originally, the wedding party included five bridesmaids, seven groomsmen, three ushers, three flower girls and two ring bearers. "None of the people in the bridal party except for Jared's brother and sister could come," Allison says.
Two of her bridesmaids, including her sister, were pregnant, and two of them have young children, so they weren't able to make the trip to Oklahoma.
Jared had asked his brother and his best friend to serve as his best men, but only his brother could stand with him because of the limited number of people who could attend. However, his best friend, along with some of the other groomsmen, were there in their cars.
Jared's sister became Allison's maid of honor "and everything else."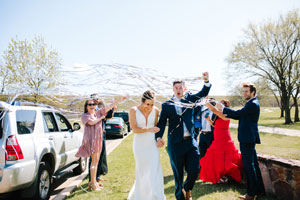 By the week of the ceremony, they also had ordered and paid for flowers for the entire wedding party from a local florist – another last-minute find. However, she ended up using the flowers to make bouquets for Allison for the wedding and for her bridal portrait.
"We got married in part of the park that was closer to the street, so our friends and extended family parked in their cars," says Allison. "When we were pronounced husband and wife, everyone honked their horns."
They livestreamed the wedding on Facebook for the rest of their guests.
After the ceremony, Allison and Jared cut their cake and had champagne. Then they walked down the row of cars to greet their guests and pass out cake to them.
"That was so much fun," Allison says. "It was way more fun than we thought it would be, given the circumstances. With the extra things stripped away from the ceremony, it made it more about the marriage than the wedding."
Still to Come
The couple will not have another ceremony, but they are planning to have parties in Georgia and in Oklahoma at some point.
"We hope to have original pieces of our reception for the parties," says Allison. "We're looking forward to it."
They had scheduled a party at the Taylor Grady House for June 13, but they had to cancel it as well because of more coronavirus restrictions.
"Since we were moving to Arkansas from out of state, the hospital needed for us to quarantine for two weeks," Allison says.
Their honeymoon to St. Lucia also was lost to the pandemic because of international travel bans. However, they hope to turn the trip into a one-year anniversary celebration instead.
"It's been a wild past few months," Allison says. "We'll remember all of the stories we'll get to tell because of coronavirus and all of the support we've gotten from family and friends."
By Betsy Gilliland