When she was growing up, a Columbia County bride used to joke about having a backyard wedding. Little did she know. . . .
As a wedding photographer, Georgia Miller Latremouille is used to rolling with the punches. After all, things seldom go exactly as planned. For her recent marriage to Andrew Martinez, however, the punches she had to roll with for her wedding day were more like a series of hard-hitting body blows.
Georgia and Andrew got married March 28 in the early throes of the coronavirus pandemic shutdown, and they quickly had to improvise their plans on the fly because of the ever-changing CDC guidelines.
"At the beginning, it was so scary," says Georgia.
Though it was stressful at the time, she now says she wouldn't change a thing about their wedding.
"It was so special, pandemic and all," she says.
Silver Linings
Georgia and Andrew, who met in 2017 during a mission trip to the Philippines, originally planned to get married at Enterprise Mill in front of 300 guests. Instead, they tied the knot in the backyard at the home of Georgia's parents, Donna and Yves Latremouille, in Martinez with about 20 family members and friends in attendance.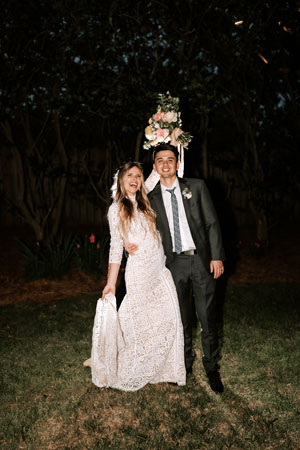 About 10 days before the ceremony, Georgia and her mother first realized that the wedding they had been planning wasn't going to happen.
"I came home one night, and my mom looked at me. She looked really upset," says Georgia. "She told me about the CDC guidelines that limited the number of people we could have at the wedding. It was so sad. We both just cried together."
After an 18-month engagement, however, Georgia and Andrew agreed that delaying the wedding was not an option.
"We wanted to get married and start our life together," says Georgia. "We had a week to figure everything out. We spent two days calling and texting everyone."
And then they had to reconfigure everything. Originally, the wedding party was going to include seven attendants for each of them, but they ended up with only a maid of honor and a best man. Two of Georgia's friends who were supposed to be in the wedding were able to attend, however.
"My dog got to be in the wedding. That was a silver lining," says Georgia. "He wouldn't have been there otherwise."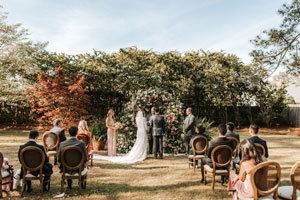 Chairs for family members were grouped together at the ceremony, but otherwise, the seats were placed 6 feet apart. One person served the food at the scaled-down, backyard reception.
Instead of a sit-down dinner, they served a variety of sweets that included a small wedding cake and a cookie cake that her uncle made for them at the last minute.
"Almost everything we did was not in the original plan," says Georgia.
They already had paid for the flowers, and, although they were able to cancel one order, they had to figure out what to do with the rest of the blooms. With a little creative thinking, they decided to create a beautiful floral arch of roses, peonies and other flowers for the ceremony.
"I'm obsessed with flowers. I knew that was one thing I wanted to spend a lot of my budget on," says Georgia. "The flowers would have been spread all over the venue. Instead we put them all into one arch."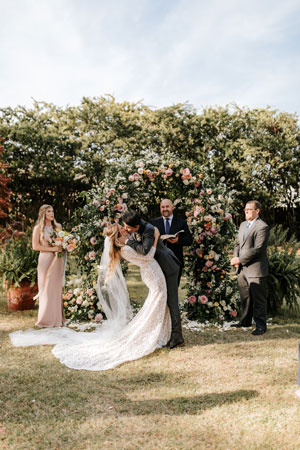 In addition, she says, "The day before, my mom and I went through the neighborhood and foraged for lilac. We had planned to do that anyway."
Her friend, Caroline Cain, played the violin for the ceremony, just as originally planned.
"The whole thing was memorable. It made me realize how important the person you're marrying is," says Georgia. "As a wedding photographer, I always worry about the details. But I realized we weren't getting married to have this big thing. There were so many great moments."
The people who had watched her grow up were there, and some of them took on roles they otherwise would not have done. Her aunt fluffed up her dress before she walked down the aisle. Her uncle made them a cookie cake. Her brother became an impromptu bartender.
"And my dog was sitting on my dress as we got ready," Georgia says. "I got married at the house where I grew up. I had always joked about getting married in our backyard, and I would highly recommend a backyard wedding. There isn't anything like it."
Twists of Fate
Georgia and Andrew did a Zoom call with a handful of people during the reception, but they didn't livestream the wedding because they thought they might have another ceremony at a later date. However, Georgia says, "Afterward, it was so perfect, I didn't want to do anything else."
They originally rescheduled their vendors to have a party in July, Georgia says, but it is still too soon to have a large gathering.
"I love all my vendors. They were all great. Everyone has been nice, helpful and accommodating," she says. "We might have a smaller celebration with friends and family later."
However, her weekend availability is at a premium because of her wedding photography business. Of the dozen or so weddings she had booked to shoot this spring, only about five of them took place – on a much smaller scale. The rest have been postponed.
Georgia and Andrew, whose family lives near Savannah, also rescheduled their honeymoon to Grenada for November. Instead, they went to Beaufort, South Carolina after their wedding.
"My family has an old cottage there that was built in the 1940s, and it has not changed since then," says Georgia. "It's no resort. The shower is outside, but it's my favorite place in the world. It's like camping with walls."
Even before their wedding, Georgia and Andrew knew all about the twists of fate that life can bring. Georgia is the youngest of four children, and her older siblings are triplets. Andrew is a triplet, too. So it seems almost natural that destiny had a hand in their wedding plans.
"I don't think I would have changed anything," says Georgia. "People sent me the nicest messages. After we got married, I felt so loved and celebrated."
By Betsy Gilliland