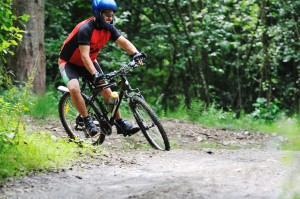 Runners and cyclists will have a new way to test their mettle with Columbia County's inaugural Wildwood Games sports festival on Saturday, August 23 and Sunday, August 24.
The multi-sport event will feature marathon mountain bike races, trail running races and an outdoors expo. The bike races on Saturday will cover distances of 50 kilometers and 100 kilometers. The shorter race will take place primarily on Bartram Trail. It will start at Wildwood Park, head toward the West Dam area and end at Wildwood Park.
The longer option will include Bartram and Keg Creek trails, Mistletoe State Park trails and some connector roads. This race will serve as a test run for the proposed route for the USA Cycling Marathon Mountain Bike National Championships, which will take place here in 2015 and in 2016.
"The test event will help us make sure that the course is acceptable to the athletes and presents them with the right challenges, and it will give the agencies and groups that have to pull it together a chance to be sure it is successful, safe and well-organized," says Randy DuTeau, the Columbia County Convention and Visitors Bureau executive director.
Bartram Trail also will be the site of the trail running races, which will includes distances of 50 kilometers, 26.2 miles, 13.1 miles and 10 kilometers. The courses will feature a mix of single-track trails and jeep service roads.
"It's an opportunity to showcase what we have, and we want to make this a go-to annual event in the region for years to come," DuTeau says.
Next year the Wildwood Games potentially will add distance open-water swimming in Clarks Hill Lake, a disc golf tournament at the International Disc Golf Center and an expanded festival with live music and a larger outdoors expo.
For more information visit choosecolumbiacounty.com.