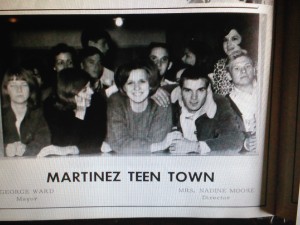 The Twist, the Mashed Potato, the Pony, the Watusi. Who can forget the dance crazes of the 1960s? 
Certainly not the teenagers who populated Teen Town in Martinez during those years. They will have a chance to resurrect the dance moves of their youth at a Teen Town Reunion this month.
Teen Town met off of Old Petersburg Road at Martinez Community Center, which currently is occupied by a tae kwon do studio, in the 1960s and early 1970s.
Teenagers would go to the popular hangout to see their friends and dance to live music or records played by DJs such as Handsome Harley Drew. A jukebox provided music on opening night, and The Dynamics entertained the teens the next two Saturday evenings.
"We paid 50 cents to get in every Saturday night. We just danced all night long," says Susan Agner, a Martinez resident who is on the Reunion Committee. "People came from all over the area. It was open to anybody that wanted to come and behave themselves and have fun."
Her mother, Nadine Moore, was one of the directors of Teen Town, which celebrated its grand opening in September 1963. "We had a cool mom, and she wanted to keep us out of trouble," Susan says.
Teen Town also had a mayor, a clerk and a council, which was made up of five males and five females. The original office holders were Tommy Martin, mayor; Donna McGill, clerk; Brenda Mills, Gloria Coleman, Becky Yarbrough, Priscilla Shelton and Peggy Lamm, girls' council; and Jack Fair, Sammy Jones, Bill Murphey, Chris Hand and Danny Newman, boys' council.
"We ran the council like a business," says Martin, who served as mayor from 1963 until 1965. "We had meetings about bands and DJs, and we made plans for what we were going to do."
Concessions were sold to pay for the DJs, and of course, chaperones kept a close eye on the teens – even if "all of the guys just stood around," as Martin, who lives in Appling, says.
"We liked having a place to go and something to do," he says. "It was something to look forward to on a Saturday night."
The Reunion Committee members hope their old friends are looking forward to the chance to get together again as well. People are coming from as far away as Arizona to attend.
"It's a very important part of my life because back in the '60s, we were a small community. It was like everyone was family," Agner says.
If You Go:
What: Teen Town Reunion
When: 7 p.m. – 11 p.m. Saturday, June 21
Where: Elks Lodge, 205 Elkdom Court, Augusta
How Much: $25; all remaining proceeds will be donated to the Wounded Warrior Project
More Info: Call Susan Agner at (706) 833-6752 or visit the Martinez Teentown Reunion
Facebook page