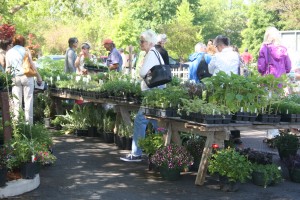 It wouldn't be spring without the annual Sacred Heart Garden Festival, and the annual event once again will feature growing tips and tricks for novice gardeners and serious horticulturists alike.
Talented local professionals will display their landscaping and floral creations in and around Sacred Heart Cultural Center, while vendors from across the Southeast will sell plants, home accessories and garden accents at the Garden Market. As part of the Speaker Series, gardening gurus will share their expertise through lectures and how-to demonstrations.
Tours of private gardens in Augusta, including historic Summerville, will be offered from noon until 5 p.m. each day of the event. Proceeds will benefit Sacred Heart Cultural Center.
 If You Go:
What: Sacred Heart Garden Festival
When: 9 a.m. – 8 p.m. Friday, April 24; 9 a.m. – 5 p.m. Saturday, April 25; noon – 5 p.m. Sunday, April 26
Where: Sacred Heart Cultural Center and various local gardens
How Much: $25 for three-day ticket that includes Sacred Heart exhibits, garden market, lectures and garden tours; $10 for one-day pass for Sacred Heart events (garden tours excluded)
More Info: (706) 826-4700 or sacredheartgardenfestival.com