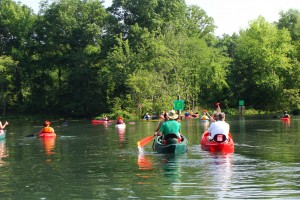 Pull out your kayak, canoe or paddleboard for the fourth annual Benderdinker at Betty's Branch in Evans. This year the popular noncompetitive paddle event, scheduled for 10 a.m. until 3:30 p.m. Saturday, April 25, will be accompanied by River-Fest, an afternoon of fun and games on land, as well.
The event is designed to make noise about silent sports, human-powered activities that typically do not disrupt the natural environment, and slow foods – locally sourced, sustainably raised, wild and foraged foods.
The paddle, which takes about two-and-a-half hours to complete, will feature nine food and live music stops along the six-mile route. Musicians on the water will include Donna Jo, Nick Brown, Clyde's on Fire and Delta Cane.
The landlubbing musical lineup at River-Fest will consist of Savannah River Stringband, Ariana Williams, Donna Jo, The Ramblin' Fevers, Clyde's on Fire, The Mason Jars and Delta Cane. Food, beverages, beer and vendor merchandise will be available for purchase on land after the paddle. Festivalgoers also can participate in lawn games such as corn hole, giant tic-tac-toe, ladder ball, mini disc golf and bocce ball. Sand volleyball pickup games will run from noon until 5:30 p.m. Standup paddleboard, paddleboard yoga and kayak fishing demos will be available as well.
Paddlers can register for the event online. Check-in will run from 5:30 p.m. until 7 p.m. Friday, April 24 when participants can bring their vessels to the site and select their launch times. Overnight security will be provided.
Proceeds from the event will benefit Augusta Locally Grown and the Benderdigger, which educates children ages 6 – 15 about eating healthy self-produced and wild foods.
If You Go:
What: Benderdinker and River-Fest
When: Saturday, April 25; paddle 10 a.m. – 3:30 p.m.; River-Fest noon – 6 p.m. 
Where: Betty's Branch, 4431 Hardy McManus Road, Evans
How Much: $35 per vessel (kayak, canoe or SUP); registration includes one T-shirt, one goody bag and one admission to River-Fest; $3 admission per person to River-Fest with registration of vessel or $5 admission per person to River-Fest at the gate; additional cost to rent vessel
More Info: benderdinker.com