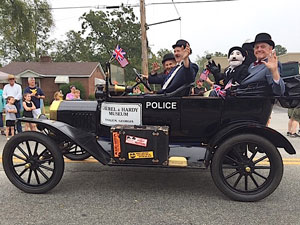 The Oliver Hardy Festival celebrates its 30th anniversary this year.
Harlem once again will honor its native son with its annual Oliver Hardy Festival. For three decades Hardy, along with Englishman Stan Laurel, was one-half of Hollywood's famous comedy duo of Laurel & Hardy. 
"Oliver Hardy was born here, and the festival keeps his memory alive," says Kennedy Sammons, Harlem's Downtown Development director.
The event will include almost 150 arts and crafts vendors, about 30 food vendors, look alikes dressed as Stan and Ollie, old cars, a parade and all-day viewings of Laurel & Hardy movies. A stage at the Harlem Library will offer entertainment throughout the day by performers such as The Remedy, Tanner Duckworth and Augusta Youth School of Dance.
Food will range from pulled pork, hamburgers, hot dogs and cheese steaks to funnel cakes, fried Oreos, gelato and shaved ice.
"We want people to enjoy Harlem and come see what we have to offer. Most of our downtown merchants will be open during the festival," Sammons says. "Harlem has the only historical downtown in Columbia County."
The festival typically attracts more than 35,000 visitors from around the world.
If You Go:
What: Oliver Hardy Festival
When: 9 a.m. – 4 p.m. Saturday, October 6; parade begins at 10 a.m.
Where: Downtown Harlem
How Much: Free admission 
More Info: harlemga.org