The skills of local costume designers are bursting at the seams. 
Most of us, who are so inclined, only have to come up with a costume once a year for Halloween. The costume designers at local theater companies, however, create frightfully fabulous costumes all year long. After all, they have learned the tricks of the trade to treat audiences to their otherworldly talents and creativity.
Passionate & Professional
For almost two decades, Margie Garner has made the costumes for Enopion Theatre Company, which puts on three biblical shows a year.
"Margie and I have been working together for about 30 years through church drama and then the last 20 years with Enopion," says Carol Rezzelle, the Enopion founder and director. "She is passionate about her work and makes our productions beautiful to watch. She sews the costumes, fits them to the actor and then attends every performance making sure the costumes are pressed and on the actor correctly. I couldn't imagine Enopion without her."
Margie used to do all of the work herself until Mary Rhoden started helping her with the last production. It takes Margie about six to eight hours to make a costume from scratch. Since she works fulltime at a medical billing company, she sews at night and on weekends.
Fortunately, however, she can repurpose or alter some costumes. "I put them all together one way or another," says Margie, a self-taught seamstress who started sewing when she was 9 years old.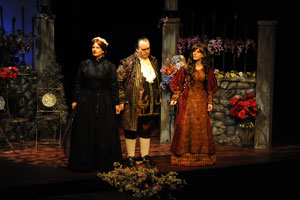 In Enopion's early years, Margie made 30 or 40 costumes per show. Now that the theater company has amassed an inventory of costumes, she makes 10 to 15 for each production.
"I usually spend as much time on the costumes as the actors do memorizing their lines," Margie says.
Since 2011, Ooollee Brickman, who owns Vintage Ooollee in Augusta, has designed and sewn the costumes for Storyland Theatre. This theater company performs three fairy tale-based shows a year, and its mission is to introduce children to theater and encourage them to support the arts into adulthood.
"Ooollee is a dynamic, professional and competent woman," says Barbara Feldman, executive director of Storyland Theatre. "Since Storyland Theatre performs for children, I have always been careful to use different costumes for each show, not repeating a costume for several years because children pay attention and remember everything they see. Ooollee is not only a source to us. Without her, many theaters in our community would be unable to costume their actors."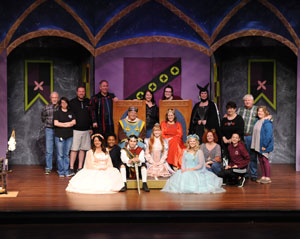 Ooollee makes three or four costumes for Storyland a year, and she also does costumes for local high school theater departments and other small theater groups.
"I love working with Storyland," says Ooollee. "Barbara introduces children to theater for the first time. I have met people who are actors today because they got their first exposure to theater at Storyland. I think that's a beautiful thing that happens in this community."
Ideas & Inspiration
To get ideas for costumes, Margie relies on the Internet and YouTube to research costumes and how to make certain things. In addition, she says, "Carol pulls pictures that she wants things to look like, and we go from there."
Sometimes Enopion rents costumes, particularly ones that won't be used again and again, and Margie alters them if necessary. However, she welcomes every challenge for each production. For Enopion's upcoming show, "The Nativity," for instance, she needs to make brand new animal costumes for a lion, a duck and a lamb.
For inspiration, Ooollee says, "We meet with the director to get an idea of their vision and look to see what patterns we can find. You're only limited by your imagination. I have a bunch of creative people that work with me."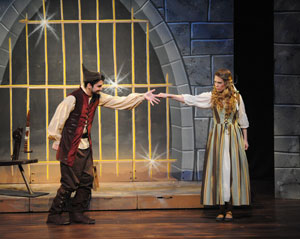 They include her main seamstress, Kathy Gillespie, who had a costume business in California for 35 years.
"I like the creative process," says Kathy, who learned to sew when she was 8 years old by making doll clothes. "You can create your own look. I have a good knack for seeing the whole scene."
She reads the scripts, makes a spreadsheet about every scene and creates a costume plot for each cast member and the characters they play. Then she takes measurements, does fittings and makes alterations.
"It's a huge process," Kathy says of making a costume. "I build it or find it or alter it. I'm a perfectionist. It takes a long time to get everybody's hems right and work around their schedules."
Kathy, who made her own clothes and Halloween costumes, of course, when she was growing up, delved deeper into costuming when her daughter became interested in theater in high school. Her daughter got involved with Augusta Players when she moved to the area 20 years ago, and Kathy has made some costumes for Augusta Players and Junior Players as well. 
"I enjoy the creative process, which I work on alone," she says. "But I also enjoy the people I work with – the adults, the kids, the actors. I enjoy being part of that creative team."
Personality & Performance
Margie tries to factor the personalities of the actors into their costumes. "Some will tolerate being flamboyant, but others won't," she says. "I have to take the characters into consideration, also. I try to put something in the costumes that the actors really, really like so they know that it's their costume and not one I just pulled off the rack."
That something extra might be as simple as a belt or using the actor's favorite color. 
Fabrics also make a costume come alive. "Adding trim," says Ooollee, "just changes everything." 
For the biblical costumes, Margie often has to make them "plain and rough looking." 
"I paint the costumes, dirty them up or dye them to make them look old," she says. 
Ooollee takes the characters' personalities into consideration when designing costumes. "Some might have a big personality or a demure personality, so you need to change the style," she says.
However, Ooollee, who started sewing in high school, says the biggest challenge in costume making is having enough time to do it correctly. "It takes time to sew if you want to do it right," she says. 
And the costumes need to stay just right, so the designers must always be ready for the inevitable wardrobe malfunction.
Margie keeps a bag of pins, tapes and clips handy. In addition, she says, "I usually have a sewing machine in my car, or I at least have a sewing kit with me."
One of the biggest challenges is getting all of the actors ready on time so they can relax and get in character. However, says Margie, "I never calm down until the show is over."
Ooollee says the dreaded wardrobe malfunction typically occurs during a quick change. However, she goes to all of Storyland's dress rehearsals and productions to be on hand to solve any problem. "I take a sewing kit with me," she says. "That's what a dress rehearsal is for – to make sure everything works right." 
Margie not only makes costumes for the performers. She also sewed all of the draperies for Enopion's new performing space, Ivory Box Theatre, that recently opened in Martinez. 
"I like it all. I love doing the costumes. I love working backstage. I love all the excitement and camaraderie," Margie says. "It's a good, family atmosphere."
And the clothes definitely can make the character. 
"I love to dress up in costume. You can put on a different face and a different outfit, and you can let your hair down," Ooollee says. "You can put on a costume and become a completely different person."
By Sarah James