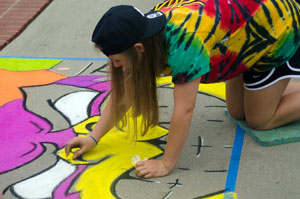 Artisans and entertainers take center stage at Art in the Park Fall Fest 
Creativity will be on display Saturday, October 20, at the 15th annual Arts in the Park Fall Fest, where artisans and entertainers in the area will showcase their talents. 
"From visual to performing arts, anything is fair game for Columbia County's own fine arts festival," says Regina Brejda, Columbia County Arts Inc. president.
The festival will feature a variety of performers including Columbia County Ballet and Musical Theatre Workshops. Fall Fest had 64 vendors from a variety of mediums last year, and event organizers are hoping to have even more artists at this year's festival. 
"Along with music and dance, you'll see everything from pottery, paintings and wood carvings to handmade brooms, jewelry and soaps," Brejda says. "It's a day of both two-dimensional and three-dimensional art." 
The popular sidewalk chalk contest will be part of the festivities again this year as well. Local elementary, middle and high schools can enter a team for a chance to win money to support their schools' visual arts department. The individual portion of the competition begins at 10 a.m. Participants can register at the main Columbia County arts booth. Registration is $20. Categories will be divided into age brackets, and prizes will be awarded for first and second places. An overall best of show winner will be named as well. 
If You Go:
What: Art in the Park Fall Fest 
When: 10 a.m. – 5 p.m. Saturday, October 20
Where: Columbia County Library Amphitheater
How Much: Free admission; food and beverage vendors on site
More Info: columbiacountyarts.org; columbiacountyarts@gmail.com; Regina Brejda, (706) 267-6724