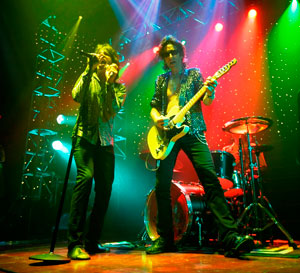 The boys next door take on the bad boys of rock in a musical showdown for stage superiority.
The debate between the Beatles and the Rolling Stones has raged ever since the two groups first crossed paths on the charts 54 years ago. Back in the day, the Beatles were regarded as the mop-topped boys next door while the Stones were the bad boys of rock. Pop versus rock. 
To settle which band reigns supreme once and for all, maybe, two tribute bands – Abbey Road and Satisfaction – will put on a musical showdown.
"Music fans never had a chance to see the Beatles and the Rolling Stones perform on the same marquee," says Chris Legrand, who plays Mick Jagger. "Now, music aficionados can watch this debate play out on stage."
The show, which has been touring since 2011, is part of a 110-stop tour of the United States, Australia and Canada. The production includes some of the more popular songs from the two rock pioneers and covers the scope of their musical careers. However, the set list for Satisfaction usually includes Rolling Stones songs up to the 1980s. 
"They certainly have more pop songs, but we're a really great live show. The fans are in for an incredible night of music," says LeGrand.
During the two-hour show, the bands perform three sets each, ending the night with an all-out encore involving both bands. There's a lot of good-natured jabbing between the bands as well.
"Without Beatlemania, the Stones might still be a cover band in London," said Chris Overall, who plays Paul. "There's no question that the Beatles set the standard. It's just a fun time and a cool back-and-forth, nonstop show." 
Legrand agrees. "We're going to bring it all," he says. "It's going to be an evening of high-energy music."
If You Go:
What: Beatles Vs. Stones, a Musical Showdown
When: 7:30 p.m. Saturday, November 10
Where: Imperial Theatre
How Much: $25 – $65
More Info: (706) 722-8341 or imperialtheatre.com