Talent, destiny and perseverance led artist Jason Chambers to the best job in the world.
Local abstract artist Jason Chambers, who sells to collectors across the world, has artwork on six continents. This month, however, he will travel with some of his pieces for a 10-day exhibition at The Holy Art Gallery in London.
Not bad for a self-taught artist who used to get in trouble for drawing during school.
"My teachers would send home my artwork with a note that said, 'This is what he did instead of classwork,'" Jason recalls. "As 'punishment,' my mom would make me draw for two hours. It was the best punishment I could have ever had."
After all, Jason, whose father was an editorial cartoonist for the Augusta Herald and Augusta Chronicle, was raised around cartoons and art. His grandmother and great-grandfather were painters as well.
"As soon as I could pick up a pencil, I started drawing," Jason says.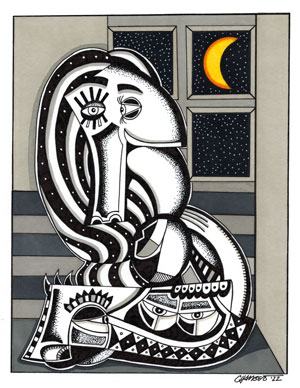 A Style is Born
He got interested in different kinds of art when he was in high school, and he started doing portraits and landscapes.
He loved cartoons as well, and his childhood dream was to become a comic strip artist or to work for Disney or Pixar. Instead, he pursued more conventional employment at DSM Chemicals for 10 years and the Starbucks roasting plant for four years to provide for his wife, Nicole, and their two children.
However, art always helped Jason make sense of the world, and after he had a severe panic attack in 2016, he started drawing again with pen and ink.
"My anxiety starts to abate when I transfer my focus from the cause of the anxiety to paper," says Jason. "I'm not thinking about the artwork. I'm thinking about what happened in my day and my week."
He always carried a 3-inch-by-5-inch pocket sketchbook, where he would draw a coffee cup or his co-workers, and in 2018 he accidentally stumbled upon his style – a mix of abstract expressionism, cubism and surrealism – with a drawing he did at work.
"One day I did this continuous random line, and it made an abstract image," Jason says. "I didn't think too much of it, but my co-workers liked it."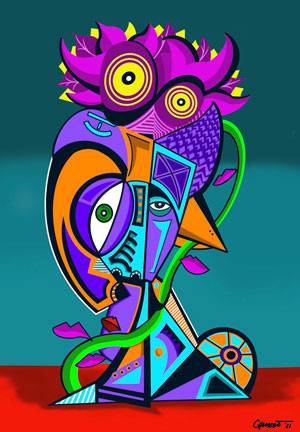 When Jason starts drawing on paper, he has no plan or preliminary sketches. In fact, he still begins with a random continuous line. He paints the same way, starting on a small scale and then transferring it to canvas. At the beginning of the process, he typically sees an eye or nose in his creations that are "usually about faces."
"With abstract art, you try to convey an emotion or a feeling. There's no stress or expectations involved," says Jason. "I just create it and see what unfolds. It keeps me guessing throughout the process. Sometimes I don't even know what I was thinking until after it's done. I'm just drawing."
While all of his artwork is "fairly busy," he can tell how he felt when he created a piece by looking at it.
"If a piece is busy, I was in a stressed frame of mind," Jason says. "If it's not as busy, I was feeling happy-go-lucky and stress-free."
He started with pen and ink drawings in black and white, and monochromatic art allowed him to focus on shape and imagery.
"Pen and ink has always been my first love," says Jason. "It's simple. It's portable. It's affordable."
Now, however, he paints almost exclusively with acrylics or oils, and he uses more color in his work. "I'm a planner with the color palette, but not the design itself," he says.
Influences on his work range from Pablo Picasso and Salvador Dali to American artists Jean-Michel Basquiat and Keith Haring, and Jason likes to acknowledge them in his paintings. For instance, in homage to Basquiat, many of his characters wear crowns.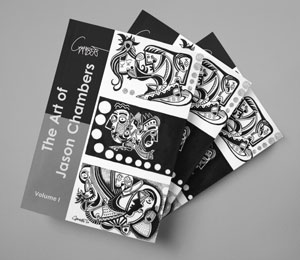 Jason also says he'll "work a piece to death."
"It's never finished," he says. "It's abandoned."
The Business of Art
He certainly hasn't deserted his talent, however, and 16 months ago, Jason took a leap of faith when he became a fulltime artist.
"I was always destined to be an artist," he says. "All artists have self-doubt, but it's still the best job in the world."
Through the years he has changed as an artist, transitioning from portraits and landscapes to abstract art. The size and scale of his pieces have grown from medium-size to mural-size paintings as well.
"It's definitely important as an artist to try to evolve," Jason says.
In 2021 he developed another skill set by creating digital art on an iPad. "It's a mobile studio at my fingertips with no mess and no cleanup," he says.
He also got into NFTs (non-fungible tokens) in early 2021, and he dropped a 300-piece collection of NFTs the first week in December.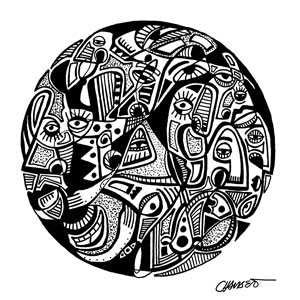 Jason sells his work by more traditional means as well. His artwork is available at jasonchambersart.com and through social media, and he sets up a tent at the Augusta Market every Saturday from March through November.
"I don't care if people like my artwork," he says. "If they stop to look at it and try to figure out what it is, then I feel like my job is done."
He also has published an adult coloring book, Calming the Noise, and a coffee table book, The Art of Jason Chambers Volume I, which are sold on Amazon and his website.
"The book is a way for people to collect art," Jason says. "Not everyone has wall space for artwork."
He is working on another coloring book, and he's writing a book about selling artwork – a book for artists by an artist. "It's information that I wish I had available to me when I was starting," he says.
He learned the business of art by reading and by contacting other artists. "There are so many artists out there," Jason says. "All you have to do is send them a message. We're not competing with each other. It's a community."
To further diversify, he has started painting designs on 8-inch wood or clay sculptures that he creates. He also wants to get into lithographs, and Jason, who has multiple pricing tiers, does commissions twice a year.
"Unless you're selling your work and have an audience, you're a hobbyist," he says. "Collectors give me artistic viability."
He even ships his artwork to Saint Tropez, France to a dealer who exhibits it for him. He plans to conduct a workshop in Saint Tropez later this year as well.
"I work 16 hours a day seven days a week," Jason says. "I still don't have enough hours in the day. I don't get inspired and then start working. I start working and then get inspired. I go to my studio at the same time every day, whether I feel like it or not. I clock in, and I clock out."
Jason says creating art brings him "pure joy," and he wants other people to feel that same joy.
"I want them to add something to their home, and I want it to be a conversation piece," he says.
A self-described "slow, meticulous artist," Jason likes "clean, precise artwork." He has many repeat customers, and his attention to detail extends to the presentation when he ships his artwork to collectors.
He double wraps his pieces in glassine and brown kraft paper before putting them in a protective bag for shipment. He always attaches a certificate of authenticity to his artwork and includes a handwritten thank you note in the package.
"Your name is everything," he says.
By Betsy Gilliland