Meet five new plants and two new peppers named champions for the 2023 garden season by All-America Selections.
Echinacea Artisan Yellow Ombre
This winner, with intense golden yellow flowers and graduated shades of yellow, is a great plant for anyone wanting vibrant color all season long in their perennial garden. A lover of full sun, it produces a prolific number of blooms and works well in containers and as cut flowers. Pollinators will flock to this echinacea, and gardeners will love this long-blooming beauty for its low maintenance as well as its spectacular color.
Coleus Premium Sun Coral Candy
The first seed coleus to ever win, Coral Candy features unique, multicolored foliage on a uniformly compact plant. The narrow, serrated leaves gracefully drape down the mounded plants, making it a perfect annual for containers and small space gardens. The leaves are vibrant on a tight, densely leaved plant, and the appealing foliage holds its color well, even in full sun. Just three seeds will produce enough substance to fill a 14"-16" container.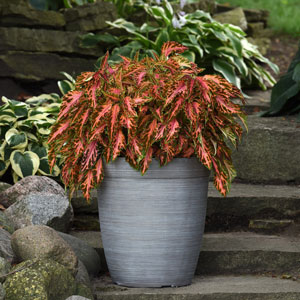 Colocasia Royal Hawaiian Waikiki
This fantastic new elephant ear brings a touch of the tropics to your garden. Easily tolerating drought and heat, it wowed judges with its sturdy, large, glossy leaves that unfurl with a bold leaf coloration of pink veins and creamy white centers. The foliage is simply stunning, and the color on this new annual holds up well even in full sun. Exotically lush and compact, Waikiki adds drama to a garden and also grows great in 14"-20" containers.
Pepper Jalapeno San Joaquin
This new jalapeno pepper will make gardening so much easier. It sets most of its fruit in a short window, so there is a generous number – about 50 per plant – ready at the same time. With just a hint of heat at 2500-6000 Scoville units, it's perfect for canning, pickling and making roasted stuffed jalapenos for a crowd. If they aren't used right away, they will hold their firmness and taste until you're ready to harvest. Leave them on the plant longer for a beautiful red, and still delicious, jalapeno.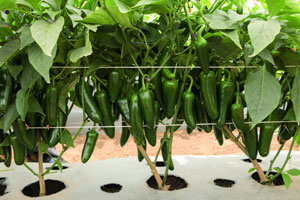 Salvia Blue by You
Add a brilliant touch of blue to your garden all season long with this new perennial that blooms from late spring into fall. With bright blue flowers, Blue by You loves full sun (it has excellent heat tolerance), and is a stunning addition to pollinator, cutting and container gardens. As a bonus for gardeners, this new salvia is adored by hummingbirds and butterflies but not favored by deer or rabbits.
Pepper Cayenne Wildcat
Pepper Wildcat is a high-yielding annual cayenne pepper that produces about 20-25 extra-large fruits per plant. These 8-inch fruits are straighter than traditional cayenne fruits and provide a smoky flavor, peppery sweetness and mild pungency of 500-1500 Scoville units. Their sheer size is astonishing, and their flavor and moderate heat level make these plants a multi-purpose pepper for the garden. Pepper Wildcat enjoys full sun and also works well in containers.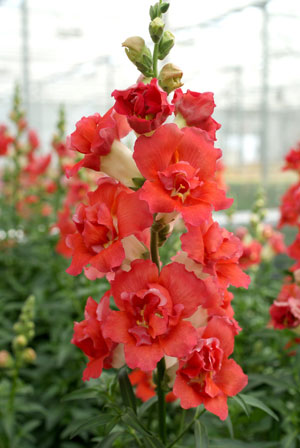 Snapdragon DoubleShot Orange Bicolor
Hit me with your best shot…of double flowers. With open-faced double flowers in beautiful shades of orange and orange-red, this new snapdragon makes a spectacular statement in gardens, in containers and as cut flowers. The strong stems produce more branches, resulting in more flowers that bloom all summer long, even through high temperatures. For maximum flowering, plant in as much sun as possible.
By Diane Blazek