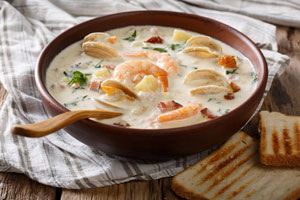 Shrimp, Mussel and Clam Chowder
1 bag mussels (about 4 pounds)

1 cup fish stock

1 cup white wine

1 bay leaf

1 small bunch thyme

32 manila or countneck clams

2 tablespoons unsalted butter

1 medium onion, diced

3 stalks celery, diced

3 cloves garlic, minced

3 tablespoons flour

1 cup heavy cream

1 pound potatoes, peeled and chopped

1 pound chopped clams

1 pound large shrimp, peeled and deveined

1/2 pound bacon, cooked and crumbled

3 tablespoons chopped fresh parsley

Salt and pepper, to taste
Place mussels in large pot with fish stock, wine, bay leaf and thyme. Cover and bring to a simmer, simmering about 5 minutes or until shells open. Discard any mussels that do not open. Carefully remove mussels and set aside to cool.
Repeat with clams (in same water) until they open, about 5-7 minutes (discard any that don't open). Remove clams and allow to cool. Strain liquid and reserve (reserved liquid may have shell pieces or sand, so let settle and then ladle off the top, leaving silt and shells at bottom to discard). Once cool, remove mussels from shells; set aside. Leave clams in their shells.
Heat butter in a large pot over medium heat. Add onion, celery and garlic; sauté until soft, stirring often. Stir in flour until well mixed. Add reserved stock, cream and potatoes, stirring to combine. Bring to a simmer to thicken, stirring constantly, then reduce heat to medium low and cook 20 minutes, stirring often, until potatoes are tender.
Add shucked mussels, in-shell clams, chopped clams, shrimp, crumbled bacon and parsley. Cook another 2 minutes until chopped clams are just firm and shrimp turn pink. Season to taste with salt and pepper. Makes 6-8 servings.