Rounded walls, arched entries and spiral staircases – along with elegant, yet rustic, décor – shape and define a West Lake home
For most people there's no place like home, and that's just as true for Martinez residents Wendy and Richard Epter as it is for anyone. However, their West Lake home also is full of reminders of their time away from home.
Their hobbies are travel and photography, and they always try to bring back keepsakes from their trips – whether it's an image they shoot in a photography workshop or just something they love.
"We collect art when we travel," says Wendy. "It's such a good memento."
Grand Entrance
The interior of the home is full of statement-making pieces. However, the "wow" factor begins outside. The exterior of the house, where a turret adds architectural interest, is made of stone, stucco and brick. A pair of white columns accents the front porch, and a large fountain sits on a circular island in the driveway.
Inside, the décor is rustic, yet elegant. Garnering ideas from websites such as Pinterest and houzz.com, the Epters, who moved into their house almost four years ago, came up with many of the design features themselves. Michael Siewart of Signature Interiors helped them with the décor as well.
"We definitely like warm tones, even though it seems like the trend is more toward cooler colors," Wendy says.
Two-story ceilings in some of the rooms give the house an open, airy ambiance, and floor-to-ceiling windows in the main living areas of the house pull in lots of natural light. The main living areas also feature cypress flooring, which is distressed in the family room and the kitchen. Wide baseboards and crown molding anchor many of the rooms.
Curved walls – in all the right places, of course – soften the spaces and bring flow and energy to the rooms. The spiral staircases and curved furnishings, along with arched entryways, have the same effect.
In the two-story foyer, where natural light spills in through the windows, a spiral staircase winds its way to the second story. The space also includes marble tile flooring and a chandelier. A round metal and stone table is tucked into a nook by the staircase.
The lighted recess in the curved wall along the staircase holds a piece of sculpture from Capri, and the Epters got four watercolors on the opposite wall during a trip to the Amalfi Coast.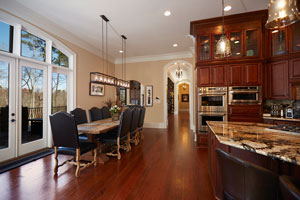 Easy & Carefree
Rustic meets elegant – with a dash of seafaring whimsy – in the dining room, where the custom-made, heart pine table is flanked by studded upholstered chairs with a pillow nestled on each seat.
"We knew we wanted a rustic table in the dining room," says Wendy. "I wanted something that was easy and carefree."
A beaded chandelier hangs from the two-story, heptagon-shaped ceiling, and balconies overlook a pair of built-in wood cabinets with glass shelving and granite countertops.
Two whimsical Gyotaku fish rubbings by Fred Fisher also hang on walls in the dining room. Gyotaku ("gyo" means fish, and "taku" meaning rubbing or impression) is a traditional form of fish printing. In the 1800s, Japanese fisherman would cover a fish with ink and press rice paper onto it, and a mirror image of the fish would remain on the paper.
Fisher also uses acrylic paint and cloth, or different types of handmade paper, to capture as much vivid color and detail as possible in his fish rubbings.
The adjoining butler's pantry has curved cabinetry with curved granite countertops.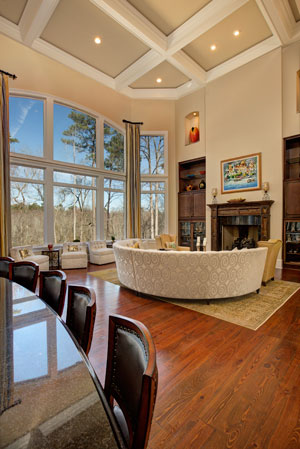 The living room features a two-story, coffered ceiling. Floor to ceiling windows overlook the backyard and Reed Creek, where the Epters see deer, beavers and the neighborhood coyote.
"We feel like we're out in the woods," Wendy says. "It's very peaceful."
Gold sequined pillows add a burst of color to the neutrally shaded furnishings. Built-ins, which are topped by lighted wall recessions that spotlight pieces of pottery, occupy either side of the gas-log fireplace, which features a granite surround.
The Epters also got the oil painting above the fireplace during their trip to the Amalfi Coast.
A wet bar with a granite countertop, a copper sink and leather, studded stools occupies a corner of the living room.
"When we have a party or guests, this is people's favorite place to hang out," says Wendy.
An animal hide hangs on a wall in the bar area. They got the wall hanging, which was made by a Sioux Indian, during a 2018 trip to the Badlands in South Dakota.
Rooms with a View
The master bedroom and the family room also offer views of Reed Creek. In addition, the master bedroom features a stone, raised-hearth, gas-log fireplace; a trey ceiling; ceiling fan; built-ins and recessed lighting.
The adjoining master bath includes a walk-in, marble tile shower; a self-cleaning, air-jet tub; two vanities with granite countertops; heated marble tile flooring and heated towel bars.
In the family room, the stone of the raised-hearth, wood-burning fireplace reaches to the cathedral ceiling and stone seating extends to each wall. Storage for firewood is tucked beneath the stone seating.
The natural wood mantel still contains barbed wire that had grown into the wood. A narrow table, which is made from a reclaimed wood beam and features metal legs, stands behind the couch.
Colorful artwork on the family room walls includes "Saturday Market," an acrylic by Augusta native Margaret Ann Smith. "We like to support local artists," Wendy says.
In the kitchen, a large island offers ample work space and seating. The granite countertop on the island differs from the granite on the perimeter counters.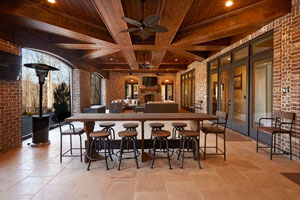 "We wanted a piece of granite that had a lot of personality on the island," says Wendy.
The kitchen also includes two sinks, lots of drawer space, recessed lighting and five bell-shaped pendant lights above the island. Most of the appliances are stainless steel, but the two dishwashers blend in with the cabinetry.
A collection of pottery is on display in the glass-front cabinets in the kitchen. The Epters got some of the pieces at events such as Arts in the Heart. Others such as a colorful bowl from a market in Mexico are mementoes from their travels.
"The pieces remind us of the places we've been," Wendy says.
Photography & Artwork
Because of their interest in photography, the Epters also create many reminders of their travels for themselves.
They started pursing their hobby about 10 years ago when Richard took a photography workshop in Yellowstone National Park. Wendy took her first workshop two or three years later during a fall trip to Acadia National Park in Maine.
"We went to photograph the fall colors, and I knew nothing," she says. "My first camera was a hand-me-down from my husband."
A framed photo on one wall is an image that Wendy took of Antelope Canyon, which is located on Navajo land just east of Page, Arizona, on a guided photography tour led by a Navajo tribe member. A photograph on metal of Cathedral Rock, which Richard took in Sedona, Arizona, hangs on another wall.
"It is my desire to have a gallery of my work and my husband's work where we can display our photographs," Wendy says.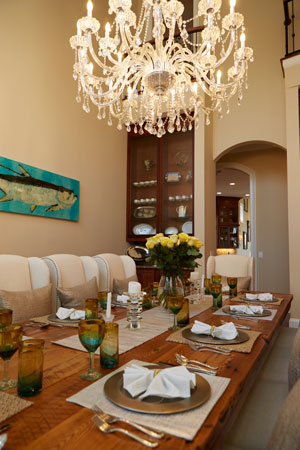 Last year the Epters, who try to take a couple of trips a year, traveled to Patagonia.
"We take thousands of pictures every time we go on a photography workshop," Wendy says. "Every time we go somewhere, we learn something new about photography."
Some of their artwork serves as a reminder of friendships they have made as well. For instance, they have a couple of multi-media pieces, including a pen and oil on canvas, by an Israeli artist who stayed at their home when he was part of an art show at Augusta Jewish Community Center. They also have a framed paper and copper piece by the artist's wife.
"I like art that makes me happy," says Wendy.
Fun & Games
In the Epter house, however, it's not just the artwork that creates happiness. From a game room to a wine cellar, there is plenty of entertainment available as well.
For those who like a little good-natured competition, the game room features foosball, shuffleboard and pool tables. Framed Augusta National Golf Club prints line a wall above a built-in wood bar. A separate wet bar features a wood countertop and a hammered copper sink.
The game room also includes a brick fireplace with gas logs and a wood mantel. A 3-D painting of a clown fish and billiard balls hangs above the doorway.
Movie buffs can kick back in the Epters' home theater. Even though she doesn't spend as much time there as she would like, this room is Wendy's favorite place in the house.
"We don't go to the movies anymore, but it feels like being in a movie theater," she says.
Wendy made the cloth covers for the panels on the walls, and the seating also is covered in fabric. Initially, the Epters planned to put leather seating in the theater, but they reconsidered after doing their research.
"We had a preconceived notion of what we wanted to do, but we learned that we needed fabrics that will absorb light and sound," Wendy says. "And fabric is comfortable year-round."
The walls of an alcove outside the theater feature framed movie posters, which Wendy and her husband's niece won in a trivia contest at an Oscars party. A popcorn machine stands on the floor, but it's not just for show. Wendy puts it to good use.
"It's easier to pop a bag in the microwave," she says. "But listening to the machine go 'pop, pop, pop, pop' and smelling the popcorn is so much better."
A hallway with brick walls and a brick barrel ceiling leads to the wine cellar, where the Epters, who belong to three wine clubs, store their collection.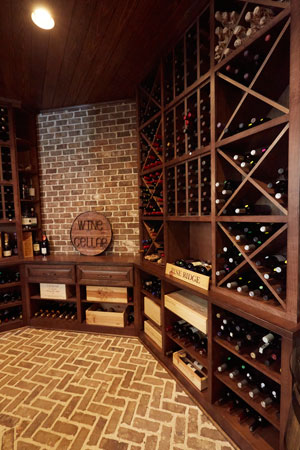 "A lot of thought went into the wine cellar," says Wendy. "We spent hours and hours looking through idea books."
The wine cellar features built-in wine racks and shelving, glass walls, recessed lighting, a tongue and groove ceiling, brick flooring arranged in a herringbone pattern and wine barrels.
A covered porch off of the lower level provides another place to unwind. Brick walls line the porch, and screened archways lead to the swimming pool. The porch also includes a beamed, tongue and groove ceiling; tropical ceiling fans; Travertine tile flooring and an outdoor kitchen.
Eight draftsman stools line the sides of a long wood table, and an armed chair sits on each end.
A seating area faces a raised-hearth, brick fireplace and a flat-screen TV.
Despite all of its architectural details and engaging décor, however, Wendy is always looking for ways to fine tune their home.
"Some things are ongoing and still in progress," she says. "There's always more to be done."
By Sarah James