The eight winners in the 2022 Drive, Chip and Putt National Finals showed their mettle by coming through when it counted.
For the 2022 Drive, Chip and Putt National Finals, 40 boys and 40 girls came from across the United States to participate, and, after a hiatus in 2021 because of the coronavirus pandemic, patrons were back to watch the junior golfers perform as well.
While some division winners prevailed after a close contest, one was victorious in a record-breaking rout. However, all of finalists came ready to compete. The field, which included three hometown heroes – Evans residents Hamilton Coleman and Zane Madison as well as Fort Gordon's Lyla Hawker – illustrated once again that the future of golf is in good hands.
The winners in the Boys' divisions were Hudson Knapp of Marietta, Georgia (ages 7-9), Bentley Coon of Horton, Michigan (ages 10-11), Michael Jorski of Clarendon Hills, Illinois (ages 12-13) and Jaden Dumdumaya of Fairfield, California (ages 14-15).
In the Girls' divisions, the winners were Autumn Solesbee of Huntersville, North Carolina (ages 7-9), Kylie Chung of Cumming, Georgia (ages 10-11), Jenna Kim of Raleigh, North Carolina (ages 12-13) and Mia Hammond of New Albany, Ohio (ages 14-15).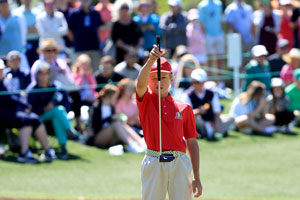 'Time of My Life'
A single point separated Knapp from the runner-up in the Boys' 7-9 division, and, after finishing second in putting, he credited the flatstick with bringing him the top prize. However, he was surprised by the outcome.
When he first saw the golf course, Knapp said, "I was like, 'I'm not going to get first place.'"
Finishing in seventh position overall, Madison made his best showing in the driving portion of this division by claiming second place. The lefty said "hitting my driver a long way and playing with friends" are the things he likes most about golf.
Coon, who won the driving portion and finished second in chipping, took the Boys' 10-11 competition by a mere half-point. However, winning his division was just one of several unforgettable moments he experienced last year. He got to say "hi" to 2020 Masters champion Dustin Johnson, and he was in awe of the drive down Magnolia Lane.
"It gives you one of those feelings where you want to go out and just hit 'em straight, chip 'em really close and putt 'em in – or make the putts, whatever you want to call it," he said.
To take the overall trophy in the Boys' 12-13 division, Jorski putted like a seasoned veteran on the 18th green. He made his 30-footer and knocked his 15-foot putt 8 inches from the hole to finish in a tie with Jacob Thompson of Louisville, Kentucky. After the two competitors decided the winner in their age group in a "putt-off," Jorski also proved something to himself.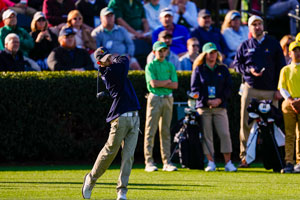 "I can deal with pressure well, and I can rise up to the occasion," he said. "It's impossible to really deal with the nerves and take them away, so, I mean, it proves to me that I can play when I'm nervous, too."
Although Coleman, an eighth grader at Evans Middle School last year, finished in fourth place in the Boys' 12-13 division, he won the driving portion of the competition. He appreciated the support from the patrons as well.
"I obviously didn't win (overall), but I had the best time of my life," he said. "When they called my name and everybody started cheering, it just felt great. … It was super loud. It made me feel a lot better, and I calmed down a little bit."
In the Boys' 14-15 division, Dumdumaya's 10-point margin of victory was the largest spread in Drive, Chip and Putt history. Dumdumaya, who won the driving and putting events and finished second in chipping, said putting is the strongest part of his game. He almost made his 30-foot putt, and he sank his 15-footer.
"I told myself that the putt at the end is to win the Masters, so I kind of imagined just throwing up a Tiger fist pump and all that," he said. "I was more worried about the celebration because I really wanted it to be something that I remember for the rest of my life. It was a good way to end it."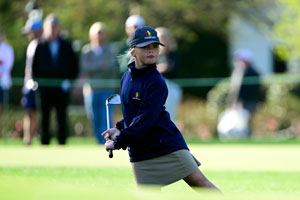 'Good at Golf'
In winning the Girls' 7-9 division, Solesbee finished first in the chipping portion of the contest and second in putting. She said she is a good chipper because "I have a smooth stroke, and I am really good at making the bounce – and distance."
During the competition, she calmed herself with words from her father. "My dad always says, 'being nervous is a superpower because it shows that you care,'" she said.
She even got a hug from two-time Masters champion Bubba Watson after she won. "That's my favorite golfer, and do you know why? Because he adopted his kids, and I'm adopted," she said.
Although it wasn't Hawker's day at the Drive, Chip and Putt finals, she can claim an impressive golf feat that few can match. She made a hole-in-one on her first-ever swing in her first-ever golf class.
In the Girls' 10-11 division, only 3 1/2 points separated first place from last place in the final standings. When Chung arrived at the 18th green, she knew she had to putt well to have a chance to win. She did just that – finishing first in putting to take the overall title in her age group by a half-point.
As if her victory didn't say enough, she also wanted to send another message to some of her schoolmates when she got home. "I'm going to tell those boys I'm good at golf," she said.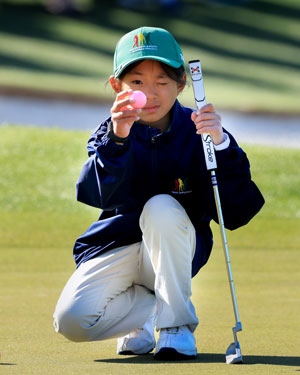 A solid performance by Kim, who finished second in driving and chipping and third in putting, helped her take the top spot in the Girls' 12-13 division.
"I've been working to get here for a long time and didn't think I would actually win it," said Kim, who called chipping the strongest part of her game. "So, when I did win it, I didn't expect it."
The last division competition of the day came to a dramatic conclusion when a pair of players – Hammond and Ella Walsh of Tucson, Arizona – made both of their putts on the 18th green. To settle the winner of the putting event, the two girls went to a one-putt playoff. With Hammond's playoff victory, she also claimed the overall title in Girls' 14-15 competition.
"I was just really confident with the putter. I knew if I kept my mindset good, I could make both putts," said Hammond, who finished second in driving and in chipping. "I had a lot of confidence walking up onto the green."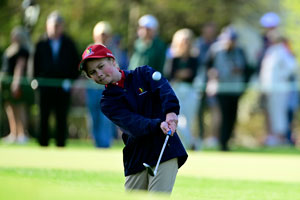 This year's Drive, Chip and Putt National Finals will be held on Sunday, April 2. Registration for the 2024 championship is underway at drivechipandputt.com, and local qualifiers begin April 30 at more than 340 sites nationwide and will continue throughout the summer.
By Betsy Gilliland