The 2022 Augusta National Women's Amateur competitors – and one bucket hat-wearing teen in particular – made the most of their experience at the tournament.
At the 2022 Augusta National Women's Amateur, held March 30-31 and April 2, Anna Davis of Spring Valley, California, relished her role as an underdog. As a 16-year-old who didn't yet have her driver's license, she felt like there were few expectations of her at the tournament. She had no trouble navigating the courses at Champions Retreat Golf Club and Augusta National Golf Club, however, winning the title in her debut at the 54-hole tournament.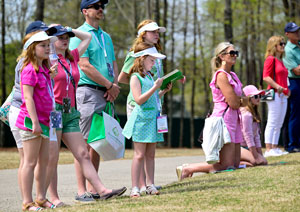 Wearing a red shirt, white jacket and her signature bucket hat, Davis shot a final-round 69 at Augusta National to finish at 1-under-par and clip Louisiana State University teammates Latanna Stone and Ingrid Lindblad by a stroke.
"I knew I was kind of an underdog in the field, and I didn't have as much pressure on me to do extremely well. So I was just out there having fun," she said in Butler Cabin when she accepted the winner's trophy from Fred Ridley, chairman of Augusta National and the Masters Tournament.
Pars, Putts & Patience
Round 1 got underway at Champions Retreat in Evans with a field of 72 of the world's top amateur golfers from 24 countries.
At the end of the day, University of Alabama sophomore Benedetta Moresco and Davis, who each signed for 2-under 70, sat atop the leaderboard.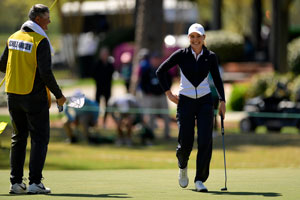 The trio of University of Michigan junior Hailey Borja, LSU junior Lindblad and China's 17-year-old Xiaowen Yin were a shot back at 1-under.
Moresco, No. 19 in the World Amateur Golf Ranking (WAGR), got in the mix, after early birdies from a close putt on No. 2 and a 15-footer on No. 3, to make the turn at 2-under-par. The native of Italy went bogey-free on her second nine, stringing together nine consecutive pars to share the lead in her second tournament appearance.
"It was good out there today. I had really good putts from all around the green," Moresco said. "My key was being patient on the golf course. … The wind came up on the back nine more than the front nine. It was a little bit tougher."
Playing in the last group of the day, Davis, ranked 99th in the WAGR, made the turn at 1-under-par after a birdie on the seventh hole. She carded another birdie at No. 14 to claim a share of the lead. Although she lost a stroke with her only bogey of the day on the next hole, she bounced back with a birdie on No. 18 after her 30-foot chip hit the flagstick and stopped inches from the hole.
"I saw it going at the pin. I was just hoping it would hit it and go somewhere near the hole," said Davis, one of the youngest players in the field. "It was actually a little embarrassing because there was somebody next to me who was like, 'good thing the hole was there.' I'm like, 'oh, thanks.'"
Teeing off on No. 10, Lindblad of Sweden held a share of the lead through her first nine, sinking 15- and 23-foot putts for back-to-back birdies on Nos. 14 and 15. She also had two bogeys on Nos. 1 and 4 and a birdie on No. 2.
"I'm a little bit more confident this year than last year," said Lindblad, who finished T-3 at the 2021 Women's Amateur. "I hit the ball further, so I actually hit a little shorter clubs in this year. It's a big difference if you have a pitching wedge instead of an 8-iron into the greens."
Three players, Arizona State University senior Alexandra Forsterling of Germany, LSU junior Stone and 15-year-old Liqi Zeng of China were tied for sixth place at even par.
Play, Interrupted
Start times for the tournament's second round, also played at Champions Retreat, were scheduled to begin Thursday at 7:30 a.m., but inclement weather pushed them back by two hours. The delays continued throughout the day, and the second round finally started under sunny skies at 3 p.m.
By the time darkness forced the suspension of the second round at 7:52 p.m., only nine players had completed their rounds. The remaining 21 groups came back to Champions Retreat on Friday to resume play at 7:30 a.m.
When play was suspended, three players were tied for the lead at even par – Beatrice Wallin, a Florida State University senior from Sweden; University of Southern California freshman Amari Avery of the United States; and Borja of the United States.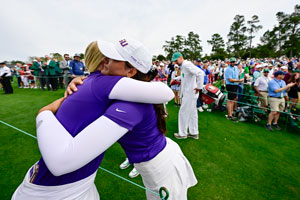 While Wallin and Avery were at 1-under-par for the second round through the 16th hole, Borja was 1-over-par for the round through the 11th hole.
Four players were a shot behind at 1-over par – Americans Stone and Jensen Castle, a University of Kentucky junior, Moresco and 17-year-old Amalie Leth-Nissen of Denmark.
Davis, one of the nine players to finish the second round on Thursday, shot 76 for a score of 2-over-par for the tournament. She was in a six-way tie for eighth place when the round was halted.
By the completion of the 36 holes on Friday morning, Wallin, who shot 1-under, and Stone, who shot even par, were tied for first place at even-par 144. One of only three players under par in the second round, Wallin, ranked sixth in the WAGR, parred her two remaining holes to shoot a second-round 71.
"I'm going to take it shot-by-shot and just enjoy it because it's going to be my last time playing Augusta National and playing this event," she said. "I'm going to go out there with a big smile and see what happens."
Starting on the 10th hole, Stone saved par after her ball plugged in the bunker on No. 7. She joined Wallin in the lead with a birdie on No. 8. The LSU junior finished both of her rounds at even-par 72 in her debut.
"I've just been trying to keep it simple – fairways, greens, two-putt and get off," Stone said. "I'm not trying to do anything special. I know there's not a lot of birdies out there, and I'm just trying to stay patient."
Austrian and UCLA junior Emma Spitz, Avery and Leth-Nissen were a shot back at 1-over-par. First-round co-leaders Davis and Moresco, along with Stanford University senior Aline Krauter of Germany, were T-6 at 2-over-par.
Unfinished Business
Before all 72 competitors could go to Augusta National to play a practice round Friday afternoon, however, a quartet of golfers had to take care of unfinished business. The field for the final round had to be trimmed to 30 people, and a sudden-death playoff ensued for one of the four players, knotted at 6-over-par, to claim the last spot.
The playoff competitors were Forsterling; Americans Auston Kim, a Northwestern University junior, and Amanda Sambach, a University of Virginia freshman; and Germany's Paula Schulz-Hanssen, who had committed to play at Arizona State.
All four players parred the first playoff hole – the par-4 No. 10. However, a bogey on the par-3 11th hole by Forsterling and Kim's bogey on the par-3 No. 17 eliminated them from the competition.
After both remaining players laid up on the par-5 18th, Sambach bogeyed and Schulz-Hanssen two-putted for par to advance to the final round.
"I'm so excited, and it's even my birthday," said Schulz-Hanssen, who turned 19. "So that's like a great present for myself. I'm very excited, and I'm very proud."
In Round 3, Davis played in the third-to-last group of the day. The high school sophomore, who had birdies on Nos. 2 and 9 – plus back-to-back birdies on Nos. 12 and 13 – and a bogey on the third hole, shot the second-lowest score of the day. She also was the only player to finish under par for the tournament.
Stone, playing in the final group, had the tournament in her grasp when she built a two-stroke lead with two holes to play after a birdie on No. 16 put her at 3-under-par. With a double bogey on the 17th hole and a bogey on No. 18, however, she fell a shot behind Davis.
"It's just heartbreaking, you know? I knew where I stood on 17, and I was just thinking par out," said Stone. "I just didn't have the right club and left myself with a difficult up-and-down. I was trying to be aggressive and just kind of lost it, but I thought I could get it back on 18. But I had a lot going on in my head with where I was at."
Lindblad posted the low score of the day with a 68 in a round that included three birdies and two eagles. A bogey on the last hole also dropped her from 1-under to even par.
After the round, Davis said she was shocked that she had won the tournament. "I'm speechless," said the teenager, who plays golf left-handed and shares a St. Patrick's Day birthday with Augusta National co-founder Bobby Jones. "I can't even fathom what just happened."
Davis, who often travels solo to golf tournaments, also said she will continue to bring her bucket hats with her. "Every golf course I go to, I try to collect them," she said. "A few months ago . . . I wore a bucket hat at Valhalla because my dad told me to. … It was very hot, and I was getting very sunburned."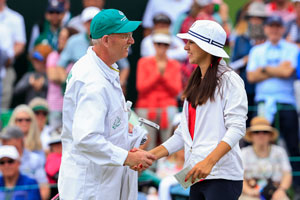 She said she tries to wear a bucket hat at least once a tournament. (She wore a visor in the rounds at Champions Retreat.)
Underdog to Top Dog
After the first round, Davis had said that, before the Women's Amateur, it had been a year since she had gone into a golf tournament – her third AJGA event – with no pressure to perform.
"That's probably the last time I felt like I was an underdog in an event," she said.
She also won that tournament by a shot, mirroring the results of the Women's Amateur.
Clearly, Davis wore the role of underdog as well as she rocked her bucket hat. However, with her game, poise and independence, she seemed to have no trouble making the transition from underdog to top dog.
This year she will become the first reigning champion to defend her title, but she'll have to fend off an international field that includes 2021 champion Tsubasa Kajitani and top-ranked amateur Rose Zhang. However, Davis, who has committed to Auburn University, made it clear a year ago that she has set her sights on other goals as well.
"I want to be the best player in the world," she said.
By Betsy Gilliland