Golf's No. 1 ranked player at last year's Masters Tournament continued his stellar 2022 play to claim his first major title and his first green jacket.
When the two hottest golfers on the planet are paired together in the last group on Sunday at the Masters Tournament, it makes for one cool final round.
That's just what happened last year at the 86th Masters when Scottie Scheffler and Cameron Smith of Australia were the last twosome on the course at the year's first major championship.
Scheffler, the newly minted No. 1 ranked player in the Official World Golf Ranking, was only eight weeks removed from his first career PGA Tour victory and had won three of his last five starts. Smith entered the tournament as the reigning champion of The Players Championship and the Sentry Tournament of Champions.
While Scheffler started the fourth round at 9-under-par, three strokes clear of Smith at 6-under, the Australian quickly made things interesting. He countered Scheffler's pars on Nos. 1 and 2 with two birdies to close the gap to a single shot.
Unflappable, however, Scheffler holed a bump-and-run from below the green for birdie on No. 3 and parred the fourth hole to reach 10-under while Smith bogeyed the third and fourth holes to fall four shots behind at 6-under.
Steady play throughout the round ultimately garnered Scheffler his first major championship and a green jacket as he finished the tournament at 10-under, three shots ahead of runner-up Rory McIlroy. Smith and Shane Lowry finished T-3 at 5-under-par.
The Masters champion felt like it was a pivotal moment in the tournament when he got his third shot on the par-4 No. 3 up and in.
"I was very excited. A bit surprised, too. It was definitely not a shot I expected to see go in, but it definitely changed – I wouldn't say changed the complexion of the day, but it definitely got things rolling for me," Scheffler said during the green jacket presentation in Butler Cabin.
As calm, cool and collected as he appeared on the golf course, he admitted, once the green jacket was draped on his shoulders, that he felt anything but composed before he teed off on Sunday.
"I cried like a baby this morning. I was so stressed out. I didn't know what to do. I was sitting there telling (my wife) Meredith, 'I don't think I'm ready for this. I'm not ready, I don't feel like I'm ready for this kind of stuff,' and I just felt overwhelmed," Scheffler said.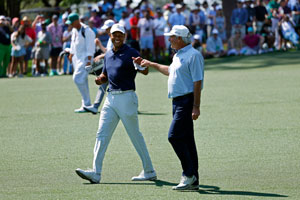 She assured him that God was in control, he continued, "and if today is my time, it's my time."
Many Happy Returns
Last year Augusta National Golf Club was ready to welcome a full contingent of patrons to the grounds after having a limited number in attendance the previous two years because of the coronavirus pandemic.
The tournament field, which included 19 first-time players and six amateurs, was made up of 91 invitees from 20 countries. At the beginning of the week, however, speculation abounded about whether or not a certain one of those invitees, who also happened to be a five-time Masters champion, would tee it up.
The anticipation increased when Tiger Woods, who had not played golf competitively since he suffered serious leg injuries in a February 2021 auto accident, was spotted on the course for practice rounds Sunday and Monday. He drew huge crowds as he made his way around the front nine on Monday on a picture-perfect day.
While Woods initially said his tournament status would be a "game-time decision," he announced at a Tuesday press conference, "As of right now, I feel like I am going to play."
The weather flipped on Tuesday, causing the suspension of the practice round at 10:55 a.m. because of the threat of lightning and thunderstorms. Based on the forecast, Augusta National announced about two hours later that the grounds would not reopen that day, and heavy rains continued throughout the afternoon.
Scheffler, who was making his third Masters appearance and playing in his first tournament as the No. 1 player in the world, had a sunny outlook about the challenge of playing the golf course.
"I've been playing some good golf. Definitely not going to take it for granted and hoping to keep it rolling this week. My game feels like it's in a pretty good spot. … I've had some good experience around here, and I'm looking forward to this week," he said on Tuesday.
Rainy weather continued to be an issue Wednesday when play was suspended about 11:20 a.m. The course reopened at 12:45 p.m. in time for another happy return to last year's tournament –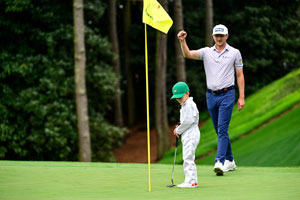 the Par 3 Contest, which was being held for the first time since 2019. Play was suspended again at 3:42 p.m., however, and the grounds did not reopen due to inclement weather conditions and safety concerns.
In the weather-shortened contest, Canadians Mike Weir, the 2003 Masters champion, and Mackenzie Hughes were named co-winners after they tied with a score of 4-under-par 23. This was the third time in Par 3 history that dual winners were declared due to the suspension of play.
Golfers were glad that the light-hearted tradition, where their children or significant others often serve as caddies, was on the schedule again. Playing in his third Masters but his first Par 3 Contest, Hughes said it was "everything and more" that he hoped it would be.
"It was a special day," he added. "To have a family day like this before one of the biggest tournaments of the year is pretty cool."
Jason Kokrak recorded the sole ace of the day on No. 4, which marked the 101st hole-in-one made since the inception of the Par 3 in 1960.
This year the contest will be played on a redesigned course in which Nos. 1 through 5 have been rerouted to allow more golf holes to be adjacent to DeSoto Springs Pond. The pond and dam also were reshaped and restored, and the changes will increase patron viewing options and capacity on the nine-hole, par 27 course.
In his annual Wednesday morning press conference, Fred Ridley, chairman of Augusta National Golf Club and the Masters Tournament, commented on the lengthening of the 11th and 15th holes before last year's tournament.
"We look at every hole every year and evaluate course improvements to uphold the integrity of the design philosophies of Bobby Jones and Dr. Alister MacKenzie," he said. "We believe these enhancements will improve the strategy of these holes, as well as the excitement of the competition and the viewing experience of our patrons."
In another change since last year's tournament, the par-5 No. 13 has been lengthened to 545 yards by moving back the Masters tees 35 yards.
Getting in Position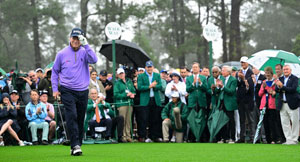 Overnight rainstorms delayed the start of the first round by 30 minutes, but the tournament still got underway Thursday with one of its most enduring traditions – the honorary starters ceremony.
Last year two-time Masters winner Tom Watson made his debut as an honorary starter, joining Jack Nicklaus and Gary Player on the first tee. Between the three of them, they have won 11 green jackets.
"I would like to say how honored I am to be with Gary and Jack," Watson said before he hit his tee shot. "I've watched the ceremony many times in the past with Arnie, Gene Sarazen, Byron Nelson, and to be a part of this thing, I'm truly humbled."
The players enjoyed beautiful weather in the afternoon, but they had to adapt to the wind. At the end of the first round, Sungjae Im shot 67 to sit atop the leaderboard at 5-under-par. He birdied the first three holes as well as Nos. 7 and 15 and eagled No. 13 to offset bogeys at Nos. 10 and 11.
"I drove it well most of the holes, and it gave me opportunities to have better second shots most of the holes," he said.
Bookending his round with double bogeys on the first and 18th holes, Smith was a stroke behind at 4-under. Shooting 68, he also birdied Nos. 5, 6, 8, 9, 12, 14, 15 and 16.
"The condition of the course was amazing given the amount of rain we've had the last couple of days. It was just gusty out there," Smith said. "The wind was quite tricky."
Former Masters champions Danny Willett and Dustin Johnson, along with Joaquin Niemann and Scheffler, shot 69 to finish T-3 at 3-under. Scheffler bogeyed No. 18 and birdied the eighth, ninth, 12th and 17th holes.
"I kept the ball in position pretty much most of the day," Scheffler said. "I got out of position a couple of times, and after that, I got the ball back into play to somewhere where I could make a par. I had some really good par saves on the front nine that kept me going."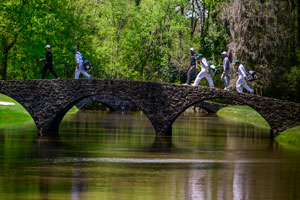 Friday brought 25-mph gusts of wind that lifted swirls of sand from the bunkers throughout the day. Stewart Cink had a hole-in-one on No. 16, and Scheffler, who birdied all four of the par-5 holes, ended the round firmly in control of the tournament.
Shooting 67 with seven birdies and two bogeys, he held a five-shot lead over Im, 2011 Masters champion Charl Schwartzel, Shane Lowry and defending champion Hideki Matsuyama. Scheffler also became one of only six players in Masters history to build a five-shot lead after 36 holes, and four of the previous five went on to win the tournament.
"It's nice to build up a little bit of a lead. … I've put myself in position to play well and to win this golf tournament," Scheffler said. "Going into tomorrow, I'm just going to approach it like I did today and just be committed to my shots and hope for the best."
He was one of 52 players to make the cut, which fell at 4-over-par 148. Since 2020, the low 50 and ties have qualified for the final 36 holes of the tournament.
Notable names to miss the cut included the likes of former Masters winners Johnson and Jordan Spieth along with major champions Brookes Koepka and Bryson DeChambeau. With his 46-year-old body that has been surgically repaired multiple times over, however, Woods shot 1-over through 36 holes to play on the weekend.
"I got back in the ball game. … Tomorrow is going to be tough. It's going to be windy. It's going to be cool," said Woods, who shot a pair of 78s on the weekend to finish in 47th place.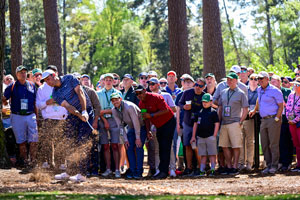 Riding Momentum
Other than a 30-minute cameo appearance in the morning, the sun sat out the Saturday round. With more blustery winds and temperatures in the 40s and 50s, people broke out sweatshirts and sweaters, beanie caps and mittens inside and outside the ropes.
Scheffler birdied Nos. 2, 3, 6, 8, 13 and 17 and bogeyed the fourth, 12th, 14th, 15th and 18th holes. After his tee shot on No. 18 landed under a bush on the left, he took a one-shot penalty for an unplayable lie to bogey the hole.
"We saw the guy with the flag that always finds the balls kind of panicking. … Fortunately, they found the ball," Scheffler said. "And then all I was trying to do was figure out how I was going to get it on the green for my third shot. And fortunately, I was able to take an unplayable out of the bush and still have a swing. I think I could have gone in there and played it if I had to, but getting out of the bush and trying to make my five from there with a drop and guarantee me being out of the bush was huge. I hit a really good shot and had a nice up-and-down."
Finishing with a 71, he was the only player to have three sub-par rounds through 54 holes.
"You hate bogeying the last hole, but the way I bogeyed it, it for sure felt like a par," Scheffler said in a Butler Cabin interview. "Definitely a good finish to the day. I'm looking forward to tomorrow."
Scheffler acknowledged that it's not easy to sleep at night and play with the lead, but he said he calmed down Sunday once he got on the Augusta National grounds.
"When I got to the golf course, I was pretty much settled in. It's just the morning that was tough," he said.
After the third and fourth holes of the final round shifted momentum back in his favor, Scheffler maintained his four-shot lead until the 11th hole when Smith birdied to pull within three strokes.
However, when he hit his tee shot on No. 12 into Rae's Creek, Smith fell out of contention with a triple-bogey to fall to 4-under. The Australian, who later won the 2022 British Open before defecting from the PGA Tour to LIV Golf, ultimately shot 73 to finish at 5-under.
In the meantime, playing five groups ahead of Scheffler and Smith, McIlroy, who carded the only bogey-free round of the tournament on Sunday, was making a run up the leaderboard. Shooting 64, he had six birdies and an eagle in the final round to finish in second place at 7-under.
He also was part of one of the most spectacular moments of the 2022 – or any other – Masters on the 18th green.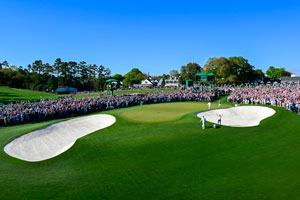 Ending the day with a flourish, McIlroy holed out from the rear of the back right bunker to birdie the 18th hole. Not to be outdone, his playing partner, Collin Morikawa, followed with a hole-out from the front of the same bunker for a birdie on No. 18 to shoot 67 and finish in fifth place.
"I played a really, really good round of golf. I knew it would take something incredible to try to at least give Scottie something to think about," McIlroy said. "I thought I had maybe done that with holing that bunker shot on the last. I got to within three at that point. But then Scottie's just been sort of unflappable and birdied 14 and 15, and he's closing this thing out like a champ."
Scheffler shot another 71 on Sunday to finish the tournament at 10-under. In addition to his birdie on No. 3, he birdied the seventh, 14th and 15th holes and bogeyed No 10. Scheffler said he never broke his concentration until he got to the 72nd hole and double-bogeyed with a four-putt.
"I had a five-shot lead and was like, all right, now I can enjoy this. And you saw the results of that," he said with a laugh.
Throughout the tournament, Scheffler put his trust in his caddie, Ted Scott, who was on the bag for Bubba Watson for his Masters wins in 2012 and 2014. Scheffler also said he rarely looked at the leaderboards.
"I kept my head down, kept pushing and trying to hit good shots and stay aggressive. … The minute you play overly conservative, bogeys just start racking up," he said. "You have to play conservatively aggressive and hit good shots. You can't just limp your way in. I knew that on the back nine, and all I was trying to do was just hit good shots."
Making History
Despite the finish that a five-shot lead going into the last hole allows, Scheffler made history in all the right ways. He became the fifth top-ranked player in the world to win the Masters, joining Ian Woosnam (1991), Fred Couples (1992), Woods (2001 and 2002) and Johnson (2020). He also was the fourth Masters champion to have won a U.S. Junior Amateur Championship, along with Gay Brewer, Woods and Spieth.
Several times during the week Scheffler was asked to describe himself. He said he's a private, laid-back guy who leads a normal life, likes to play board games and tries to stay in the moment. Now, however, he also is a Masters champion who has a lifetime invitation to Augusta National every April.
"I dreamed of having a chance to play in this golf tournament. I teared up the first time I got my invitation in the mail. … I love this place. I love this golf course," he said. "If you're going to choose a golf tournament to win, this would be the tournament I would want to win."
By Betsy Gilliland