At Aiken Augusta Audio, the technicians' work speaks for itself. And now that more home features – from lighting to audio – can be activated by voice and controlled by smartphone, the staff members don't just talk the talk with their services. 
"Technology keeps evolving, and we're trying to keep up," says owner Tim Logan. "We're wiring today's home for tomorrow's future."
With voice-activated technology, homeowners can ask their systems to play music as soon as they walk in the door. When they're away from home, they can make sure they turned off their lights by checking their smartphones.
"People don't need remote controls anymore," Tim says. "They can control everything by voice."
The Aiken Augusta Audio crews install the voice-activated technology in existing homes without having to rewire the house. They also install these systems in new construction for residential and commercial customers. 
Other services include whole-house audio installation; cable, Internet and telephone wiring; TV mounting; and the installation of smart security cameras for high-definition video surveillance, intercom, home theater and central vac systems. 
"We do anything that is considered low voltage," Tim says. "The services we provide used to be extras for homeowners and businesses, but now they're not only expected. They're necessary." 
He takes great pride in the variety of services, high-quality equipment and proficiency that Aiken Augusta Audio offers to its clients. He also enjoys the camaraderie among the staff of seven people, which includes Tim and his wife, Marla. 
Different crews have specialized tasks. One crew does pre-wiring work; another installs and programs devices.
"It give us more eyes on the product. When you have five to seven people on one job at different times, we have better outcomes," says Tim. "I have known all of our staff members my entire life, and I trust them to do the job right."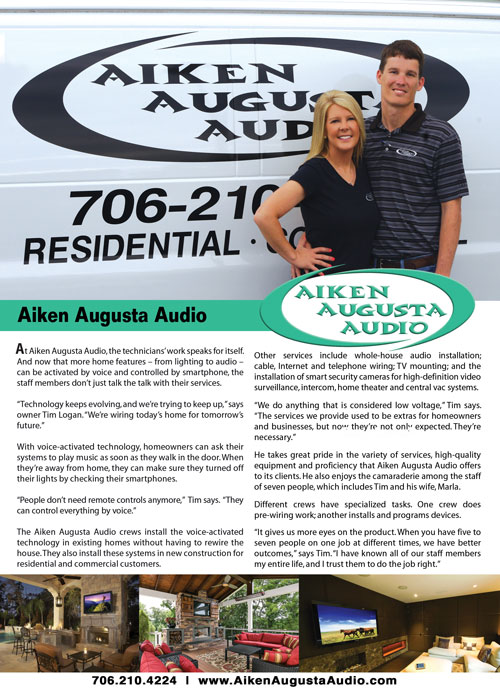 706-210-4224