From sibling winners to repeat victors to playoff champions, the 2017 Drive, Chip and Putt Championship was full of drama and excitement 
When it comes to the Drive, Chip and Putt Championship, winning is a family affair for Maye and Treed Huang of Katy, Texas.
Following in her brother's footsteps, Maye won the Girls 7-9 division in the competition last year. Treed, who placed fourth in last year's Boys 12-13 division, was the 2014 champion in the Boys 7-9 division. "My dad, my mom and my brother all gave me tips to be confident and try my best," said Maye.
Conducted by the Masters Tournament, the PGA of America and the USGA, the championship is a free, nationwide youth golf development program for boys and girls, ages 7-15, in four age categories. Tens of thousands of youth compete in the annual event, which began in 2014. The field is winnowed down to 80 competitors who earn a trip to the finals, which are held each year at Augusta National Golf Club on the Sunday preceding the Masters.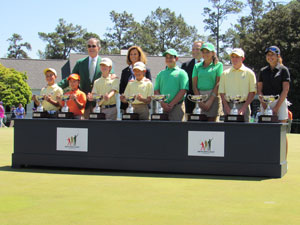 Liam Hartling, the Boys 10-11 division champion, has been playing golf since he was 18 months old. "You just have to try it even if it is hard at the start. Stick with it, and it will be fun," he said.
Alexa Pano of Lake Worth, Florida became the first two-time champion. She won the Girls 12-13 division, after prevailing in the Girls 10-11 division in 2016. "Drive, Chip and Putt is definitely more nerve-wracking than going out for 18 holes," says Pano. "If you make a mistake, you don't have a lot of chances to make up for it."
After making an extra 15-foot putt on the 18th green, Mason Quagliata of Scottsdale, Arizona topped Andrew Scholz of Fairway, Kansas in a playoff to take the Boys 14-15 title. "My hands were shaking when I hit that last putt," Mason said.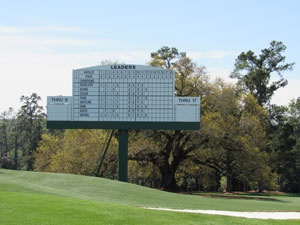 Other female winners were Lucy Yuan of San Diego (ages 10-11) and Savannah Grewal of Mississauga, Ontario (ages 14-15). Other male champions were Carter Gaede of Manhattan Beach, California (ages 7-9) and Zachary Colon of Bolton, Massachusetts (ages 12-13), who also won in a playoff.
This year's Drive, Chip and Putt Championship will be held at Augusta National on Sunday, April 1. Registration for the 2019 championship is underway at drivechipandputt.com, and local qualifiers begin in May. 
By Betsy Gilliland