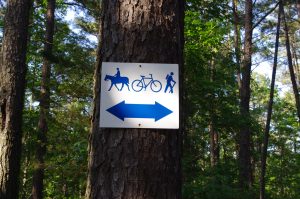 Bartram Trail – 18.5 miles
Columbia County
Bartram is a fast beginner/intermediate trail with lots of views of the lake. Entrances are at West Dam Park, Lake Springs, Petersburg Campground and Wildwood Park. The section from West Dam to Petersburg is beginner, and the others offer more climbing, creek crossings and technical challenges. Bartram connects with Lake Springs Loop and easily links with Keg Creek and Mistletoe State Park trails. sorbacsra.org
Bussey Point Horse Trail – 12 miles
Lincolnton
Bussey Point is a 2,545-acre peninsula at the confluence of the Savannah and Little rivers that caters to horse lovers. Closed to vehicular traffic, there are more than 20 miles of well-marked wooded equestrian trails and natural-surfaced roads. The main wood trail, marked with yellow diamonds, is 12 miles, and there is a shorter loop of 6.5 miles. Shoes for horses are optional, but roads and trails can be rocky so some riders like at least front shoes. The area is open to hikers and bikers, but they are rarely encountered.
Catfish Creek/Peninsula – 6.5 miles
McCormick County
Catfish Peninsula is a 1,070-acre peninsula along the Savannah River portion of the lake. The area contains 10 trail roads that branch out through the area that contains six food plots. There are no trail signs in the area.
Cherokee Quarry – .5 miles
Lincoln County
The trail circles an old strip quarry that has been converted (mostly by beavers) to a wetland and pond area. Waterfowl are common on the pond, and a spur tail leads to the shoreline. There are no trail signs in the area.
Cliatt Creek Nature Loop – 3.75 miles
Appling
Located in Mistletoe State Park, this remote trail is marked with white blazes. Grades are a little steep, and there are a few obstacles. The footbridges at most water crossings are wide enough for bikes, although the approaches are difficult. Part of the trail follows Cliatt Creek through a hardwood forest as it flows toward the lake, while another section wanders through woods with a gentle series of dips and rolls.
Dozier Branch Canoe/Kayak Trail – 2 miles
Lincoln County
From the launching area, head downstream along Dozier Branch to where it joins Grey's Creek, then go north along the creek until the water is too shallow to go any further. These creeks provide excellent fishing but are not accessible to most power boats. There are no trail markers, and extra caution should be used during periods of high stream flows.
Forks Area Trail System (FATS) – 37 miles
Sumter National Forest
Designated as an Epic Trail by the International Mountain Biking Association, a series of six different loops through a thickly forested area makes this a great system for beginner to intermediate riders with optional challenging lines for more experienced riders. Although hilly, there are not many climbs that require a lot of effort or dismounts. sorbacsra.org
Hickory Knob Trails — 10.2 miles
McCormick
Multiple loops and fast trails are fun and challenging for the intermediate rider. Located in Hickory Knob State Park, the Lake Loop is 7 miles, Turkey Ridge is a 1.7-mile loop and Beaver Run is a 2.5-mile out-and-back. sorbacsra.org
Keg Creek Trail – 9.2 miles
Appling
This intermediate level trail, marked with yellow blazes, is a fun ride full of roots, dips, bridges and creek crossings that are technical enough to be challenging but easy enough for fairly novice riders. Some of the creek crossings are easy; some are difficult. Connects with Bartram Trail at Wildwood Park and links with Rock Dam Trail by less than 3 miles of paved road. sorbacsra.org
Lake Springs Loop – 2.5 miles
Columbia County
Located in the Lake Springs Recreation Area, this paved trail with white blazes is a horseshoe off Bartram Trail (yellow blazes) and offers a little more climbing and technical challenge than the main Bartram it bypasses. Secondary trails identified with red blazes allow visitors to explore the Lake Springs shoreline. The trail connects the four peninsulas that make up the park and ends at an observation tower overlooking the lake.
Little River Blueway Outdoor Adventure Area – Multiple trails
McCormick
Located at the convergence of Little River and Clarks Hill Lake in Sumter National Forest, the Blueway offers 51 miles of diverse and scenic water trails, 136 miles of hiking and biking trails, two state parks bordering Savannah Lakes Village, four golf courses, five campgrounds, access to historical sites and a skeet and archery range. The Forks Area Trail System (FATS — designated as an Epic Trail by the International Mountain Biking Association), the Turkey/Wine Creek Trail and Steven's Creek Trail are all within a 30-mile drive from Blueway Base Camp.
Modoc (Stevens Creek) – 5.5 miles
Modoc
An out-and-back trail for intermediate or advanced riders, this trail is best known for its multiple creek and ditch crossings. It is one of the most technically challenging trails in the area. sorbacsra.org
Rock Dam Trail – 13 miles
Appling
Located in Mistletoe State Park with access by the Cliatt Creek Nature Loop, this intermediate/advanced trail is marked with blue blazes and will challenge even the most seasoned rider with several creek crossings, a gully ride and a long, rocky, rooty, extremely off-camber climb. Most riders prefer the loop in the clockwise direction. This trail can be linked with Keg Creek by less than 3 miles of easy pedaling on paved roads. sorbacsra.org
Shriver Creek – 3.25 miles
Lincoln County
Shriver Creek is a 900-acre peninsula along the Savannah River portion of the lake. The area contains six trail roads that branch out through the area. Most trails go to or pass one of six food plots. There are no trail signs in the area.
Turkey Creek – 7 miles
One of the CSRA's old-school trails, much of this intermediate out-and-back trail is carved into the hillside along Turkey Creek with scenic views and lots of bridges. There are some roots, but nothing difficult. Cross Key Road to get on Wine Creek. sorbacsra.org
Wildwood Park – 12 miles
Appling
Columbia County's 975-acre park includes up to 12 miles of wooded trails for hiking, biking and horseback riding. The more advanced biking portion of Bartram Trail from Petersburg to Wildwood Park offers nine miles of fast single-track challenges. A brisk ride through Wildwood takes riders to nearly eight miles of more technical obstacles of Keg Creek. Entry is $3 per day per car, truck or motorcycle. The entry fee for vehicles with a horse trailer is $6 per horse per day. columbiacountyga.gov
Wine Creek – 5.5 miles (one-way)
Wine Creek is a fast and fun 5.5-mile, one-way trail with technical challenges for intermediate riders. It is one of the most scenic trails in the area with several creek crossings and a long rocky section on the edge of the creek. Ride across Key Road to get on Turkey Creek. sorbacsra.org