A high school horticulture teacher grows a large collection of exotic plants on campus that attracts attention near and far.
Once when he was in Waffle House, Joe Le Vert, who teaches philosophy, theology and horticulture at Aquinas High School, overheard a remark by a high school athlete from an out-of-town school. The student said the team was going to play at "the jungle."
Naturally, Le Vert, who has filled the campus with exotic plants for his horticulture class, knew that the student was referring to Aquinas.
"I want the environment all around the school to be really pleasant and a great experience," he says. "I want people to feel like they're someplace special."
Hands-On Learning
Le Vert, who has a bachelor's degree in botany from the University of Georgia and a master's in theology from Notre Dame University, has taught a horticulture class for 39 of his 40 years at the school. The elective course, which typically includes eight to 18 students, is open to juniors and seniors.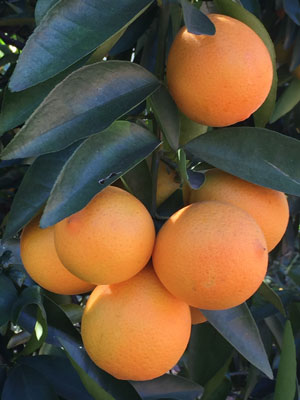 "The kids love to get outside. The class is always the last period of the day," says Le Vert. "They get their hands dirty, so to speak, and get their nose out of a book."
The campus has the largest collection of cold-hardy palms and citrus plants away from the coast in Georgia and South Carolina. "I had no idea that there were any citruses that could be grown this far north," says Le Vert.
Other exotic plants on the grounds include tangerines; kumquats; yuzuquats, lemon and kumquat hybrids that can be used as a lemon substitute; sour oranges (but no true lemons or sweet oranges); olive trees and banana varieties.
"We don't have many azaleas, and we don't have any dogwoods. Augusta has plenty of them. We do other things," Le Vert says. "We've tried to do the grounds as an experiment, so there's a lot of different things growing at school that you wouldn't ordinarily see."
To expose the students to a variety of plants, the school grounds are filled with orchids, which grow out of soil; succulents; plants that are grown for foliage and carnivorous plants. The horticulture students tend to desert roses from East Africa and plants from South Africa, and they plant seeds from a botanical garden in Italy.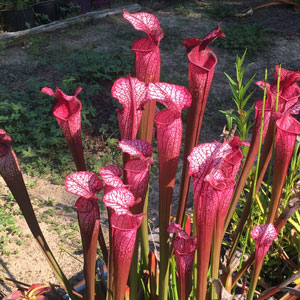 "We try to put a plant in a place where it will be the happiest," says Le Vert. "We try not to plant anything that will require a lot of care."
The citrus plants start blooming in March. Japanese maples bloom in the fall, and camellias bloom from November to March.
"We have something blooming 12 months out of the year," says Le Vert. "The kids go out at lunch and pick tangerines off the tree and eat them. They also eat kumquats off the tree."
As part of the class, the students maintain the entire campus except the front of the school and the athletic fields. They prune trees and plants, mow the grass and reseed the perennial rye grass lawns in September.
"I teach them how to plant things because everything is not planted in the same way," Le Vert says. "I teach them about soil amendments. With some plants, we need to add clay. We have gone to Wrens to collect kaolin."
The students also fertilize the plants, but they do not spray any of them. Every year the senior class goes to Disney World in January, and the students bring back seeds such as palm and cycad seeds that they pick up off of the grounds of the Disney hotel where they stay. The students also take some plants home with them at the end of the school year.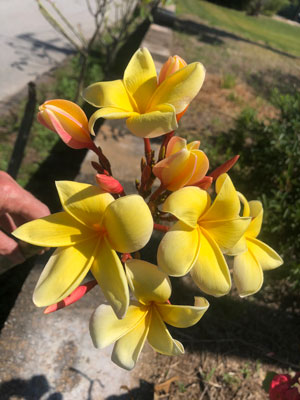 Le Vert conducts tours of the grounds to groups from places such as UGA, Clemson University, the Smithsonian Institute, the Georgia Department of Natural Resources and local gardening clubs. The school also shares cuttings and seeds with local nurseries and has sent seeds as far as away as Italy, France and Croatia.
"We try to provide a service," says Le Vert. "We don't charge for anything we ship out of the country. If we ship in the United States, we ask for a donation to the school."
Developing Lifelong Skills
Le Vert, who helped both of his grandmothers in their gardens when he was growing up, has had a lifelong affinity for nature.
"I was always interested in biology and animals, but plants are a lot easier to take care of than a dog," he says. "They don't have to go to the vet, and plants stay put."
He tries to instill that same enthusiasm in his students. Through the horticulture class, he hopes they gain an appreciation for learning by doing, develop confidence to take care of a property and enjoy the beautiful landscape of their surroundings.
"We've had a number of kids who have gone on to work in horticultural fields," Le Vert says. "And all of the kids are going to have a house at some time in their lives."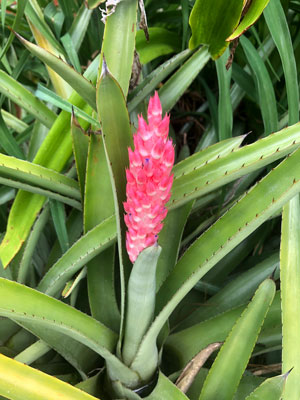 One of his former students worked for Jack Nicklaus, and others have started their own landscaping or lawn maintenance companies.
Harrison Catalano, who graduated in 2015, took the horticulture class as a senior. "All four years of school, I knew it was a class I wanted to take my senior year," he says. "I had heard so many stories about it from other classmates."
His favorite task was driving mulch around in a golf car, but he also learned how to plant, when to groom plants and when different varieties bloom.
"I have a personal garden in my backyard. I grow basil, tulips and daisies," Catalano says.
Michael McCormack, another 2015 graduate, also took the horticulture class during his senior year.
"It was a good chance to get outside and enjoy the weather. It is such a beautiful campus," he says. "We didn't have tests in the class. For our final exam, we went through the property and talked about everything we had done that year."
McCormack says his favorite job was to maintain the palm trees, and he still helps Le Vert with the upkeep of the school grounds sometimes on Saturdays. He also says the instructor taught him as much about life as he did about horticulture.
"I think it's really cool that 'Le Vert' translated from French into English means 'the green,'" says McCormack. "I think this is his destiny."
By Leigh Howard