Annual festival celebrates gardens, butterflies, bees and a tea.
Get ready to see a spectacular show of Mother Nature at the annual Sacred Heart Garden Festival April 26 – 28. Spread out inside and on the grounds of Sacred Heart Cultural Center, the festival showcases floral displays and landscape designs by local exhibitors.
A Vendor Market also will feature plants, home accessories and garden accents from shops in Georgia, Florida, Mississippi, South Carolina, North Carolina, Kentucky and Pennsylvania. Tours of private gardens will be available from noon until 5 p.m. Friday, Saturday and Sunday.
Friday speakers include Gerald Stephens of Nurseries Caroliniana and Becky Griffin, University of Georgia Community and School Garden coordinator. Stephens will discuss "Simplicity in Landscape Design," and Griffin, a certified Georgia beekeeper, will talk about "Our Fascinating Georgia Bees – From Honey Bees to Native Bees."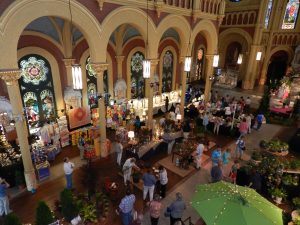 On Saturday, Karin Jeffcoat of Cote Designs will present "Garden-Inspired Floral Arrangements" and monarch butterfly expert Susan Meyers will discuss "Monarchs and Milkweed Across Georgia."
Friday Night in the Garden, scheduled for 5 p.m. – 8 p.m. Friday, April 26, will feature live music, food and beverages. Other events include a Garden Festival Preview Party at 6:30 p.m. Thursday, April 25, and a Garden Festival Tea at 4 p.m. Sunday, April 28 at the home of Patty and Dan Blanton.
At the tea, Greg Campbell, co-owner of Memphis, Tennessee floral design shop Garden District, will speak about floral arranging and his new book, Florist to the Field, which he wrote with Erick New. Reservations are required for the preview party and the tea.
All proceeds from the event will benefit Sacred Heart Cultural Center. Tickets are available at Sacred Heart Cultural Center, Angevine's Fine Silver, Bedford Greenhouses, Greenbrier Nursery & Gifts, Midtown Market and Wild Birds Unlimited. They also are available online or by calling (706) 826-4700.
If You Go:
What: Sacred Heart Garden Festival
When: 9 a.m. – 8 p.m. Friday, April 26; 9 a.m. – 5 p.m. Saturday, April 27 and noon – 5 p.m. Sunday, April 28
Where: Sacred Heart Cultural Center
How Much: $25 in advance for three-day festival and garden tours; $30 at the door; $10 daily (garden tours not included): $75 for preview party; $10 for Friday Night in the Garden
More Info: sacredheartgardenfestival.com