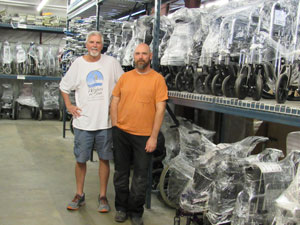 After founding a nonprofit organization to help vulnerable populations, a local veteran changed his own life by changing the lives of others.
Rock bottom is a holy place. And U.S. Army veteran Don Cummings, who retired in 2012, has been there.
During his 23-year military career, he served in Special Operations for 11 years. He was deployed to Afghanistan six times and to Iraq three times, and he traveled the world with General David Petraeus as his community Noncommissioned Officer for 15 months.
Two events in 2003, however, had a lasting, profound effect on the Hephzibah resident.
As part of the 3rd Ranger Battalion, Cummings was one of about 120 soldiers who took Haditha Dam that spring and defended it from Iraqi forces for 72 hours. For the first two days, the battalion endured nonstop mortar and artillery fire. At one point, a tank leveled its turret and aimed directly at Cummings.
"That started making me rethink life in general," he says. "When you're in combat, it's not so much about the big picture. It's about just living the next five minutes."
Then, when he was deployed to Thailand in the fall, one of his men suffered serious injuries. Cummings had to call the soldier's mother to tell her that her son might not survive. "She said it was all my fault. I was supposed to protect him," Cummings says.
The soldier lived and received a medical discharge. Nevertheless, between those two incidents, Cummings says, "It put me in a really bad place. Everything in my life fell apart."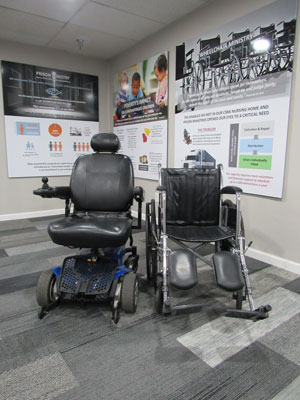 Serving The Disadvantaged
Cummings went through PTSD, a divorce and a battle with alcohol, which left him feeling suicidal and depressed.
He started to turn his life around in October 2010 when someone invited him to church. He enrolled in Bible seminary and got involved in mission work, which led him to found Sons of Consolation Ministries.
The all-volunteer ministry, which earned 501(c)3 status two years ago, supports the area's most vulnerable populations including the elderly, inmates, the disabled and children in poverty.
The name of the organization comes from the New Testament figure, Barnabas, a selfless man whose name means "the son of consolation."
"I have traveled all over the world and seen poverty," says Cummings, senior pastor and chairman of Sons of Consolation. "I know what it's like to hurt. I know what it's like to think nobody cares or understands."
The ministry relies on the help of about 12 volunteers, including veterans George Wardy, who serves as associate pastor and vice chairman, and Cummings' wife, Maria.
Martinez resident Craig Stone serves as president and CEO. He manages day-to-day operations and coordinates efforts with corporate sponsors, third-party sponsors and volunteers.
Cummings and Stone met through their work with Kairos Prison Ministry International. "Don told me his vision," says Stone. "I believed in what he was telling me, and I still do."
The volunteers visit residents and holds weekly church services at two local assisted living facilities, Amara Health Care & Rehab and Windermere Health and Rehabilitation Center. The nonprofit also gives birthday and Christmas presents to the residents and visits them when they're hospitalized.
In addition, Sons of Consolation has continued its work with Kairos. Volunteers visit inmates at Richmond County Detention Center and Augusta State Medical Prison, where twice a year they also hold four-day Kairos programs to introduce inmates to Christianity or encourage their spiritual growth.
"The whole idea of Kairos is to build a Christian community inside the prison," says Stone. "Some of the men have gone through a complete transformation. For the men that go through the program and stay in the program, the recidivism rate drops by about 50 percent."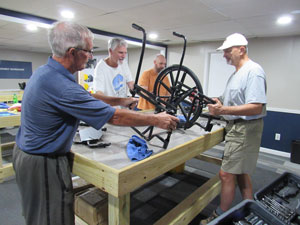 Expanding Its Ministries
Through meeting elderly or incarcerated individuals with disabilities, the volunteers discovered another critical need. Many disabled people in the United States need a power wheelchair that they cannot afford, and the disabled in developing countries lack access to basic care. As a result, Sons of Consolation created a wheelchair repair and reassembly workshop.
"After we take them apart, clean them up and repair them, we ship the 'newsed' wheelchairs to South America," Stone says. "The end product looks and functions like a brand new piece of equipment. We recycle the parts that we don't use."
Focusing on children in Bolivia and the elderly in Uruguay, they ship wheelchairs to South America twice a year through a partnership with Fridla, or Friends of the Disabled Latin America. The organization donates some refurbished wheelchairs locally as well.
Reaching out to children in poverty is the ministry's newest program. This fall Sons of Consolation gave more than 100 backpacks, which were filled with school supplies, to four churches to distribute to children in their congregations.
"We don't donate to individuals," says Cummings. "We go through a third-party organization such as a church or a nursing home."
The ministry, which operates in a facility off of Gordon Highway, would like to build its volunteer base.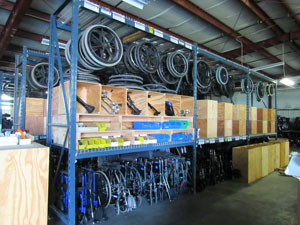 "People can volunteer one morning a week, or provide financial support," says Stone. "We will bring church mission boards and civic boards through the building to show them what we do. We steward our money very well."
Volunteer opportunities range from visiting assisted living homes and refurbishing wheelchairs to baking cookies and filling backpacks.
"People can participate any way they would like. We would like for them to come see what we're doing, and then they can tell me how they would like to help," says Cummings. "Our goal in all of our programs is to reinforce a sense of community."
Serving those who feel forgotten and alone certainly changed his outlook.
"Your choice in life is to sit and dwell on your own problems, or meet the needs of others," Cummings says. "The more you're focused on others, the smaller your own problems seem."
For more information, visit sonsofconsolationministries.org or email info@sonsofconsolationministries.org.
By Betsy Gilliland