It's a dog's world. The rest of us just live in it.
Consequently, when dog – or let's face it, any type of pet – owners are being honest with themselves, they know who runs the show in their households.
Yep, it's their four-legged family members, and pet parents love to shower them with love and attention. Yet treats and belly rubs or walks and car rides are not the only ways to pamper these fur babies. Just ask Augusta artist Caroline Weaver.
Personality Plus
Three years ago, Caroline painted portraits of her two rescue dogs – a German Shepherd named Boo Radley and a Lab mix named Dakota – and then a couple of friends asked her to paint pictures of their dogs as well.
"I have never taken any classes. I've always been in love with art. It has always been my passion," she says.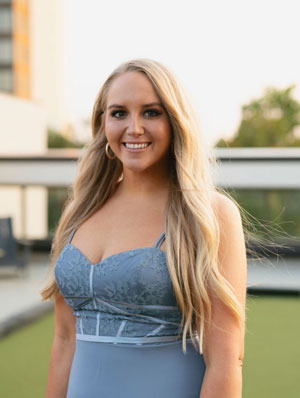 Her talent has grown into a side business (ccthornton_art on Instagram), where she can combine her passions of art and animals.
"My rescue dogs inspired me," Caroline says. "They were my little guinea pigs."
From the tilt of a dog's head to the happy expression on its face, she loves to use acrylics on canvas or watercolors to capture the special qualities of people's pets.
After all, Caroline named Boo Radley, who was living in a sewer in south Augusta when she found him, after the character in To Kill a Mockingbird for a reason.
"Boo Radley was very skittish. I named him that because he refused to go outside," she says.
Clearly, Caroline, who got Dakota after she saw a Facebook picture of her tied to a telephone pole, has a knack for zeroing in on a pet's personality.
"I am a huge animal lover. I get so excited when people allow me to paint their precious little keepsake," she says.
When she does a commission, she asks her clients to give her as many photos as possible of their pet so she can capture its personality.
"I love to get an assortment of different pictures to get their character," Caroline says. "I try to make my paintings as realistic as possible."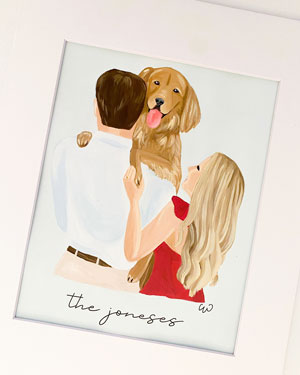 Because she paints primarily on weekends in a dining-room-turned-art-studio in her home, it generally takes Caroline three to four weeks to finish a piece. Although she prefers painting with acrylics, clients can choose watercolor or acrylic for their portraits.
"With watercolor you're more limited because it's such a delicate process to balance out shades and colors. Watercolor requires a lot of layering to catch a pigment," she says.
"With acrylics you have more freedom. I like the opaque finish of acrylics, and the pigment is more vibrant, especially on canvas. But I love both mediums."
Caroline not only paints dogs, however. Some of her other works have included a painting of eight cats, a couple of pig portraits and a painting of a dog with two donkeys.
Bridal Party Pets
Art and painting have been an outlet for Caroline since she drew cartoons as a child. She picked up the hobby again as a stress reliever in 2019 when she started planning her wedding.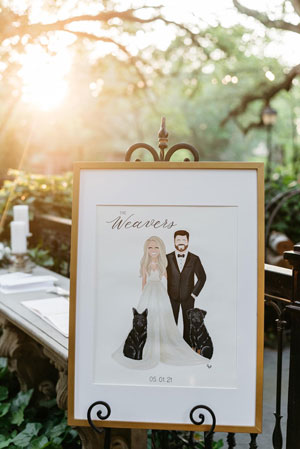 Once people saw the monogrammed crest she did for her own wedding invitations — featuring Boo and Dakota at the venue — she began to get requests.
Custom signs for specialty drinks named after a couple's pets are another popular item for wedding receptions. For her wedding, she painted a "Boo's Bar" and "Dakota Sour" sign in honor of her dogs.
For another bride who served margaritas at her reception, she painted a "Grangerita" sign that showcased her dog with a margarita.
In addition, Caroline paints 24-inch-by-18-inch alternative guest books on canvas that feature the bride and groom and their dogs.
"People who are huge animal lovers want their pets to be a part of their wedding day," she says.
She also paints house portraits, venues, monogram canvas tiles and family portraits – with or without pets.
"This is such a fun outlet for me," Caroline says. "I like to paint people and families, and I love to be creative."
By Betsy Gilliland