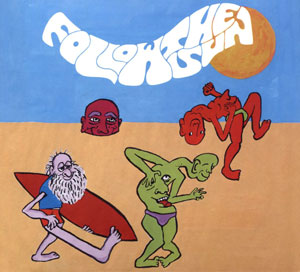 No trip to the pool should be without a perfectly crafted soundtrack — a backdrop of tunes that elicits cannonballs and corkscrews, lazy floating and cookouts. It sets the mood and presses the grooves of memories and nostalgia that keep us waiting in line at the diving board way past our prime. 
Through the years, I have experimented poolside with all genres spanning the decades of pop culture and soundscape, and without a doubt, songs recorded and released between 1955-1975 create an environment unlike any other. Now, just in time for summer, a new compilation of practically unearthed gems is hitting the airwaves.
The compilation, appropriately titled Follow the Sun, is a collection of obscure tracks recorded in the late 60s and early 70s by fledging artists from the Australian music scene. Keith Abrahamsson, owner of Mexican Summer records, dusted off these gems of old and created a 19-track time warp that captures a stitch in music history where singers were songwriters and instrumentation was a vast and fast-growing vine of influence and experimentation.
Follow the Sun is chock-full of material you have not heard, but there is a familiar undercurrent that stimulates the senses like freshly cut grass and hose water. It is the perfect foundation for a golden oldie wall of sound that dances and moves through the water like Marco looking for Polo. Follow the sun, and enjoy yourself. 
- Chris Rucker