Swimming long distances is nothing new for Martinez native and 2009 Lakeside High School graduate Robby Palmese.
A year-round and long-distance swimmer through high school, he competed in the mile, 500-meter freestyle and 400-meter individual medley for San Diego Mesa College, where he enrolled after a four-year stint in the U.S. Navy. He dug deep to win the mile event – and his final collegiate race – at the Pacific Coast Athletic Conference championships in May.
In July, however, he completed the swim of his life when he challenged himself physically and emotionally in a 21-mile swim across the Catalina Channel in California. He had to overcome difficult water conditions to complete the swim in 12 hours, 21 minutes, 42 seconds. Robby also had to battle his emotions as he swam in memory of Emily "Em" Nichols, a fellow Lakeside graduate who died of cystic fibrosis at age 21 in January.
"The swim represented the 21 years of life she lived and 21 miles of struggle for me. It was just a good metaphor of her life," says Robby.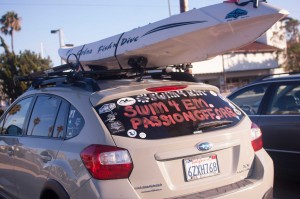 He also wanted to raise $1,500 for the Cystic Fibrosis Foundation, whose mission is to find a cure and improve the lives of those who live with the disease, and he has raised almost $1,000 to date. Cystic fibrosis is a life-threatening, genetic disease that causes persistent lung infections and progressively limits the ability to breathe. About 70,000 people worldwide and about 30,000 people in the United States – including Em's older brother, Chase – live with the disease.
The Training
Swimming again for the first time in four years, Robby started training for the channel crossing shortly after Em died. He practiced in a pool with the Mesa swim team and his coach, Nathan Resch. In the last two months before the swim, he also trained in the Pacific Ocean with the La Jolla Cove Swim Club, an open-water swimming group. "They were a huge part of my success," says Robby.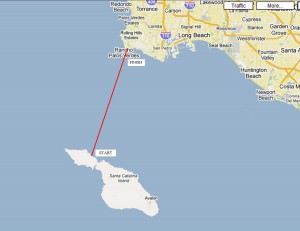 He averaged three to five miles each day, and he also did 10- to 12-mile swims a couple of days a week.
"During training toward the end, I started to get burned out," says Robby, who also was going to school and working while he was training. "It's a lot of time in the water."
The mile race in the PCAC championships turned out to be good training – mentally and physically – for him as well. He had finished fifth in the 500 freestyle and third in the 400 IM in the days before the mile, and his goal for his last event was to improve his time, rather than to win. 
"During the race I was ahead by about two body lengths. My coach signaled to me to hold my pace, and I thought about Em to keep going," says Robby.
He didn't think he would be able to maintain his pace, but he remembered how Em had pushed herself when she visited him in San Diego for a week around New Year's Day in 2014.
"She swam with dolphins; she went scuba diving; she went skydiving. She did a 5k with me," says Robby. "She still wanted to do everything even though she knew she was going to have a lot of trouble. I didn't know she had cystic fibrosis for a long time, but I knew what it was and how it affected people."
In addition to training, Robby had to tend to other details to prepare for the swim. He had to get a pilot boat that would assist him in navigating the channel, and he had to apply with the Catalina Channel Swimming Federation to make the swim official. As the swim date became closer, he created a GoFundMe page to raise money for the pilot boat and to cover the fee for an official recording by the Swimming Federation. He then went to the CF website to set up his fundraising campaign.
The Swim

To avoid shipping traffic and blustery afternoon winds, Catalina Channel swimmers begin at midnight and must swim for several hours in the dark. Robby's journey began at 8 p.m. Wednesday, July 22 with a three-hour boat ride to Catalina Island.
Swimmers can face any number of obstacles including bad weather, rough currents, sharks, barracudas, getting tangled in kelp, hypothermia, nausea and exhaustion. Under marathon swimming rules, a swimmer cannot make physical contact with anyone during the swim. In addition, Robby says, "I couldn't wear anything that added warmth or buoyancy. I wasn't allowed to touch anything." He wore only a Speedo, goggles and a silicone swim cap in the water. 
At the end of the swim, the swimmer must stand unassisted on the shoreline of Point Vincente Beach in Rancho Palos Verdes, California.
Robby had 21 people aboard his pilot boat including three pilots; two Federation observers; his parents, Eddie and Sherry; Em's parents, Chad and Monica; friends and Coach Resch.
A kayaker also paddled alongside him as he swam across the channel to the rocky coast of Point Vincente. Four Navy friends took turns in the kayak by switching off every three hours.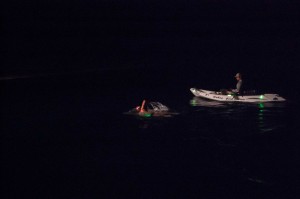 "They were my eyes. At night a swimmer can't sight very well, especially with waves, and the current was killing me," Robby says.
He would "feed" every 30 minutes on hypotonic sport drinks, and the kayaker rowed alongside him and carried his feed.
"Toward the end I started having trouble with my sugar levels, so I ate some gummy bears. They're light on the stomach but pack a lot of sugar," Robby says.
Doubts started creeping into his thoughts about halfway through the swim, but he kept telling himself to swim three more miles at a time.
"During the swim there were times when I thought, 'I can't do this anymore,'" he says. "It was dark, and I had no one to talk to. My shoulders were killing me. My back was killing me."
The water temperature remained about 70 degrees during his swim. However, he started to get cold in the last three hours so he chugged a couple of ounces of warm water every 15 minutes. "Your body is beat up and worn down, and you're tired," says Robby.
Halfway through the swim, he realized he was way behind pace as it dropped from 2 miles per hour to three-quarters of a mile per hour. Although he was swimming at his normal rate, he was battling a strong cross current that prevailed for more than nine hours. Robby didn't know about the current until one of the CCSF official observers, Jim Fitzpatrick, told him about it on the pilot boat after the swim.
"Robert was finally able to break out of the current and ended the swim with a strong finish," Fitzpatrick says.
The channel crossing took three hours longer than Robby, who swam freestyle the entire way, expected. "The whole thing was a challenge. The training was tough, but motivation was the toughest part," he says.
As Robby approached the Pointe Vincente shoreline, his swim coach swam the last 100 yards with him.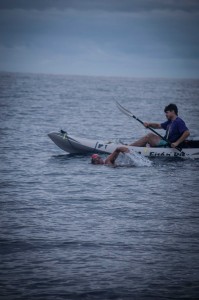 "There are a lot of big, jagged rocks, so it's dangerous going in. There are also some rounded rocks, so you have to find one to stand on it," says Robby, who had vertigo from the waves at the end of the swim. "When I finally stood up, I almost fell down because I was so dizzy. I stood up for about five seconds. 
The kayaker followed him close to the shore and then took him to the pilot boat for the trip back to Long Beach.
Since 1927, only about 300 people – a quarter of the number of swimmers who have crossed the English Channel – have completed the Catalina Channel swim successfully and officially. Times have ranged from 7.5 hours to 32 hours.
However, it is the personal connections that stand out in Robby's mind about the swim.
"I just like helping other people. It was nice to see how appreciative other people were of what I was doing," he says. "I'm just thankful for the support and appreciation from everyone."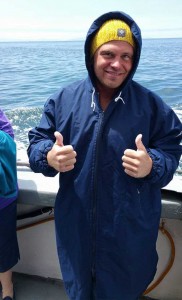 In addition, Robby says, "Em was aware of the brevity she faced living with cystic fibrosis, but she never saw that as an obstacle. She knew that if she made the most of the time she had, that her life would continue to inspire. What she wanted most of all was to raise awareness and support for those involved in CF research. She dreamed of the day when cystic fibrosis would come to an end."
For more information or to make a donation to the fundraising campaign, visit swim4em.passioncff.org.
By Todd Beck