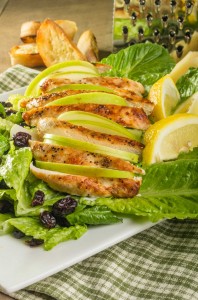 1 garlic clove, minced
2 teaspoons lemon pepper seasoning
1/2 teaspoon paprika
1 tablespoon olive oil
Juice of 1/2 lemon
1/2 teaspoon salt
1/2 teaspoon dried oregano
2 boneless, skinless chicken breasts
1 tablespoon olive oil
1 apple
Lettuce
Dried cranberries
Lemon wedges for garnish
Make a marinade by combining the first seven ingredients. Coat chicken and marinate in refrigerator for at least 2 hours. Place olive oil in a skillet. Remove chicken and cook in skillet over medium high heat 3-4 minutes a side or until cooked through and juices run clear. Let cool and refrigerate until ready to serve. Before serving, slice chicken and apple. Serve on a bed of lettuce with dried cranberries and garnish with lemon wedges. Makes 2 servings.