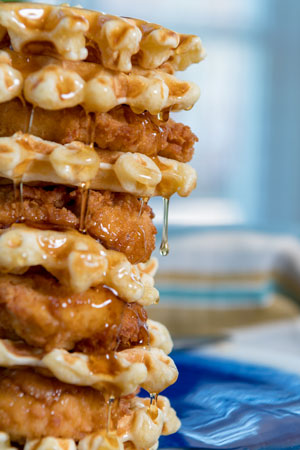 Chicken:
2 pounds chicken tenders
1 cup buttermilk
2 tablespoons hot sauce
1/2 teaspoon salt
1/2 teaspoon pepper
Canola or peanut oil for frying
2 cups flour 
Waffles:

2 cups flour
2 tablespoons sugar
1 tablespoon baking powder
1/4 teaspoon salt
2 eggs
1/3 cup vegetable oil
1 3/4 cup milk
1 1/2 tablespoons butter, melted
1 teaspoon vanilla extract
Syrup 
Place buttermilk and hot sauce in a resealable bag and massage ingredients together. Season chicken with salt and pepper and add to bag, coating chicken thoroughly. Marinate in fridge 1-2 hours. Preheat oven to 250 degrees. In a medium heavy-bottom skillet or Dutch oven, heat about 1 inch canola or peanut oil over medium to medium high heat, until between 350 and 375 degrees. Add flour to a large mixing bowl and dredge chicken pieces until fully coated. Tap off excess flour and gently place chicken into hot oil (do not crowd pan). Fry 6-8 minutes, turning occasionally with tongs until crispy and a deep golden brown. Drain on paper towels. Set on baking sheet in oven to keep chicken warm. 
To make waffles, combine flour, sugar, baking powder and salt in a large bowl. Separate eggs and place egg whites in a blender. Blend until frothy. Add egg yolks, vegetable oil, milk, melted butter and vanilla extract. Blend until mixed well. Pour into bowl with dry ingredients and stir until combined. Make waffles according to waffle iron instructions. Place chicken on waffles and drizzle with syrup. Serve open-faced or stack as sliders or towers. Makes 4 servings.