Step aside Arnold, Babe, Miss Piggy, Napoleon, Piglet and Wilbur — make way for the famous swimming pigs of the Bahamas.
Most pigs are known for their penchant for wallowing in the mud. Then there are the illustrious swimming pigs of the Bahamas. These discriminating swine turn up their snouts to mud holes, preferring to frolic in the pristine, picture-perfect Atlantic Ocean waters around the island nation.
The renowned 15 or 20 swimming pigs make their home on Big Major Cay (aka Pig Beach – go figure) in The Exumas, an archipelago of 365 cays and islands. Big Major Cay can be reached only by boat, and as soon as the pigs hear the motors of approaching vessels, they spring into action. They eagerly pig-paddle out to greet the Bahamians and tourists who make daily visits to their little piece of uninhabited (by humans, anyway) hog heaven.
The Exumas has become a playground for the rich and famous – think Johnny Depp, Faith Hill and Tim McGraw, David Copperfield – and the paddling porkers have become celebri-pigs in their own right. The camera-ready pigs don't even mind posing for the paparazzi – especially if they can be bribed with snacks.
Once a little-known secret, the social media sensations have their own Instagram (#theswimmingpigs and #pigsofparadise) and Twitter (@pigsofparadise) accounts. They star in a short, award-winning documentary called – what else? – "When Pigs Swim" and, of course, in too many selfies to count. The outgoing oinkers have been featured on the likes of NBC's "Today" and ABC's "The Bachelor." They even snagged a hoof-hold in the literary world when a book about them, Pigs of Paradise by T.R. Todd, hit the shelves in October.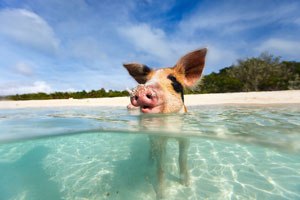 No Pig is an Island
No one knows for sure how the pigs found their way to the white sandy beaches of Big Major Cay, which is about 82 miles southeast of Nassau and about 50 miles northwest of George Town. However, their presence on the island is the stuff of legend. Some people believe the pigs swam to safety from a nearby shipwreck. Others say they were left there by sailors or pirates who planned to come back later to cook and eat them, but never returned.
A man named Wayde Nixon also claims to have brought the first pigs – one male and four females – to the island with his business partner, Don Rolle, in hopes of starting a pig farm in the late 1990s. Nixon told the "Today" show he was preparing a sustainable food supply in case of the dreaded Y2K computer meltdown.
Regardless of how the pigs originally arrived at Big Major Cay, visitors have to charter a boat or take a guided tour to get to the island since it is accessible only by water. Boat tours to Pig Beach leave daily from Nassau and Great Exuma, but these all-day excursions require lengthy travel times. As an alternative, people can fly into the small airports on Staniel Cay, Black Point or Farmer's Cay before boarding a boat.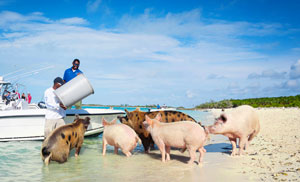 Visitors should book their group or private tours with a reputable operator such as Coastline Adventures Exuma, Comfort Venture Tours or Harbour Safaris. If staying in The Exumas, guests can inquire about tours at their hotel. Staniel Cay Yacht Club also provides its own tours for resort guests. Visitors can go to Pig Beach year-round, but they might want to keep in mind that June through November is hurricane season.
Most tour boats, which generally hold 20 to 30 people, run to the island between 9 a.m. and sunset. The Bahamas limits the number of tour operators that can visit the swimming pigs per day, and the tours are suitable for adults and children ages 12 and older.
Swimming pig seekers who take their own boat to the island do well to go early in the morning for the most undivided attention from the porkers. By late afternoon they often are tuckered out, and they're more likely to sunbathe their full bellies on the beach than to wade into the water.
After discovering the aquatic critters on Instagram, Augusta residents Stephanie and Keith Fell knew they had to go to Big Major Cay. In July of 2017, they rented a vacation home with another couple, Jefferson Morris and Natalie Walls, on Staniel Cay and rented a 16-foot Boston Whaler to travel to Pig Beach.
"The pigs are precious — they're huge," says Stephanie. "When they see you, they start running toward you because they know you have food. We went on shore and hung out with them."
Boats anchor in the water, she says, and people take dinghies, jet skis and paddleboards toward the shore. Apparently, none of these watercraft phase the pigs. After all, they know the people on them come bearing groceries.
"You can touch and pet them," says Stephanie. "The pigs are super friendly and come right up to you because they want food. There are plenty of pigs to go around."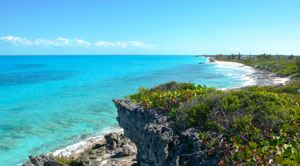 Pig Out
Since human visitors have become commonplace on the island, the pigs mostly have abandoned foraging in the forest in favor of eating the free food that's tossed to them from their guests. The best things to feed them are pitted fruits and vegetables such as grapes, watermelon, apples, carrots and lettuce. (Rumor has it that they particularly love watermelon rinds.) Fresh water is a good alternative to food as well.
"At first we fed them from the boat," Stephanie says. "None of us had fed pigs before. They'll eat anything."
It's better to feed the pigs in the water than on the beach to keep them from swallowing sand, which could be lethal for them. At least seven pigs were found dead in February 2017. While many reports speculated that the pigs died after imbibing booze from tourists, government officials said autopsy results found that sand ingestion was the likely culprit.
Other practical reasons to skip shore feeding frenzies? It's better for humans, too. Persistent pigs have been known to stalk people who are carrying food on the beach. And, adds Stephanie, their aroma isn't as noticeable in the water as it is on the island.
Living and thriving autonomously, the pigs and piglets are not dependent solely on the largess of tourists for their sustenance. Last year local volunteers formed the Official Swimming Pigs Association to care for the oinkers. The nonprofit organization monitors the pigs' diets to ensure that they receive healthy meals in addition to treats from tourists.
The group makes sure the pigs always have fresh water, which they store on the island in three 150-gallon drums. Volunteers also mix vitamins with the water and provide the piggies with feed pellets to supplement the berries and other food they still forage on their own.
The association members even built pens for the young piglets and for ailing pigs that need medical treatment. The Bahamas Ministry of Agriculture and Marine Resources also monitors the health and safety of the pig population.
Distinguishing Characteristics
Most of the pigs on Big Major Cay have names. Raleigh, Roosevelt and Shirley were named after friends and ancestors. Three large mama pigs – Blanche, Maggie and Diane – are the namesakes of Staniel Cay matriarchs. Other pigs such as Cinnamon and Ginger get their monikers from their color patterns.
Ginger has another distinguishing characteristic as well. "She would sit for her food," says Stephanie.
Some of the pigs are spotted; some are solid pink; others are half pink and half black.
"The pigs had different colors and different names, but they all had the same shape. They were all fat," Stephanie says. "They were all friendly, and they were all hungry."
As much as the pigs love being petted and pampered, they're willing to share the spotlight with their tropical neighbors. On the full-day boat tours to The Exumas, visitors can swim with nurse sharks at Compass Cay and see endangered Exuma Island iguanas on Bitter Guana Cay. At Thunderball Grotto — a marine cave named for the 1965 James Bond movie that was filmed there — tourists can snorkel with schools of fish. Visitors also can swim with sea turtles and feed them conch at Little Farmer's Cay.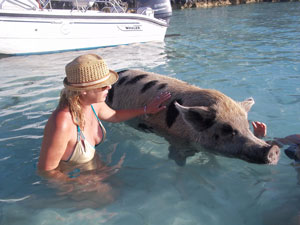 While meeting the pigs can be an animal lover's dream, people who are looking for nightlife or fancy restaurants might want to vacation elsewhere.
"It's in the middle of nowhere," Stephanie says, "and it's absolutely gorgeous. I have never seen water with so many different shades of blue."
In fact, because of the turquoise waters of The Exumas, astronaut Scott Kelly has called the Bahamas the most beautiful place on Earth to view from space. He would get no argument from Stephanie.
"I don't want to say it was a once-in-a-lifetime trip," she says, "because I can't wait to go back."
By Morgan Davis