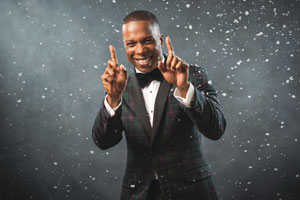 Black-tie gala and European Favorites concert kick off 2019 for Augusta Symphony 
If you think there's nothing to do after the holidays, then it's time to think again. This month Augusta Symphony will hold two events that are sure to put a song in your heart. 
On Saturday, January 5, the Augusta Symphony Gala will celebrate one of the city's greatest cultural assets. This toast to Dirk Meyer, music director, and the orchestra will feature Broadway star Leslie Odom Jr. during the black-tie event. Odom, who has appeared on the big screen and on television, won a Tony Award for Best Actor in a Musical for his performance in Hamilton. The gala begins at 8 p.m. at the Miller Theater, and tickets are $125, $175 or $275. 
The Miller Theater also will be the site of the European Favorites concert on Saturday, January 12 at 7:30 p.m. Featured pieces will include Strauss On the Beautiful Blue Danube; Schreker Scherzo, Op. 8; Dvořák Slavonic Dance No. 2, Op. 72; Sibelius Finlandi and Mendelssohn Symphony No. 3, "Scottish." Tickets are $22, $35 or $67. In addition, $10 walk-up tickets will be available for purchase at the box office for students and military personnel beginning an hour before the concert. 
For more information, visit augustasymphony.com.