The Wild, Wild West is headed east to Griffin, Georgia for the annual Doc Holliday Festival.
Although the infamous dentist-turned-gunslinger made his name at the O.K. Corral in Tombstone, Arizona, he was born in the town that's about 40 miles south of Atlanta.
The Festival
Food and beverages, arts and crafts vendors and family activities are the backdrop for this festival. However, one of the highlights is the reenactment of the famous shootout at the O.K. Corral in which Aces and Eights will perform three 30-minute shows for history enthusiasts and fans of the Wild West.
Evening entertainment will feature a performance by Mainstream Band Ga.
Another major draw of the weekend is the BBQ Competition, which is organized by the Georgia Barbecue Association and expected to have about 30 professional teams participating.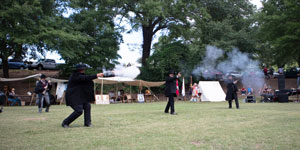 The barbecue teams will be set up in the ballfield inside Griffin City Park, and the general public will have the opportunity to purchase a sampler platter from 12 of the teams, known as the People's Choice. Not only will guests get to enjoy delicious barbecue, but they will also have the chance to vote for their favorite team, with a trophy awarded to the winner.
Guests are encouraged to bring their own chairs, although some bleacher seating will be provided in the park.
The Legend
John Henry "Doc" Holliday was born in 1851 to Henry Burroughs Holliday, a doctor, veteran and public servant, and Alice Jane (McKey) Holliday. In 1864 the family moved from Griffin to Valdosta to escape Sherman's March to the Sea. Two years later, Holliday's mother, who doted on the son who was born with a cleft palate, died of consumption, or tuberculosis, when he was 15 years old.
After graduating from Pennsylvania College of Dental Surgery in 1872, Holliday returned to Griffin to establish a dental practice that earned him the nickname, "Doc." Shortly after he began his career, however, he was diagnosed with tuberculosis.
Given just months to live, Holliday followed the advice of a physician who told him to go west where the dry air might prolong his life.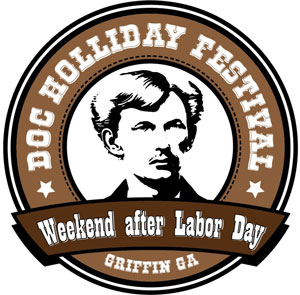 He moved to Dallas and set up another dentistry practice in 1873 during the waning days of the American frontier. As dentists who were prone to fits of coughing up blood weren't in high demand, however, Holliday had to find another way to make a living. He turned to gambling and quickly developed a reputation as a gambler with a temper – and a gun.
After a saloon altercation led to a shooting, Holliday was charged with attempted murder. The jury called it self-defense, but he left Dallas for rougher towns in West Texas and beyond.
In 1877, Holliday arrived in Fort Griffin, Texas, where he met rogue lawman Wyatt Earp. Although details surrounding their meeting vary, the two men became the most feared duo in the Wild West.
Holliday followed Earp from Texas to Dodge City, Kansas, and eventually to Tombstone, Arizona, where they burnished their infamous reputations at a street fight near the O.K. Corral in 1881. Thirty shots were fired in a 30-second shootout that left three "cowboys" dead.
While Holliday supposedly killed scores of people during his short lifetime, most of the accounts cannot be verified.
Hoping its hot springs would improve his health, he moved to Glenwood Springs, Colorado, in May 1887, but he died of tuberculosis six months later at age 36. On his deathbed, Holliday took a shot of whiskey, looked down at his bare feet and said, "That's funny" because he always thought he would die with his boots on.
The Gravesite
While there's no dispute about Holliday's death, his final resting place is open to debate.
Apparently, he originally was buried in Linwood Cemetery in Glenwood Springs, but the interment could have been temporary because an early winter made it hard to reach his assigned plot. Instead, he was buried elsewhere on the grounds. There is a fenced-in "grave" in the cemetery, along with a headstone, and a marker reads, "This memorial dedicated to Doc Holliday who is buried someplace in this cemetery."
His hometown claims that Holliday and his father are buried side by side in unmarked graves in Griffin's Oak Hill Cemetery. The conjecture goes that, since Holliday was the only son of a prominent Southern family, his relatives quickly and quietly made arrangements to bring his body back to Georgia. Because of his reputation and growing fame as a Wild West folk hero, his family left his grave unmarked so it would not be disturbed.
A marked grave of his father also has never been located even though he was a wealthy landowner and one-time mayor of Valdosta. Headstones for the rest of the family can be found, lending credence to the theory that Doc and his dad are spending eternity together in anonymity.
There is a historical marker of twin graves at Oak Hill at burial plot 11, but it, too, is clouded in uncertainty by posing the unanswerable question – "Doc" Holliday Final Resting Place?
If You Go:
What: Doc Holliday Festival and BBQ Competition
When: 10 a.m. – 9 p.m. Saturday, September 9
Where: Griffin City Park
How Much: Free admission
More Info: dochollidayfest.com