Cheers to the new Athens Beer Trail Trolley Tours.
From chasing down delivery trucks to opening a taproom across the country, some people have gone to extremes to get their hands on an Athens-brewed craft beer.
Fortunately, however, the new Athens Beer Trail Trolley Tours gives craft beer connoisseurs much easier access to their favorite brews.
After the six-brewery Athens Beer Trail opened in October 2021, the Trolley Tours recently launched to celebrate the trail's one-year anniversary. The tours, which run Thursdays and Fridays, visit three stops each day.
The Outer Loop Tour on Thursday includes Southern Brewing Company, Akademia Brewing Company and Terrapin Beer Co. The Inner Loop Tour on Friday stops at Athentic Brewing Co., Normaltown Brewing Co. and Creature Comforts Brewing Co.
"The goal from the beginning was for the Athens Beer Trail to have a trolley tour component," says Hannah Smith, director of marketing and communications for the Athens Convention & Visitors Bureau. "Each of these breweries has a distinct vibe and a different point of view in terms of what they're brewing."
No wonder the Classic City has become one of America's best places to drink craft beer.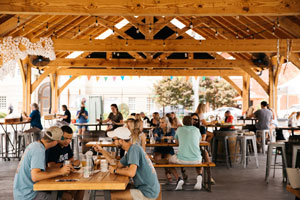 Tap Into the Fun
A trolley holds 28 people, and the tour is for those 21 and older. Reservations are required, and tickets, which cost $28 per person and cover only transportation fees, are available online at athenstrolleytours.com.
Passengers need to bring a photo ID and a copy of their reservation booking number. To tap into the fun, good walking shoes and a positive attitude are recommended as well.
From 3 p.m. until 8 p.m. on tour days, trolley buses leave the Classic Center downtown every hour and return there for the final time at 9 p.m. Boarding passes are good throughout the day, and passengers can hop on and off the trolley to linger at each taproom as long as they wish.
"It's a fun way to travel. The trolleys are a great activity for groups of friends or siblings," Smith says. "The transportation between the breweries is part of the fun."
When people board the trolley, they can pick up a Beer Trail Field Guild from the driver or get one at their first stop. Bartenders at each brewery will stamp the guide.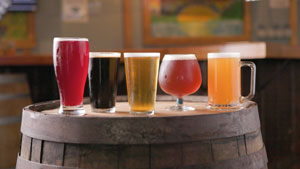 Once beer enthusiasts have gotten a stamp at all six breweries, they can redeem their guide for an Athens Beer Trail prize at the Historic Athens Welcome Center. (Spoiler alert: It's a souvenir pilsner glass sporting the Athens Beer Trail logo.)
"Most of the breweries serve flights. Some have half-pours, and people can buy beer by the pint as well," Smith says. "All of the breweries have their favorites that are available any time during the year, and they also have seasonal and experimental brews."
The Outer Loop
The Thursday Outer Loop begins at Southern Brewing Company, which opened in 2015 as the first purpose-built brewery in Georgia.
Using a variety of local botanical ingredients, the brewery makes authentically Athens beers. Its Red and Black Fruited Berliner Weisse is one of its most popular sours, and the Cherokee Rose is made with a wild yeast collected from Georgia's state flower.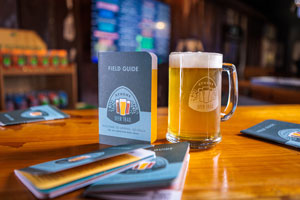 Visitors can take a free tour of the brewery or enjoy live music outdoors on its 15 acres of land.
The next stop is Akademia, a brewpub that opened in 2017 with a full lunch and dinner menu. As the only brewpub in Athens, Akademia lets foodies and craft beer aficionados find the perfect food pairing to go with their brew. In a place with rustic and industrial charm, visitors can enjoy gourmet food and drinks such as the IQ IPA.
Terrapin, the final destination of the day, is the oldest craft brewery in Athens. Founded in 2002, the brewery put Athens on the map when it won a gold medal the same year at the Great American Beer Festival in Denver for its Rye Pale Ale.
Continuously brewing from its current location since 2007, Terrapin sells its Hopsecutioner IPA and other brews across the country.
"Terrapin also has a large yard that is ideal for nice weather, a cool taproom and a large gift shop that includes outdoor gear," Smith says.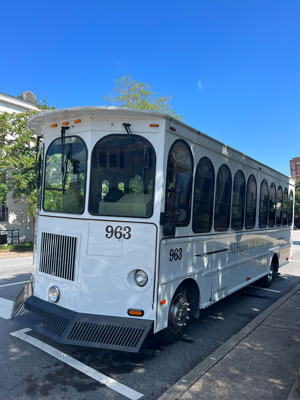 As part of its "Terraprint" initiative to minimize environmental impact and maximize community impact, Terrapin became the state's first craft brewery to produce solar-brewed beer with its rooftop solar panel array.
The Inner Loop
Friday's first two stops – Athentic and Normaltown – opened in 2020. The Inner Loop breweries have garnered serious attention for their spins on beer classics, like Athentic's Rapid Recovery Blonde Ale and Normaltown's Summon the Fog NEIPA.
Like other Athens breweries, Athentic has a rich homebrewing tradition. Blending art with science and passion with creativity, these brewers concoct an impressive lineup of lagers, IPAs and pale ales, sours and tart beers, seltzers, slushies and more.
The brewery also has become a melting pot and meeting point for all Athenians. From drag and dog meetups to hip hop shows and fly fish lure tying, Athentic has something for everyone indoors and outside on the patio.
Normaltown is known for its fresh take on small-batch IPAs, and the only way to taste its brews is to visit the brewery and taproom.
"It was started by guys who loved brewing their own beer and got really good at it," says Smith. "They decided to make a business out of it. It's a great hangout place with a living room feel."
The final stop, Creature Comforts, is the sole brewery in downtown Athens. Founded in 2014, Creature Comforts quickly established itself as a major player in the craft beer industry. The brewery offers a range of styles including IPAs, pilsners and its award-winning Berliner Weisse, Athena.
"Creature Comforts started specializing in sours before sours got as trendy as they are now," Smith says. "They're most known for their IPA called Tropicália."
That would be the brew that incited people to chase down its delivery trucks and spurred a movie producer to open a Creature Comforts taproom in Los Angeles.
"There was a Tropicália shortage in Atlanta before covid," Smith says, "and folks would be on the lookout for Tropicália trucks and follow them to stores."
When Avengers: Endgame was filming in Georgia, the cast and crew were so smitten with Tropicália that they included it in the movie. Check out what Thor is drinking next time you watch the film.
With its rise to the head of many best-beer lists, Tropicália prompted the opening of that L.A. taproom for good reason.
Different Vibes
While the beer trail trolley tour promises barrels of fun, the home of the University of Georgia offers epicureans other pleasures as well.
"Athens has a wonderful food scene. Folks that come here for the trolley tour would also enjoy the dining experience in Athens," says Smith. "Some people have only come to Athens for a football game, or they have never been here before. It's different from Asheville and Nashville, and people can sample different brews and vibes."
Overnight visitors can stay at one of several downtown hotels including Hyatt Place, Hilton Garden Inn, Homewood Suites, Hotel Indigo and Graduate Athens.
By Morgan Davis