2017 has been named Year of the Rose, and whether your thumb is green or black, now's the perfect time to fall in love with America's national flower. 
Not long ago, roses were widely considered finicky, difficult to grow, prone to disease, sparse on flower production and apt to lose their leaves to stress. Frankly, roses seemed more trouble than they were worth for many American gardeners. But not anymore.
Due to new breeding work, today's roses are much easier to grow than older varieties. They have been bred for vigor, disease resistance and controlled growth, meaning much less work for home gardeners. In fact, most roses can thrive in our area with the proper care. 
And because roses grow well here, we're not limited in our choices. It simply comes down to personal preference. There are many classes of roses, which sometimes can lead to some confusion. The ones most commonly grown here include:
Hybrid Tea — the classic, long stemmed varieties
Grandiflora — similar to Hybrid Tea, but usually have several blooms per stem
Floribunda —  more compact and multi-flowered
Miniature — smaller specimens, often grown in containers as gifts
Climbing — good for fence lines and trellises
Landscape or shrub — once considered a hodge-podge of varieties that did not fit any of the other categories. These now make up about half of the market and have led a revolution in the landscape.
Heirloom/heritage — produced by boutique nurseries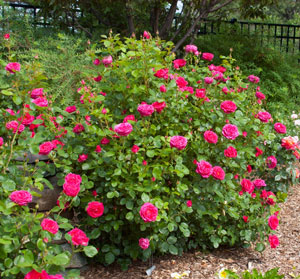 Ready, Set, Grow
Fortunately, you don't have to be a flower expert to grow your own roses. Here are some helpful tips to get you started. 
• April and May are good months to plant most roses here. You can plant them almost any time — even in July or August — but you'll have to give them a little more TLC. They need a deep root system, and the roots may not be as established.
• Decide if you want the style of your rose garden to be formal, country casual, personal or a landscape design. You can get great ideas from garden tours, magazines, professional landscapers and the Internet. 
• Choose an area that is well drained and will not have competition from tree roots or shrubs. Beds raised with railroad ties or bricks provide the best drainage for heavy soils. Also choose a location that allows plants to be placed three to four feet from each other. 
• Select a spot that receives six hours or more of direct sunlight each day. Without six to eight hours of full sun, your roses will have fewer flowers and long, leggy, weak stems with a higher likelihood of disease.
• Consider the height of your roses. If you plan on planting several different rose varieties, you'll want to arrange the roses with the tallest in the back of the garden.
• Suppliers sell roses as bare-root, packaged bare-root (also known as tube) or container grown. Inspect the plant before you buy, looking for sturdy, fibrous roots and firm green stems. You want a healthy-looking leaf and strong stems to your blooms.
• Prepare the soil and then fertilize your roses according to soil test results. Soil preparation is an important part of rose care and includes several steps. Before you plant the roses, you'll want to consult a nursery or a rosarian on the perfect way to prepare your roses' new home. The Augusta Rose Society (theaugustarosesociety.org) often offers educational programs and rose clinics at local garden centers, and reputable nurseries have helpful resources on hand for the rose novice.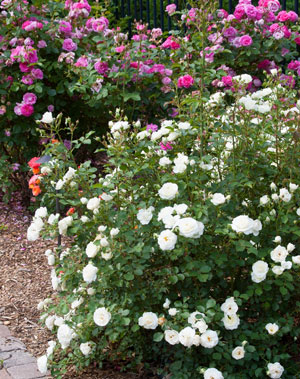 • Water roses deeply (don't just wet the leaves) two to three times per week in the summer, but don't deluge them. There should not be any standing water left over. One to two inches of mulch will help conserve water and keep feeder roots cool.
• Roses appreciate a deep watering during dry spells, and drip irrigation is ideal to avoid diseases caused by wet foliage. The three most common diseases on roses are black spot, rust and powdery mildew, with humidity being the worst cause. 
• Spray roses weekly to prevent fungus diseases like blackspot. Roses are more susceptible to fungi in our area because of the high humidity, but using a combination insecticide-fungicide spray on a regular basis helps cut down on the problem. 
• Prune roses in the dormant season to ensure healthy flowers during the blooming season. Wear garden gloves and use pruning shears to cut back one-fourth to one-third of last year's branches. Also remove any dead or diseased branches. Most roses have their big, main flush of color the end of April to the beginning of May. They will bloom sporadically throughout the summer and then have another big flush of flowers in the fall.