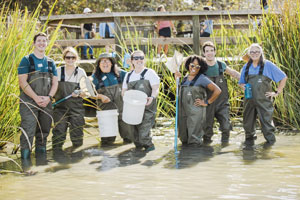 Locals and visitors now can experience Augusta in a whole new way.
Destination Augusta and 10 area attractions and experiences recently launched the Authentic Augusta Experiences Collection, a curated collection of sights and experiences distinctive to the city.
"People want unique, one-of-a-kind experiences that engage them in something memorable," says Jennifer Bowen, vice president of Destination Development and Community Engagement. "Authentic Augusta Experiences are specially designed to engage the five senses — taste, smell, sight, sound and touch."
Offered at least twice a month, these new experiences are highly engaging, offer VIP-level interaction.
Bartender for a Day – All Equal Parts – Become a bartender for the day in a one-of-a-kind mixology experience.
Canal to Cloth – A Day at the Mill –Go through orientation as a new hire as an 1800s mill worker and be paid in company scrip at the Augusta Canal Discovery Center.
Time Detectives – Augusta Museum of History – Put on a badge and become a member of the museum's detective agency and protect the history of Augusta.
Augusta's Black Caddies – Men on the Bag – Meet the black caddies and hear stories of their days on the greens at The Masters at Lucy Craft Laney Museum of Black History.
Heart of Augusta Tour – Cycle the Soul City –Ride the streets of downtown with Bike Bike Baby and stop for drinks or samples at a local distillery or select restaurants.
Bringing up a President – Tea with Mrs. Wilson –Be a guest in the Wilson home and have tea and pie with President Woodrow Wilson's mother at the Boyhood Home of President Wilson.
Mystery at the Morris – The Rest of the Story – Hear the back story about art at the Morris Museum of Art as a rogue "journalist" unveils lesser-known details.
Eco Explorers – Become a Citizen Scientist – Put on your waders and step into the water at Phinizy Center and Nature Park and be a scientist for the day as an Eco-Explorer.
Promenade & Paint – Augusta's Public Art – After a walking tour of Augusta's Public Art Sculpture Trail, paint a mural of your own with the Greater Augusta Arts Council.
The Curated Palette – Inspiring Contemporary Art – Curate your own charcuterie board paired with wine while being inspired by Westobou's contemporary art.
For more information visit VisitAugusta.com/AuthenticAugusta.