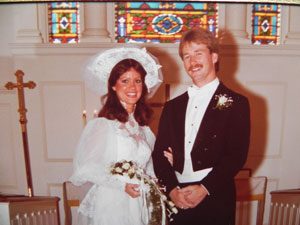 The first date for Evans residents Andria and Dave Duff was a favor for friends. His roommate wanted to ask out her friend, but he didn't have a car. Luckily Dave had a car, so the two of them tagged along.
The guys and girls first met one night in Jackson, Mississippi. Andria, an accountant for a CPA firm, and her friends were out celebrating the end of tax season. Dave was playing minor league baseball for the Jackson Mets, but his game had been rained out.
Both from Virginia, Andria and Dave discovered they had mutual friends.
"He had a lot of character. He was thoughtful and serious about his future," Andria says. "He had all of the qualities that I knew were going to be important in a long-term relationship. He also was super cute. He looked really good in his uniform."
Dave proposed after nine months of dating, but he knew after six months that he wanted to marry Andria.
"She was cute and sweet and smart and funny," he says. "She has a great sense of humor, and she always wants to have fun. She's a great person with priorities and values."
The Duffs have three grown sons, and they led a middle school Bible study when their boys were growing up. Now, they mentor some of those same children as young married couples at Trinity on the Hill United Methodist Church.
"We feel like people have passed on good skills to us," Andria says, "and we want to make a difference for other young couples."
Dave agrees. "We feel a real calling to help young people with marriage," he says. "The institution of marriage is so important to our society."
The empty nesters also value their time together.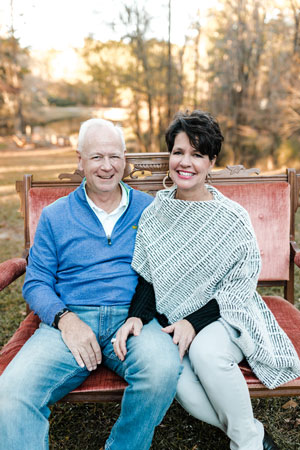 "I love that I get a part of Dave that nobody else ever sees," says Andria. "I love that he's so loyal and trustworthy – and that's with everybody, not just me."
They love to travel, and dinner is their favorite time of day.
"We've always had a date night no matter how busy we were raising kids or building careers," Dave says. "Our relationship has always been the priority. It's the most important one. We always try to put something on the calendar to look forward to."
As for the Duffs' friends from that first double date, their relationship lasted about two weeks.
Thirty-seven years later, though, the "tagalong" couple is still in extra innings.