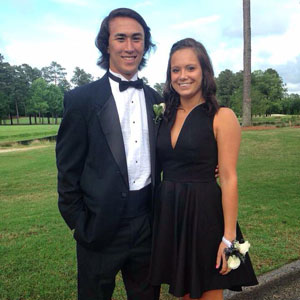 Augusta residents Brynn Allen and Nick Woo don't plan to let covid-19 or anything else stop them from getting married on May 8, especially after a lifetime of near misses.
Both of them attended elementary school at St. Mary on the Hill Catholic School. Even though each grade had only two classes, they never were in the same one. Growing up, they knew lots of the same people, but not each other. "When we got older, we continued to just barely miss each other," says Brynn. "Nick and I had so many mutual friends and were at so many of the same events together, it is almost laughable how we just kept missing each other."
Those circumstances finally changed after a day at Clarks Hill Lake with friends the summer before their senior year in high school — Nick at Greenbrier High School and Brynn at Davidson Fine Arts Magnet School. "I think we might have been the only two that didn't know each other," Brynn says.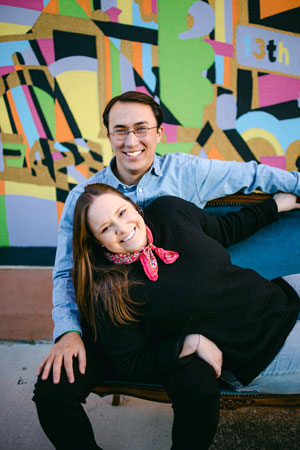 For their first date—which ended up being spread over two days—they sat on the dock at Savannah Rapids Pavilion and talked for hours. They had planned to get takeout food from Toki, but it didn't work out. When they went back to the dock the next day to "finish" their date, they had Toki to-go boxes in hand.
Once they finally started dating, they also had to overcome the challenges of a long-distance relationship. Brynn went to Georgia College & State University in Milledgeville, while Nick recently graduated from Augusta University. The separation wasn't easy, they agree, but it allowed them space to grow as individuals.
Nick and Brynn have been together six years, but after a few months, she knew he was the man she wanted to marry. He proposed to her in July by recreating their first date with another Toki picnic on the Savannah Rapids dock. "To pop the question, there couldn't have been better spot to do it," he says.
They call communication the foundation of their relationship.
"You need to be vulnerable with that person you care about, open up and have the hard conversations," Nick says.
"She pushes me to be the best I can be, and she supports me in any endeavor."
In addition, they simply have fun together and enjoy each other's company.
"Every single year we have been together has been like a new year and a new adventure," Brynn says.