From kayaks to fly fishing rods, an Evans father and son create functional wood works of art.
About 10 years ago, Evans resident Bradley Bertram, aka one of the Eye Guys, was looking for something to do to fill the cold-weather months. Or, perhaps more specifically, his wife, Paige, was looking for something for him to do, so for Christmas she gave him the plans and materials to build a wooden kayak.
"Shortly after that, she described herself as a 'kayak widow,'" Bradley says.
Especially since the 14-month project ended up spanning two winters. However, it wasn't a solitary endeavor. Bradley's then-adolescent son, Collin, who is now a 22-year-old college senior, got involved as well. He had built a couple of small model boats, but he was ready for a bigger, better challenge.
"I got interested in it right away. I like building things, boats, boating and fishing," says Collin. "We jumped from building small model boats a foot long to building actual boats. I'm always in the garage helping with something, so it morphed into that."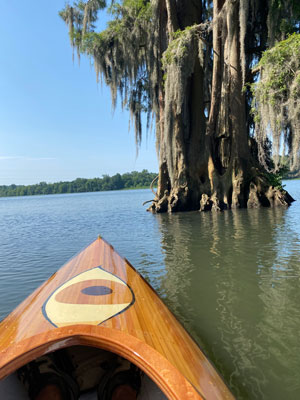 The Eyes Have It
The first kayak they built was an 80-pound tandem. However, during covid in 2020 and 2021, when many of us were binge-watching TV shows, they decided to build a 40-pound, one-person kayak. The newest vessel sports a pair of eyes on its deck, so naturally, Bradley dubbed it their "KeyeYAK."
"I'm the king of dad humor," he says. "My specialty is corneal surgery, so I'm the king of 'corn'-ea."
The Bertrams built the single KeyeYAK in six months. "It was easier to make than the first one, but adding the eyes made it harder," says Bradley. "We turned a hatch into an eye, and every part of the eye is a different wood with a different color."
The pupil is walnut; the iris is western red cedar; the sclera is Alaskan yellow cedar.
"Each kayak has a set of plans, but you can do what you want with them," Bradley says.
In fact, their next kayak will be a racing-style model with an inlaid blue heron on the deck.
To construct the kayaks, the Bertrams use the stitch-and-glue method to stitch pre-cut plywood panels together with wire and then glue the seams with a mix of epoxy resin and wood flour. Once the kayak is assembled, they trim the exposed wire. Then, to waterproof and strengthen the wood, they cover it in protective layers of fiberglass.
"Most of the weight is in the epoxy," says Bradley. "We put five pounds of epoxy in each end of the kayak. If we run into something, it's protected."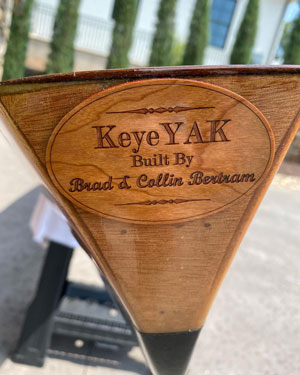 The hull is made of 8-inch mahogany plywood, and the deck consists of cedar and walnut strips.
"We'll do 30 to 60 minutes of work, and then we have to wait while it dries," Bradley says. "There's a lot of 'hurry up and wait.'"
Father and son also have developed an effective division of labor for their projects.
"Collin gets the jobs where a limber person is needed," says Bradley. "He crawls in the hull to put in the filler and epoxy."
He also is in charge of sanding the wood, a practice that dates back to his youth when he enjoyed dressing the part in surgical gown, goggles and ear protectors.
"At that age, using a power tool for hours is the best thing in the world," Collin says. "Not so much now, though. It's the most tedious part of the project."
The younger Bertram doesn't seem to mind, though. "We work well as a team," he says. "We coordinate with each other all the time. My dad will work on the kayaks when I'm at school, and I work on them when he's at work."
Bradley says a lot of planning – and psychology – are involved in the construction process.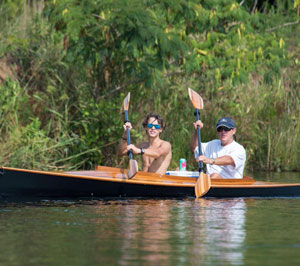 "Psychology comes into play in boat building. You get very obsessive-compulsive about it," he says. "You question if it's good enough, or if you should start over. We learned not to set a deadline because then it becomes work, and that takes the fun out of it."
'Good for the Soul'
Woodworking is as soothing as paddling on open water for the Bertrams, and Collin loves the creativity as well.
"You start with a tree, and you can manipulate it yourself into almost anything," he says.
Bradley appreciates the yin and yang of their avocation.
"Part of it is very mindful. You really have to plan and think about what you're doing so you don't mess it up," he says. "Then there's part of it, like sanding, that's mindless. Mindless work is good for the soul."
While they love to take their kayaks out on the water, they're always concerned that they might damage them by inadvertently paddling over a rock.
"In fact, both hulls have been repaired from doing just that," says Bradley.
The risk to their handiwork doesn't deter them from paddling, however.
"If you go through everything it takes to build it, you're going to use it," Collin says. "Open water is better for a wood kayak. You don't want to take it around rocks or on rapids. If you scratch the hull or the top, it takes three days of work to bring it back to what it was."
Besides beauty and durability, the Bertrams say wood kayaks have other benefits as well.
For instance, Bradley says, "The small one is lighter than a fiberglass counterpart."
"You can cut through the water fast in a wood kayak. A lot of plastic kayaks have a fin or a rudder," Collin says. "You don't have to worry about a wood kayak going one direction or the other. It's going to go straight."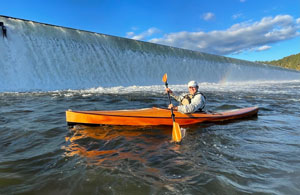 'Then You Go Fishing'
The Bertrams have made other items, including custom fly fishing rods that they crafted three summers ago at a class they took together at Oyster Bamboo in Blue Ridge, Georgia.
While Bradley built a rod with a tortoiseshell finish and rattan grip, Collin crafted a solid wood rod with a cork grip.
"There's constant anxiety that you're going to do something wrong," Bradley says. "You either love it or hate it."
"If you're off by one one-thousandth of an inch, it will take you another day to redo it," adds Collin.
They worked on their rods all day from Monday through Saturday, and for the record, they didn't mess up. "And then you go fishing on Sunday," says Bradley.
Collin caught a 22-inch rainbow trout with his brand new rod. "You could still smell the varnish on the rod," his father says.
They also have made cutting boards for gifts, but they don't sell their work. They built a river table headboard for Collin's bed out of maple wood, and currently, they're working on a maple river table for the screened porch at their house.
"When I'm building something, it's out of need. I want something functional," says Collin.
Family Legacy
Bradley also likes the idea of creating family heirlooms to pass down to his children. In fact, when Collin's twin sister, Carter, left home for college, she refinished her grandfather's desk and took it to school with her.
"My dad built the desk in a woodshop class when he was in high school in 1930," says Bradley.
The kayaks are destined to become part of the Bertram legacy as well.
"I've instructed that they are to never leave the family," Bradley says.
By Betsy Gilliland