When most people look at a shoe, they see a shoe. (Even if it's a great, to-die-for shoe, it's still a shoe.) Same thing with a door. Or an instrument. For CarolAnn Ayer, however, the world and everything in it are a canvas. 
And they're all deserving of being turned into a work of art with her stained glass and mosaic talents. CarolAnn has been creating stained glass artwork since she made her first panel in a class at the Gertrude Herbert Institute of Art in 1983, but she developed her passion for mosaic more recently.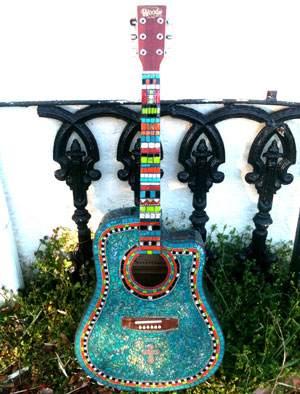 "Four years ago, mosaic became a trend in the art world, so I picked it up," she says. "I want to mosaic everything now. I've done a lot of arts and crafts through the years, and these stuck."
Feeding the Habit
CarolAnn, who lived in Columbia County for 30 years and worked as a paraprofessional at Harlem High School for four years, has a home filled with her artwork.
While she primarily creates stained glass and mosaic pieces for her early 20th century home, she makes things for friends and family as well. She also does commissioned pieces, and she sells some of her work at Schweitzer Art Glass in Waynesboro "to generate money to feed the habit." She will have a dual show with local artist Cole Smith at the Waynesboro studio from noon until 5 p.m. Sunday, April 23.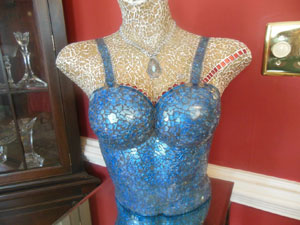 To create her artwork, CarolAnn works out of a room in her home where shelves are filled with glass panes; jars full of tile, glass and stone pieces; glass cutters; adhesives; grout and even Band-Aids.
"It's not a difficult art. It's just very time consuming and detailed," says CarolAnn. "And you get a lot of cuts on your fingers."
Future projects such as a high heel sit on the shelves and instruments are propped against a wall, waiting to be transformed from the ordinary to the sublime. She also keeps a supply of the materials she needs to prepare everyday objects for their metamorphosis into works of art. For instance, she'll wrap the shoe in mesh and cover it in plaster of paris to shape it. She'll sand the instruments before she adheres glass pieces to them. "They're glossy," she says of the instruments, "so you have to rough them up so the pieces can stick to them."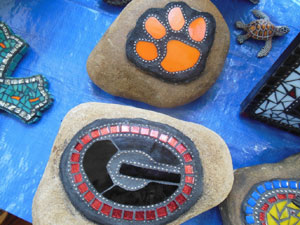 Sometimes, however, CarolAnn takes her work outside. "The sun helps. It gives it a better picture of the colors. Sometimes there's a right side and a wrong side of the glass," she says.
Trial and Error
CarolAnn says the choice of glass determines whether a project becomes stained glass or mosaic art. Often working by trial and error, she likes coming up with ideas and picking the glass and colors for each project.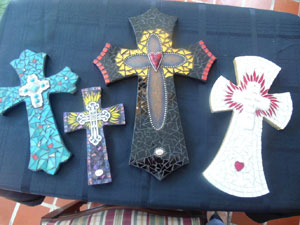 "I've always been attracted to color. I like being able to create something beautiful," says CarolAnn. "It's a lot like painting. When you paint, you have to know where to shade, where to put the dark and where to put the light to get the contrast you need."
She even enjoys the inevitable struggle that comes with creating art. "There's always a dilemma. What color am I going to use for the grout? That can change the whole look of a piece," says CarolAnn. "The creative part takes me a little longer, but once I get it, you can't stop me. For any artist, the creative process is what drives you. It's in your heart and in your soul."
CarolAnn, who also is a caterer and formerly owned Old Towne Inn and Fox's Lair until she retired in July 2016, works on her art every day. She works at least four hours a day and sometimes all day. She usually works on more than one piece at a time to take the monotony out of the process, and it took her a month to make a mosaic mirror that hangs in her bathroom.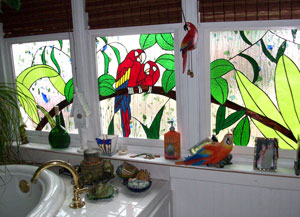 Other pieces in her home include a stained glass window in her kitchen and a stained glass door to a spice rack, a space that once housed an ironing board, on a kitchen wall. She also made a stained glass screen out of a French door, and she plans to hang it on her side porch. Mirrors, cremation boxes for pets and instruments are some of her favorite canvases for her artwork.
"I'm trying to find a big bass to do, and I haven't done a banjo. I've done all the other instruments," says CarolAnn, who comes from a family of musicians. 
Some of her pieces have personal significance. For instance, she made a female torso clad in a denim dress with her husband in mind. "I wore a blue jean dress on our first date, so I did that for him," CarolAnn says.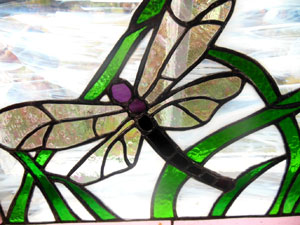 Sources of Inspiration
CarolAnn constantly learns new things about her crafts. She often visits the Mosaic Mentoring site on Facebook, which has members from all across the world, for ideas and encouragement.
"Artists are generous with their time and information," says CarolAnn. However, she adds, "You can look at other's people work, but you have to be very careful not to copy other people's work."
She also draws inspiration from magazines, photographs and nature. "Artists see nature in a different way. You tend to study things more closely," she says.
In homage to her love of nature, she even covers animal skulls in glass. The first two skulls she ever did were found locked together in the woods by a friend.
CarolAnn says she sees "everything as mosaic" now, and she often wonders what attracts a person to a piece of art.
"When I make something for someone else, I hope they cherish it," she says. "It takes a lot of time to do a piece, but it's worth it."
For more information, visit CarolAnn's Facebook page, Designs in Glass.
By Leigh Howard
Photos courtesy of CarolAnn Ayer