A Columbia County couple showcases their talents on a reality TV baking show competition.
Grovetown resident Sharon Hutko loves being in the kitchen – and she can take the heat. In her spare time (she also works fulltime in human resources at SRP Federal Credit Union), she has a catering business and owns the local Jimmy John's restaurants with her husband, Mike.
It's her specialty cakes, however, that really attract attention from near and far.
During Masters Week last year, a casting producer for "Baking It," a reality TV competition that launched in December and is streaming on Peacock TV, reached out to Sharon after seeing her cakes on her Instagram page, @sharonhutkocakes. The producer invited her to audition for the show, and Sharon was all in.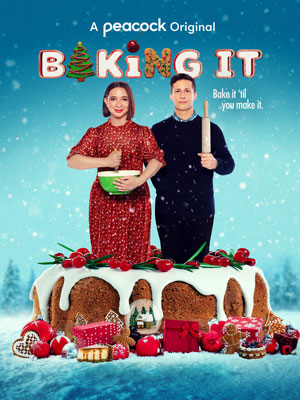 The six-episode series features eight teams of two bakers that vie to win a $50,000 cash prize and the title of "Best in Dough." As part of the application process, Sharon and a partner submitted photos and videos. They met individually with the show's creator and producers on Zoom. They also had to complete and document baking challenges that were sent to them.
At the last minute, however, Sharon's baking partner had to withdraw because of covid protocols. So she turned to her life partner to join her.
"Mike came on board five days before we left. He had to go through a background check. We didn't know he would be allowed to go until the night before we flew out," says Sharon. "It was a whirlwind for him."
They filmed the show, a spinoff of the crafting competition "Making It," in Los Angeles for two weeks in August. While Sharon ended up with an unexpected partner, all of the contestants got a surprise when they met the hosts of the show for the first time. In fact, they had no idea who they were going to be until the hosts – Maya Rudolph and Andy Samberg – walked onto the set.
"It was so exciting," Sharon says. "I have been a fan of both of them since their Saturday Night Live days."
Southern Pride
In each episode, the baking teams – which consisted of spouses, siblings, twins, best friends and a father and son duo – had to complete various challenges. Some of them were small challenges; others were "big ol' bakes."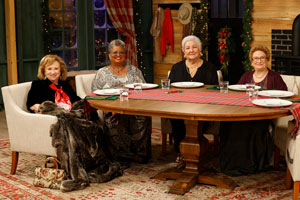 The shorter challenges took about an hour to 90 minutes to complete. The teams had 2 1/2 to 3 hours to finish the longer challenges.
"Our call time was at 6 a.m., and we would work until midnight. But if a challenge was three hours, it was filmed for three hours," says Sharon. "I thought there was no way we could make a three-tiered cake in three hours, but we sure did."
During those long hours, however, they also filmed other portions of each episode such as the reveals and the judging. In addition, the shows are sprinkled with highlights of the delicious bond between Rudolph and Samberg, who are prone to cracking jokes or bursting into song at any moment.
As an added ingredient, four opinionated grandmothers – all accomplished bakers themselves –judged the competition.
"When they say 'opinionated grannies,' that was 100 percent the case," says Sharon. "If they didn't like something, they would tell us why. But they also were positive and encouraging."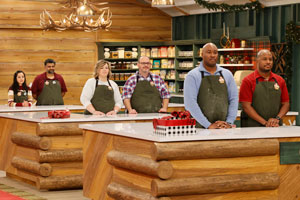 Sharon and Mike were honored that they were the only team to represent the South, so they made sure to add a dollop of Southern pride goodness to all of their recipes.
"They would give us a category, and they left it open as to what we would submit," says Sharon. "I wanted the things that we made to represent the South. We really just wanted to make the South proud."
For instance, in the first episode, the Hutkos made pecan tassies with bourbon and bacon. In another show, the contestants were combined into two super groups – the Naughty team and Nice team – of six bakers, and they prepared a biscuit and a protein.
The Hutkos' team, the Naughty team, won that competition with its cracked black pepper and cream cheese biscuits, which was Sharon's recipe, and lamb chop lollipops with sweet peach sauce.
"It was a feel-good, not a cutthroat, competition," says Sharon. "They told us to think of it as summer camp. The whole atmosphere was so positive and encouraging and such a good experience."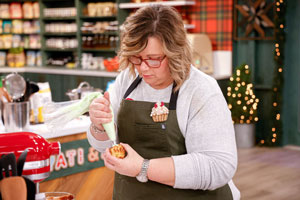 Icing on the Cake
The Hutkos bake in three episodes, but they have watched all of them. Sometimes, though, the experience still seems like the stuff of make believe. One night when they were about to stream an episode of "Yellowstone" on Peacock, they got a jolt when they saw a clip of themselves for a "Baking It" program.
"It doesn't seem real," Sharon says. "Mike has been recognized a couple of times since the show."
She also says he was the perfect culinary colleague for her. "I could not have asked for a better partner," she says. "He was great in the challenges. He knew what I needed for the competition and outside of the show."
However, Sharon says the best part of "Baking It" was building new relationships, particularly with the other contestants.
"The teams got along so well," she says. "We still communicate with each other every day. We have a big group chat. We have gone from talking about the show to sharing our daily lives with each other."
Sharon definitely is open to blending another baking show into her life one day.
"It was such a great experience. Everybody who was involved with the show was truly, truly so kind. I don't know if that's the norm," she says. "I loved it so much. I would love to something like this again."
Sharon also can be found at sharonhutkocakes.com or facebook.com/SharonHutkoCakes.
By Sarah James