When the Miss America Organization marks its 100th anniversary this year, Columbia County will have cause to celebrate as well.
Talk about a crowning achievement. Representing the state as Miss Georgia, Martinez native Karson Pennington, 23, will be one of the candidates vying for the job of Miss America in Uncasville, Connecticut this month.
Karson has been involved in the Miss America Organization for more than a decade, winning multiple competitions. She followed in the footsteps of her mother, who competed in Miss Georgia in the 1980s, and her older sister, Kendyl, who has won numerous titles of her own.
In 2008 Karson won her first title, Miss Georgia Princess, at age 10. Competing as Miss University of Georgia for the statewide crown, she won the title in Columbus in June.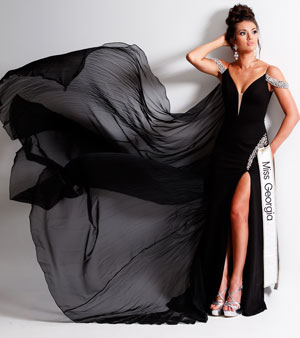 "I was in a complete state of shock to hear my name called as Miss Georgia 2021," she says. "I thought of 10-year-old Karson watching Miss Georgia for the first time. I was sitting in the audience, and I wanted to be just like her and all of the other incredibly accomplished women on the stage. After 13 years, my dream had finally been realized. It was the best feeling in the world."
She is proud to represent her home state as one of "51 incredible candidates who are talented, highly educated and give back to their communities."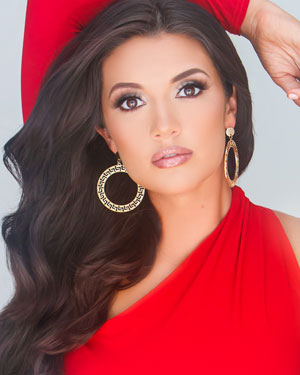 Hear Her ROAR
With her resume, she should feel perfectly at home with the other Miss America candidates. Currently, Karson is a second-year doctoral student in political science and international affairs at UGA.
The diehard Bulldog graduated magna cum laude with high honors from the university in May, earning three degrees – a Bachelor of Arts in political science, a Bachelor of Arts in history and a Master of Arts in political science and international affairs – in four years.
As a doctoral student, she teaches classes and conducts independent and departmental research focused on federal judicial politics. In the future Karson hopes to become a collegiate professor.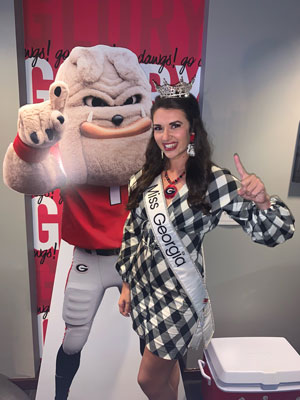 Her Miss Georgia duties include the promotion of education and literacy through her social impact initiative, ROAR: Reach Out and Read, which she has pursued since she was 12 years old.
Diagnosed with onset fluency disorder at age 3, Karson stuttered as a child. Her pediatrician suggested that her parents start teaching her to read so she could practice pronouncing words as she read aloud.
"I started reading then, and I haven't put down books since," she says.
With her mascot, Lucky Lion, she visits classrooms, donates books, and educates students and parents on the importance of literacy skills. Karson also wrote "Lucky Learns to ROAR," which is available as an e-book on her website, roarreachoutandread.org.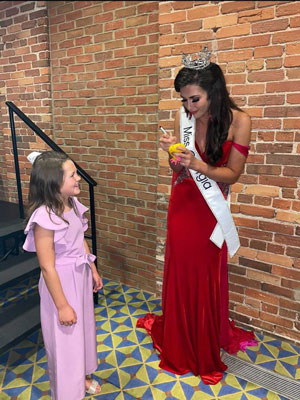 She schedules appearances and advocates with the state legislature for educational funding as well.
"Miss Georgia is an 8-to-5 full-time job. It's not just wearing a sash and crown," Karson says. "I love to get dressed up in an evening gown and represent Georgia, but I spend a lot of time sitting at my desk on my laptop and communicating with people."
Getting Ready
She also carves out time to prepare for the talent, interview and evening gown portions of the upcoming Miss America competition. Karson, who was a four-year member of UGA's Georgettes Dance Team, will tap dance in the talent segment.
Four or five days a week she goes to the dance studio to rehearse her routine for two hours at a time, and she closely follows current events to prepare for the private and onstage interviews.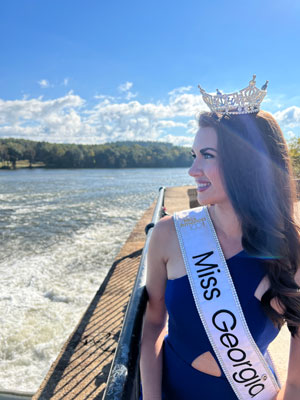 In September Karson attended a 10-day Miss America orientation, when she met the other candidates for the first time.
"It's crazy to say that I have a friend in every single state now," she says. "It's a sisterhood, even though we're all competing for the same thing. We develop an incredible bond by going through this shared experience."
Karson has won more than $23,000 in scholarships through the MAO competitions, enabling her to pursue her Ph.D. She also gains poise and confidence by appearing on stage and through MAO mentorship programs.
The final round of the five-day competition will be held Thursday, December 16, and her parents, Kathy and John Pennington, and her sister will be in the audience to support her.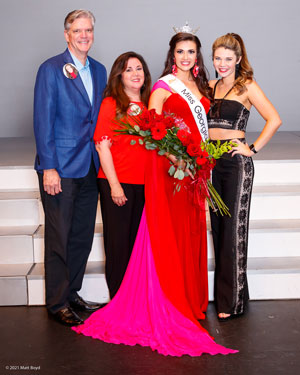 Despite the similarities to other competitions, Karson expects Miss America to be different from her previous experiences.
"I think there's a little bit more pressure, but the pressure is almost lower, too, because I've made it to this level," she says. "I competed at Miss Georgia more than one time. I will get only one chance to compete at Miss America, and I'm honored to stand on that stage."
The fact that this year's event is the centennial anniversary is special to Karson as well.
"There will only be one 100th anniversary class, and I'm in it," she says.
By Sarah James