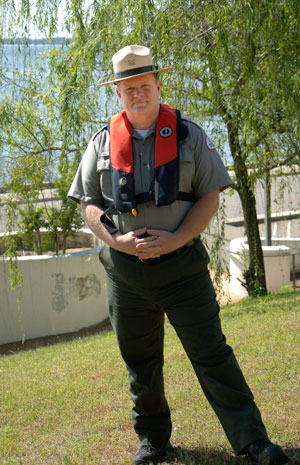 Kevin Madsen
Recreation Chief Ranger, U.S. Army Corps of Engineers
Number of years in position: 1 here, but 10-plus years as a park ranger across the country
Family: Wife, Amy, and too many cats
Why I'm Passionate About What I Do: I love the outdoors, and I love sharing that passion with others who come to recreate at the park. 
Community Groups and Charities I Love to Support: Goodwill and the Salvation Army. I also love the Habitat for Humanity folks. Whether you are donating or purchasing, it is always a win-win situation.
Biggest Career or Life Obstacle I've Overcome and How: College graduation. I took it one day, one semester, one class at a time. I never gave up even when it seemed nearly impossible. When I failed, I picked myself up and tried again.
Accomplishment I'm Most Proud Of: Eagle Scout
What Your Childhood Self Wanted to Be When You Grew Up: A firefighter—more specifically, a smoke spotter for the U.S. Forest Service
Favorite Way to Spend Saturday Afternoon: I love hiking in the woods along a favorite trail or going someplace I've never been. I love to explore.
Favorite TV Show: "Battlestar Gallactica" — the original series from the '80s
Favorite Movie: The Empire Strikes Back 
Favorite Comfort Food: Chocolate chip cookies
Favorite App: Lake Guard
Last Book Read: Dragonsinger by Anne McCaffrey
Dream Vacation: Glacier National Park. Something big and beautiful and wild and unknown, yet not on everybody else's list, like Yellowstone and Yosemite.
Something That Has Changed My Life: My cats. Everything you need to know in life you can learn from your cat. 
Best Thing I Ever Learned: It's not about adding years to your life but adding life to your years. 
One Word You Would Use to Describe Yourself: Perpetual motion—I guess that's two words. 
Favorite Hobbies: Hiking, exploring, scenic drives, music, movies, photography 
Secret Aspiration: I'd like to go to magic school, and I'm not talking about Hogwarts.
Reality Show I Would Totally Win: I wouldn't be caught dead on a reality show!
Something People Would Be Surprised to Know About Me: I am not a sports fan. I don't watch games of any variety.