With an extensive collection of tea services, an Evans resident pours on the hospitality for her friends.
Girls never outgrow tea parties, and for Nicole Presby of Evans, almost any occasion calls for tea with friends.
Nicole, who grew up in Europe as the daughter of an American serviceman and a German mother, has had a longtime fascination with the British royal family, and the milestones in their lives are always cause for celebration.
After all, her affinity for the House of Windsor is matched only by her love of tea services, and she rarely misses an opportunity to add to her collection – or to put it to use.
"I like china and dishes," says Nicole. "A silver teapot, a single cup, an heirloom piece – It always finds a home in my house."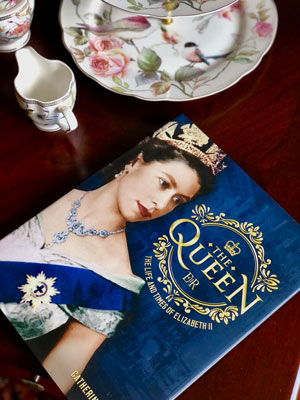 Fit for a Queen
In honor of Queen Elizabeth II, Nicole invited five friends to a tea in September to watch the televised state funeral for the monarch following her death at age 96.
In June, Queen Elizabeth had celebrated her unprecedented 70th year on the throne with a four-day Platinum Jubilee, and Nicole had planned to mark the affair with a tea in October. She even bought commemorative tea cups for the occasion.
"I ordered the first teacup in May, and it arrived on the day the queen died," Nicole says.
After Queen Elizabeth passed away, however, Nicole simply rescheduled the get-together to honor the queen and her legacy.
The ladies also celebrated Queen Elizabeth's long life and steadfast service to the United Kingdom and the Commonwealth with a special gesture.
"At three o'clock we toasted the queen with a glass of sherry because she had sherry at three o'clock every day," says Nicole.
The menu featured various teas such as black assam, blackberry and Southern peach, and finger foods like cucumber butter sandwiches, chicken salad sandwiches and egg salad sandwiches. Desserts included cherry pie jubilee, shortbread and lemon curd poundcake.
"I always have black assam tea, and I always have multiple kinds of tea so everyone can try different ones," says Nicole, a military wife and honorary Southerner who is living in the area for the fourth time. "Peach is my 'house tea.' It's my personal favorite. I always do a nod to the South like pecan shortbread cookies or Southern peach tea."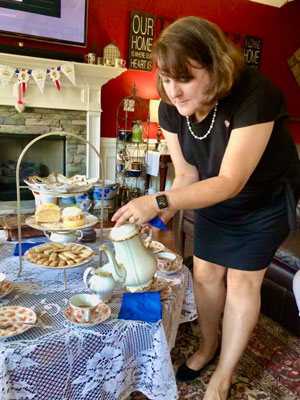 Her friend, Cynthia Stein, is a frequent guest at Nicole's teas, including the one during Queen Elizabeth's funeral and a Tiaras, Pearls and Pajamas party to celebrate the marriage of Prince Harry and Meghan Markle in 2018.
"Prior to the pandemic, Nicole hosted tea parties in her home. We always looked forward to them. Depending on the time of the season or event, she creates an awesome theme," says Cynthia. "Your jaw drops as she describes artifacts she has collected to support her teacup collections, all revolving around the royal family."
Nicole used to have monthly teas – which she recently has resumed – for various occasions. She'll have a harvest tea or Octoberfest tea in the fall, a spring-themed tea in March for her birthday and a lemon-themed tea in the summer.
In December, Nicole hosts a Secret Santa-style cookbook exchange – a favorite among her friends – or a German-themed tea, and in January she leaves out her crystal and white holiday decorations for a Crystal in the Winter Forest tea.
Quite the Collection
Nicole started collecting tea services in 1982 when she got her first Hutschenreuter Racine Fountainbleu teapot.
"This is the teapot that got my obsession started," she says. "My mom and grandmother started me on this service for my 18th birthday and bought pieces for every gift-giving occasion. I now have a complete service for 12 in this pattern."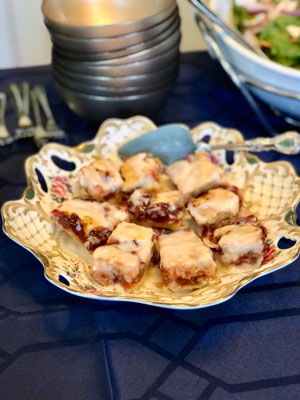 In fact, she has several full services for 12, but Nicole likes to have more intimate gatherings for her friends. She prefers to keep the guest list to six to eight people to create a cozy atmosphere.
She got some of her tea services from her grandparents and great-grandparents, and she has received many pieces as gifts from her mother-in-law and other friends through the years. "I'm always on the hunt for more," she adds. "I like to go antiquing for them."
Some pieces in her collection are too precious to use, however. "I don't use the royal family services," Nicole says. "Those are purely souvenir collectible ones."
Her oldest piece is a teacup that dates to the June 1902 coronation of Queen Elizabeth's great-grandparents – King Edward VII, who reigned from 1901 to 1910, and Queen Alexandra.
She also has a 12-month floral teacup set that features the flowers associated with each month of the year. When she entertains with this set, she puts the cup from the month of her friends' birthdays on the table to mark their place setting.
If several friends have birthdays in the same month, then the first person to the cup's spot on the table gets to use it.
Always the perfect hostess, Nicole never lets her friends leave empty-handed. At the tea party for Harry and Meghan's wedding, for instance, everyone received a gift bag and a commemorative crown brooch, which she used on the tulle silverware holders.
"My enjoyment comes from seeing my friends happy," she says. "I want them to have a couple of nice hours and create memories. It's not a typical party that they would go to."
However, she gets as just as much pleasure from the parties.
"I love pulling out all of my china," Nicole says. "I love doing the research on the place settings to use and the menu items I serve, and I love matching the tea with the food."
By Leigh Howard