Celebrating Friendsgiving, laid back and Lowcountry-style.
For most people, Friendsgiving is a chance for people who can't spend Thanksgiving with their families to share the holiday with another clan that matters to them – their closest pals.
However, a group of lifelong friends who graduated from Lakeside High School together – Courtney Johnson, Caitlin Gilham, Emily Azar, Meghan Eller, Merritt Grumman Hawkinberry, Anna Leigh Smith and Jessica Wilson – celebrated Friendsgiving with a twist this year.
Instead of feasting on turkey and dressing, mashed potatoes and gravy, cranberry sauce and pumpkin pie, they sat down to a casual chic Lowcountry boil catered by French Market Grille West.
"We had always talked about it, but we had never actually done it," says Courtney, the party planner of the group of 10 friends. "We have so many Thanksgiving meals, and a Lowcountry boil is so easy and laid back. We wanted to do something different for Friendsgiving."
She not only plans the parties, however. Her friends count on Courtney, the "enhancer," to take things up a notch with an extra touch for any festivities
Case in point: She arranged for the group to have their hair and makeup done for the Friendsgiving party, which was held at the home of Anna Leigh's parents.
And, although their other three besties – Kim Newman Cuningham, Michelle Crauthers and Taylor Bentler – couldn't join them for dinner, their friends knew they were there in spirit. After all, some of the friendships date back to their Stevens Creek Elementary School days.
Words of Friendship
Since they didn't have to cook, the catered meal – along with a glass of wine or two – allowed the women to relax and enjoy each other's company while they ate on the covered porch, aka "The Nest." Their husbands got to tag along as well, but they had their own table in the kitchen.
Even though they didn't have a traditional Thanksgiving meal, the tables were set with the holiday theme in mind. Anna Leigh's mother, Leah Smith, and Caitlin's mother, Debra Shockley, took care of the decorations for the party.
"They're like my bonus daughters," says Debra. "This group is a well-oiled machine."
On the trestle farmhouse table on the porch, round rattan placemats were the canvas for white plates, square white bowls and beige napkins.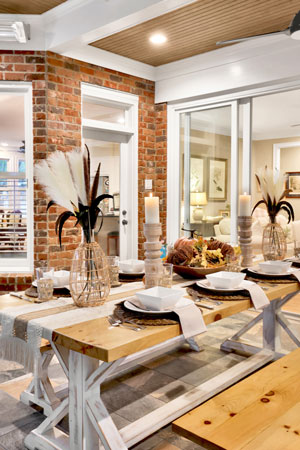 A wooden bowl filled with decorative pumpkins and fall leaves served as the centerpiece. A pillar candlestick on either side of the bowl held an ivory candle, and a glass vase filled with feathers anchored each end of the table. A blazing fire in the wood-burning fireplace added to the cozy fall ambiance.
"We built 'The Nest' during covid, and we love it. We weren't going anywhere, so it has been a great place for us to spend time," Leah says.
In the kitchen, brown and white salad plates sat atop white dinner plates. Buffalo check moss green and beige napkins were tied with tasseled rope, and a white pumpkin rested on a bed of fall leaves and berries in the center of the table.
Debra added the crowning touch to both tables by putting a tag with a quote about friendship at each place setting:
"Find your tribe. Love them hard." "A friend is someone who knows everything about your life and still loves you." "Best friends make the good times better and the hard times easier." "Friends don't let friends do silly things alone."
The fall décor and festive food set the mood for the gathering, where Diann Banks (Courtney's mother), Tina Harn (Emily's mother) and Deena Wall (Meghan's mother) joined Leah, Debra and their daughters for the fun as well.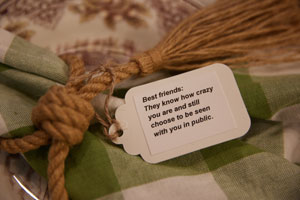 Strengthening Bonds
While they attended several different colleges, all of girls returned home to settle down with their own families. And now many of their children are close in age as well.
The lifelong friends also complement each other's personalities, and each one has a defining role within their circle. Meghan is the realist, and Anna Leigh is the advocate. While Merritt is the organizer, Caitlin is the class clown/counselor.
They also value a good girls' getaway as much as they appreciate each other.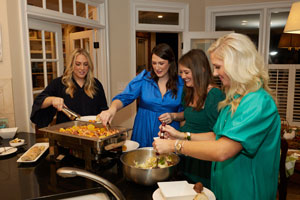 "We get together at least one time a month, and we do a girls' trip to the beach or mountains once a year," says Emily, the friend who likes to plan ahead.
While Friendsgiving was another chance to get together, they're grateful for their friendship year-round. They have always been there to support each other, grieving with each other and leaning on each other through hard times as well.
Jessica, the nurturer of the group, sums up their unbreakable, lifelong bond.
"As we have gotten older and gone through more things together," she says, "our friendship has grown even stronger."
By Sarah James