Lincolnton resident Judy Jordan always led an active lifestyle. She owned a photography studio, raced sailboats and taught ballroom dancing. She also did interval training, shag dancing and Zumba.
Then multiple orthopedic surgeries including three cervical, two knee, lower back and hip replacement operations piled up through the years. The surgeries – along with a colon cancer diagnosis in 2012 – left her in a state of depression and inactivity.
"For six years I didn't do anything," says Judy. "During the time I had cancer, I stopped exercising completely."
Her boyfriend tried to help her climb out of her funk by coaxing her to serve as a crew member on his boat during an Augusta Sailing Club race on Labor Day 2017. The experience turned out to be quite the wakeup call – but not the one she expected. She fell on deck, broke several ribs and landed in a rehab facility. "My doctor said I needed to get in better shape," she says. "I started out slowly, and then my doctor said I needed to get a personal trainer."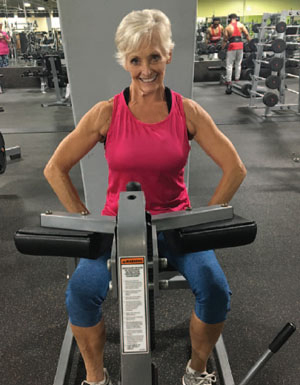 Making Changes
Heeding her physician's advice, Judy joined a gym in November 2017 and started doing cardio and weight training. She then decided she needed a little bit of internal motivation as well, so Judy, who turns 73 in July, took up bodybuilding.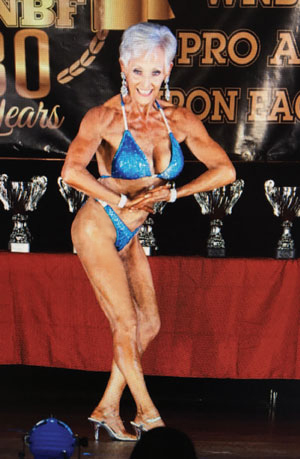 At the urging of a friend, she entered her first bodybuilding competition, the Augusta Grand Prix Bodybuilding Championship, in August 2018 and placed fifth in the Masters Figure division.
"People think when they get injuries, they won't be able to do anything again. And that's not true. Life isn't over because you've been dealt some bad things along the way," says Judy. "Part of my journey is encouraging other people. They can change, but I just had to have that bigger goal to keep me on track."
Judy started working with a personal trainer and nutrition coach in October 2018.
"My body has changed 100 percent. I started out at 146 pounds, and now I weigh 110 pounds," she says. "My body is better now than it was when I was 20 years old. I have no pain in my joints, and I only take one medication." Judy typically works out in the after-noons after she leaves her job as a special education paraprofessional at Greenbrier High School. Her work has been a large part of her healing process as well.
She had closed her photography studio when she underwent chemotherapy and radiation, but Judy found that during her recovery, she "couldn't stand staying at home. It was depressing." She started substitute teaching to get out of the house, and that led to her parapro position.
"I enjoy having something to do. Every day is not perfect, but there's so much love. To see the students every day and what they're dealing with – and still be happy and joyous – I realize I have no reason to complain," says Judy. "Every day is a joy to get up and go to work with these kids. I need them just as much as they need me."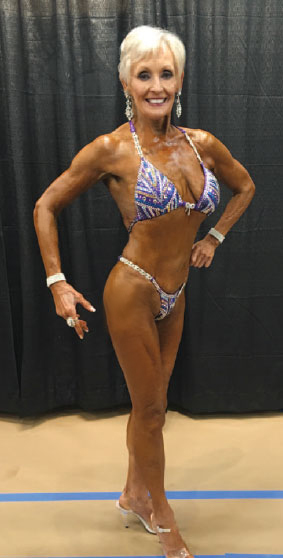 Bodybuilding fulfills her need to fuel her competitive fire as well. Judy competes as part of a seven-member bodybuilding team. Her teammates range in age from their 30s to their 50s, and they often get together to practice their competition posing.
"Posing is a big part of how you score. As a team, we encourage each other, and we compete against each other," says Judy. "It's about encouraging each other no matter where you place."
Gaining Confidence
In addition to the Augusta Grand Prix, she has competed in two more International Natural Bodybuilding & Fitness Federation competitions – the Pro-Am Iron Eagle in Savannah in March and the South Carolina Bodybuilding Championship in Sumter, South Carolina in April.
She placed third in the Fit Body division in Savannah, and in Sumter she placed first in Masters Fit Body and second in Masters Figure. The Masters level is for competitors ages 45 and older.
Figure is a class of physique competition judged equally on symmetry, tone and beauty/stage presence, which includes the model walk, in three rounds. Judges are look-ing for women who have fit, toned physiques but are not necessarily proficient in gymnastics or another performance art.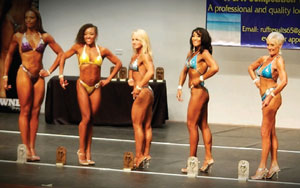 In the Fit Body division, judges are look-ing for a more athletic physique without the muscle mass – think overly ripped or vascular shoulders or arms – of the Body-building division. Scoring is based on two rounds – symmetry, which is judged on balanced proportions where no one body part overpowers the rest of the physique, and muscle tone, which focuses on the overall conditioning of the body. "There's a lot of pride to get up on stage at my age. Bodybuilding has made me feel more confident in myself, and I like the challenge," says Judy. "I feel physically and mentally better. I have made a lot of friends. I enjoy the physical aspect of it and the support and friendships I've made."
Among the competitors, she has met doctors, lawyers, teachers, young mothers and other great-grandmothers like herself.
The spray-tanned bodybuilders wear custom-made, two-piece figure suits, which can be adorned with added effects such as rhinestones, sparkles and sequins, and high-heeled shoes. Jewelry is permitted as well.
"I never thought I would wear a bikini again," Judy says. At the Sumter contest, she also bested about 100 competitors to win the Motivation Award.
"We had to write something about our motivation and what got us into bodybuilding," she says. In her essay, she wrote, "This journey has taught me discipline and that hard work can improve anyone's health at any age. So many times in life it is easier to take the path of least resistance. I plan to live my life as a healthy happy productive senior citizen sharing my journey with others of all ages." Currently, she is in training for her next competition – a return to the Augusta Grand Prix Bodybuilding Championship in August. She normally does cardio for 25 minutes three times a week. At the end of July, how-ever, she will ramp up her cardio to 50 minutes five days a week to get leaner and to help her muscles show. "Competition isn't for everybody, but anybody can get healthy and lose weight and get in that gym," says Judy. "It takes a little dedication and determination, but it can change your whole life."
By Leigh Howard