A former Greenbrier High School golfer captures two of the Georgia State Golf Association's biggest prizes in 2016.
Columbia County native Chris Waters, a certified public accountant for KPMG, has no plans to quit his day job. Traveling frequently, he might be in San Antonio one day. The next week he might be off to Philadelphia. His golf talents sometimes take him on the road as well, and he has the goods to show for his efforts.
The scratch golfer is about to add a new trophy to his growing collection by earning the 2016 Georgia State Golf Association Men's Player of the Year honors. Waters, 29, will receive his GSGA award at a luncheon at Cherokee Town & Country Club in Atlanta on Saturday, January 21. He also picked up another impressive piece of hardware in September when he won the 2016 Georgia Public Links Championship.
"There's a lot of tough competition, but I'm proud of my accomplishments and that I can compete with college golfers and people that play golf every day," says Waters. "To be able to compete with them and hold down a job means a lot."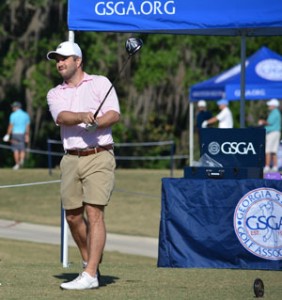 Top of the Leaderboard
The Player of the Year is determined by a point system based on participation and finish in GSGA and United States Golf Association events throughout the year, and Waters stayed near the top of the leaderboard in every event he entered.
In addition to winning the Georgia Public Links tournament, Waters and his playing partner, William Mitchell, were runners up in the Four-Ball Championship in April. He was a semifinalist in the Atlanta Amateur Match Play Championship in October, and he finished T5 in the Mid-Amateur Championship at Augusta Country Club in May and in the Georgia Amateur Championship in July. Waters, who lives in Atlanta, did not play in any of the USGA events last year.
In the Public Links Championship, Waters cruised to a seven-stroke victory that included a bogey-free, six-birdie opening round at Cobblestone Golf Course in Acworth. His 6-under-par first round total of 65 tied three previous golfers for the 18-hole record.
Starting the final round with a five-stroke lead, he shot 1-over-par 72 and finished the 36-hole tournament at 5-under 137.
This was Waters' second Public Links title in three years. He also won the tournament in 2014 at Nob North Golf Course in Cohutta.
Waters calls himself a steady player with a game in which no particular area stands out. "The younger guys hit it a lot farther than I do, but I manage my game well," he says. "I stay in the fairway and keep it out of trouble."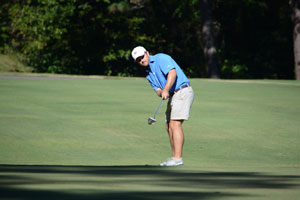 Family Affair
Waters enjoys the competition on the golf course, but the game is a family affair for him as well. He took up the sport as a high school student about 15 years ago when he started playing golf with his stepfather.
In addition, his mother, Donna Zapata, has caddied for him at events in various parts of the United States and Canada for the past four or five years.
"It's a tense game, so I try to be quiet. I usually don't speak unless I've been spoken to," she says. "I'm there for moral support and quality family time together. It's a serious competition for him, but I'm along for the memories we're making."
Her son agrees. "It's fun for the two of us to spend time together. I'm usually traveling for work," he says. "She supports everything I do. She keeps it fun. She keeps it light-hearted."
Waters played golf for Greenbrier High School as a junior and senior. The University of Georgia graduate didn't play college golf, but he stayed involved in the game during his collegiate years. He worked at the UGA golf course as a student, climbing his way up from cart boy to pro shop manager. He also started playing in GSGA events while he was in college.
"It's fun to compete. Some of these guys play at the highest level without being a professional," he says. "It gives me something to work toward, and it keeps my golf game sharp."
Waters, who is perfectly content to keep his amateur status, only plays golf every couple of months this time of year because his job keeps him busy from January through March.
"Every now and then I play with my buddies, but not very often," he says.
He plays in eight to 10 tournaments during the summer, and he particularly enjoys playing in Mid-Am events for people ages 25 and older. "Those guys have jobs, too," he says.
The flexibility of his job in the summer allows him to play a round of tournament golf in the morning and log onto his computer to work remotely in the afternoon.
"I like the competitiveness. There's always the possibility to improve. That keeps me interested," says Waters. "One day you play well, but the next day you don't. You want to get out there and try to fix it."
By Todd Beck
Photos courtesy of Georgia State Golf Association and Donna Zapata