Junior shooters are all in when it comes to the competition and camaraderie they gain from their high school trap, skeet and sporting clays teams.
The beginning of the school year means a return to the classroom – and the start of fall sports. The new season also means local high school shooting teams will be back at Pinetucky Gun Club in Blythe when competitions begin this month.
Founded in 1986 by a group of people that enjoyed skeet shooting, Pinetucky started a junior program, which grew out of the Columbia County 4-H Club, through the Georgia Independent School Association in 2015.
"The activity in the junior program has been fantastic for us," says Charles Dolan, past president and current vice president of the Pinetucky board of directors.
Confidence & Competition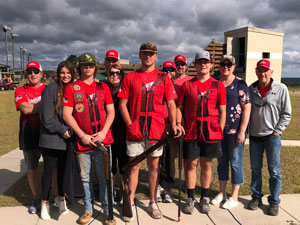 Most of the juniors are age 12 or older, and they participate in organized events through entities such as GISA and the Scholastic Clay Target Program. While 650 young shooters from 45 schools throughout Georgia participate in GISA events, 840 shooters take part in SCTP competitions.
Nine area schools field GISA teams — Evans, Lakeside, Aquinas and North Augusta high schools; Augusta Preparatory Day School; Episcopal Day School; Westminster Schools of Augusta; Columbia Middle School and Thomas Jefferson Academy. In addition, Augusta Christian Schools competes through the South Carolina Independent School Association.
The shooters represent their individual schools in GISA or SCISA events and compete together as the Pinetucky Pullits in the SCTP, which is the official feeder program to USA Shooting and a path to the U.S. Olympic Shooting Team.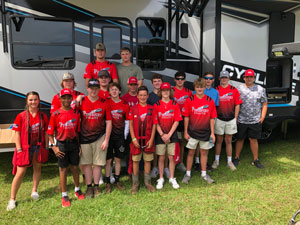 GISA events run from the beginning of the school year through early winter, and Pinetucky will hold the first of four GISA competitions on August 20. Pinetucky continues shooting events with SCTP from January through early summer.
The events take place on Saturdays, and participants shoot in three disciplines – trap, skeet and sporting clays. They shoot at 50 targets each in trap and skeet as well as 100 sporting clay targets. Shooters get their scores by adding up their total in each of the three disciplines.
"We set it up as a team event," says Dolan. "The game mirrors golf quite a bit."
Although trap and skeet shooting started as bird hunting simulations, they have grown into full-blown sports.
In trap shooting, clay targets are launched from trap houses into the air at varying angles and travel away from the shooter.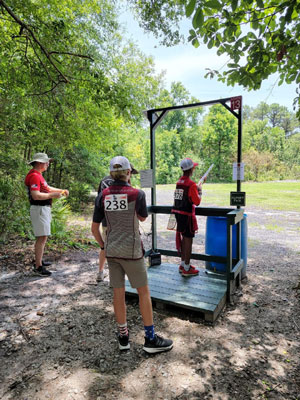 Skeet shooters go from station to station on a semi-circular field, and the goal is to hit two clay targets that are crossing one another. Two target machines are placed 40 meters apart – one at the high house, which is 10 feet high, and one at the low house, which is 3 1/2 feet high. Both targets rise to a maximum height of 15 feet by the time they reach the center of the field.
Sporting clays is considered one of the most realistic bird hunting simulations. Sometimes referred to as "golf with a shotgun," this discipline involves shooting on a scenic course with varying terrain. The target's speed, angle and distance differ with each station.
Students use shotguns in all youth events. Safety, responsibility and sportsmanship are the main focus of their development, followed by shooting.
"They want to build their confidence and their shooting ability, but safety is number one," Dolan says.
Fun, Focus and Friends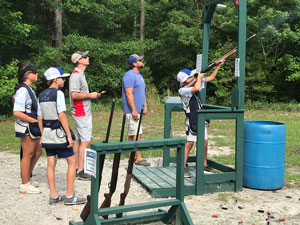 Two 18-year-old participants, Kinzie Louthan of Martinez and Jackson Ansley of Augusta, who graduated from Augusta Christian and Aquinas, respectively, in the spring, appreciate the emphasis on safety.
"The number one thing is gun safety," says Louthan. "Before any practice or any tournament, we always have a safety meeting and go over the basics."
"We focus on eyes and ears, which is your glasses and ear buds," Ansley adds. "Keep the muzzle in a safe direction, and don't put your finger on the trigger until you're ready to shoot."
Louthan started shooting at the end of her sophomore year in high school when she went to Pinetucky with her younger brother, and she started shooting competitively during her junior year.
"I wanted to try it. It was actually fun," says Louthan. "I love competing. It's one of my favorite things. You have to focus, but you can't focus so much that you start missing. You have to have fun."
Ansley took up shooting his freshman year in high school. "I decided this was my hobby and this was what I enjoyed doing," he says. "I enjoy the challenge. I do a lot of hunting and fishing in my spare time, but I wanted to venture out. I fell in love with it the first time I did it."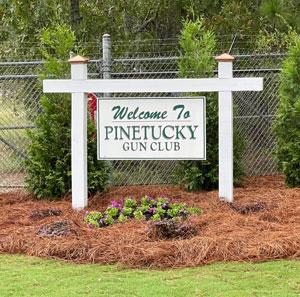 The two shooters try to practice once or twice a week to maintain their skills, and both of them are in the freshman class at Augusta University, where Pinetucky hopes to start a shooting program. Louthan and Ansley would like to be part of that team as well.
However, they enjoy the social aspect of the activity as much as or more than the competition.
"When you're competing, you're also meeting new people," says Louthan. "I just love the people. It's like a whole new family. It's fun talking to people who like the same sport as you."
"I like the aspect of growing and challenging myself to become a better shooter, but I'm a social person. I love meeting new people," Ansley says.
Dolan says the sport is becoming more popular, and he likes to see the juniors "grow, prosper and have a good time."
"It raises their maturity level," he says. "They meet a whole new group of people. They learn how to interact with others. They become young adults. They're becoming accountable. They mix and mingle with adults."
Equipped for All
Pinetucky not only holds events for junior shooters, however. The club also is the site of two or three sporting clay events throughout the year as well as pistol and rifle competitions for adults. In addition, Pinetucky hosted several International Olympic shooting teams for training prior to the 1996 Olympics in Atlanta.
Promoting firearms safety and hunter education for all ages, Pinetucky is affiliated with the National Skeet Shooting Association, National Sporting Clays Association, U.S.A. Shooting, International Benchrest Shooters, IDPA and the National Rifle Association.
The facility has five trap and skeet fields, a 15-station sporting clays course, a fully equipped NRA-approved state-of-the-art pistol range and a fully equipped modern rifle range. While the club is a public facility, it also offers memberships.
"Anyone can come and shoot," says Dolan. "We have instructors available in all different disciplines."
The staff offers instruction in shotgunning, rifle and pistol marksmanship, hunter safety, Women On Target (an introductory pistol class for women) and coaching classes for youth.
Instructors are certified by the NRA or the National Sporting Clay Association, and all instruction is by appointment. Special group sessions also are available.
By Todd Beck