The local chapters of two national nonprofit organizations take to the water to help veterans heal from their physical and psychological wounds.
Some people know a good catch when they see one – especially volunteers for two nonprofit organizations with like-minded missions. They are getting veterans hooked on healing in a relaxing, recreational setting by taking them fishing to help them through the aftermath of combat or the rigors of rehabilitation. 
Heroes on the Water takes veterans, active duty military personnel and retired first responders fishing in kayaks to help them decompress with the therapeutic qualities of the sport. Project Healing Waters is dedicated to the physical and emotional rehabilitation of disabled active military service personnel and disabled veterans through fly fishing and associated activities.
"It's just a relaxing way to spend your time. You forget about the things that are going on in your life," says Jeff Payne, coordinator of the Fort Gordon chapter of Heroes on the Water.
The local chapters of the two organizations started working together several months ago after Justin Walter, the area Project Healing Waters program lead, offered to teach fly tying at one of Heroes' kayak events.
"We love to share the practice of fly fishing," says Walter. "We love to get out in the woods or on a lake where the water is calm. There's something about being out away from cellphones and the hustle and bustle of work. You can fly fish from a kayak or the bow of a boat or the shore."
Time Well Spent
Heroes on the Water, which has chapters across the Southeast, was founded in 2007, and the local chapter was started in July 2016. "This is the only chapter in Georgia, so it serves people from all across the state and South Carolina," Payne says.
Project Healing Waters was created in 2005, and the local chapter was started in 2013. "We focus on disabled veterans with a 30 percent or more disability, but we cater to active duty personnel as well," says Walter.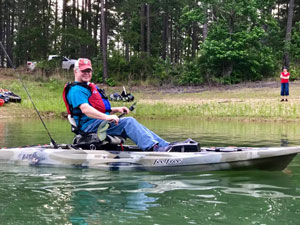 Heroes on the Water holds free events every month on area waterways, and the organization provides a one-to-one ratio between guides and participants. The organization also provides participants with tackle and lunch at the outings. The next event is scheduled for July 15 on Lake Olmstead, but Heroes on the Water also takes veterans fishing any time as long as a guide is available. 
"A lot of our volunteers served in the military. It means as much to us as it does to the participants a lot of times," says Payne. "We suffer from the same ailments."
According to Payne, the program reduces participants' stress by 56 percent, hypervigilance by 62 percent and avoidance behavior by 63 percent overall.
"It gives them a chance to relax and let go of some of the things they deal with on a daily basis," he says. "When they come off the water, you see a smile on their face. You know it's been time well spent."
The local chapter has a 10-member leadership board and about 10 additional volunteers. Each guide undergoes basic kayak recovery and CPR training. Other volunteers help with administrative tasks and registration or food coordination at events.
"Each chapter is responsible for raising its own money, and the CSRA has been phenomenal," says Payne. "Everything we have needed, someone has stepped up and provided it for us."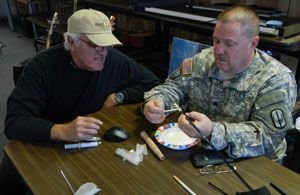 Sense of Accomplishment
Walter has taught fly fishing and fly tying classes at Charlie Norwood VA Medical Center and American Legion and VFW posts. "Fly tying is something you can do on a hot summer day or a cold winter day," says Walter. "It's like arts and crafts for adults."
He has organized fly fishing outings at ponds on Fort Gordon, the Savannah River and Clarks Hill Lake. Depending on where they cast their lines, they will catch and release or harvest the fish. Walter teaches fly rod building as well. 
"It's fun to make a fly and then catch a fish on a tie you made, and it's fun to catch a fish with a rod you made," he says. "To bridge that gap for disabled people and show them they have an ability to fly fish is rewarding to me. It gives people a sense of accomplishment when they learn to do something they don't think they can do."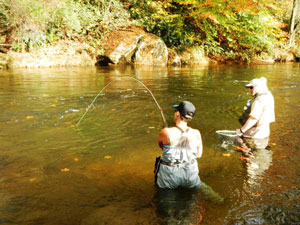 Project Healing Waters is funded through its national program and direct donations to the local chapter, and all fly fishing and tying equipment is provided to the participants at no cost. The local chapter has 10 – 20 volunteers. 
"We're always looking for participants and volunteers," says Walter. "You don't have to know anything about fly fishing to volunteer to help with an outing."
For more information about the two organizations, visit their respective Facebook pages.